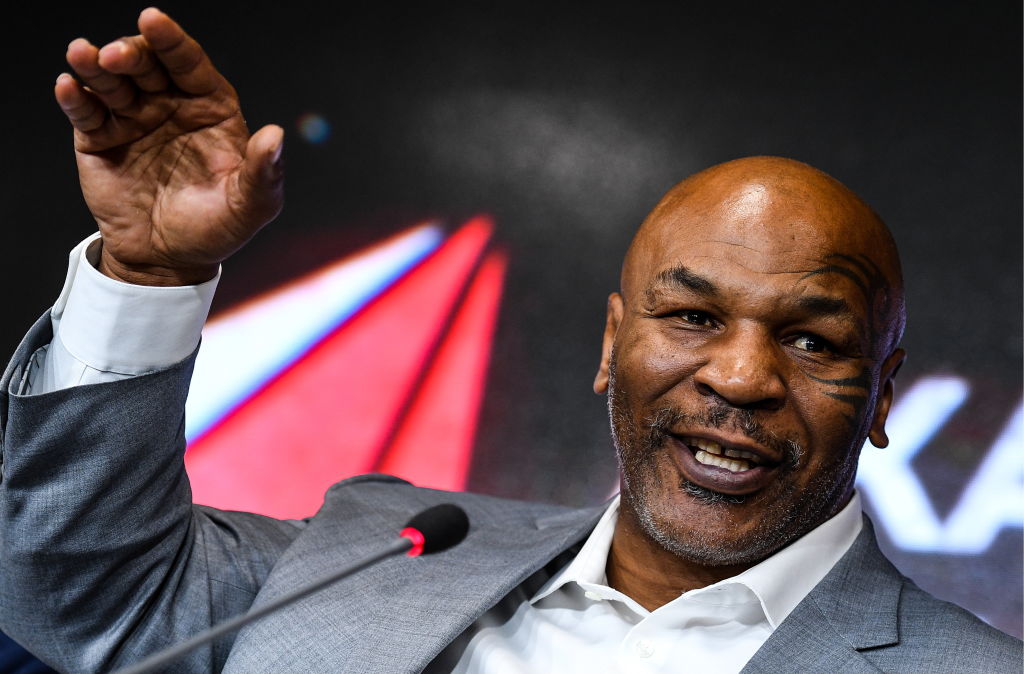 Mike Tyson Says He's Scared of Who He Used to Be in Emotional New Interview
In a new interview, Mike Tyson opened up on life without boxing and how he's scared of the person he used to be.
Former undisputed heavyweight champion Mike Tyson hasn't been in the ring for nearly 15 years. But that doesn't mean that the man once known as the "Baddest Man on the Planet" isn't still getting used to life outside the ring.
On a recent edition of the widely popular "Hotboxin' with Mike Tyson" podcast, the former champ became very emotional when talking with guest Sugar Ray Leonard on adjusting to life after boxing.
When was Mike Tyson's last fight?
Mike Tyson's last fight took place on June 11, 2005, against relative unknown Kevin McBride. Tyson had only fought three times in the previous three years and McBride entered the fight with a very respectable 32-4-1 record, albeit against fighters that most wouldn't recognize. However, Tyson was expected to dispose of McBride in quick fashion. That's not what happened that night in the nation's capital.
Tyson, the constant aggressor in his prime, looked unusually passive when the fight began. He looked his best in Round 4, landing some big shots and dazing the Irishman. But things took a turn from there. He didn't throw many punches in the next two rounds and his career ended on a stool. Tyson quit after the sixth round and in an emotional post-fight interview, he stated that he had only taken the fight for the money and didn't have boxing in his heart anymore.
How Sugar Ray Leonard influenced him
Well before his career-ending loss to McBride, Mike Tyson was one of the most feared boxers in the long and storied history of the sport. In 1986, at the age of 20, he won the heavyweight championship from Trevor Berbick, just one year before Sugar Ray Leonard's bout with Marvin Hagler.
In his conversation with Leonard, Mike Tyson opened up about how Sugar Ray helped shape his own career. While many think that Iron Mike was all about power, that wasn't the case. Tyson was always a student of the game and tried to emulate Leonard's style. He talked about how Sugar Ray's efficiency, how he would throw punches so fast that in a two-punch combo, you could only hear one. By the time the opponent could figure out what was happening, it was over. He called it the "Ultimate Knockout Punch" before praising one of his idols.
"Though when I see you, I love you. It's almost like I worship you."

Mike Tyson to Sugar Ray Leonard
When the conversation moved to Tyson and life after boxing, the former champion became very emotional.
Tyson feels 'empty' without boxing, is scared of who he used to be
With lightning speed and devastating power, Mike Tyson racked up 44 wins by knockout during his career. He had an unparalleled intimidation factor in his prime and the majority of his opponents were simply afraid of him. Tyson knew he was going to win and for the most part, he did. His intensity won him so many fights over the years but his rage would also hinder him in certain situations.
In an extremely vulnerable moment in speaking with Sugar Ray, Tyson broke down when discussing life after boxing and admits that he's still afraid of the person he used to be.
"I know the art of fight, I know the art of war, that's all I ever studied. That's why they feared me when I was in the ring, I was an annihilator. It's all I was born for. Now those days are gone it's empty, I'm nothing. I'm working on the art of humbleness…

"That's the reason I'm crying cause I'm not that person no more, and I miss him. Because sometimes I feel like a b***h, because I don't want that person to come out because if he comes out hell is comin' with him…I hate that guy, I'm scared of him."

Mike Tyson
Other guests that have appeared on Tyson's podcast include Evander Holyfield, Michael Buffer, and current heavyweight champion Tyson Fury, who was named after Iron Mike. Tyson was in the crowd when Fury defeated Deontay Wilder.