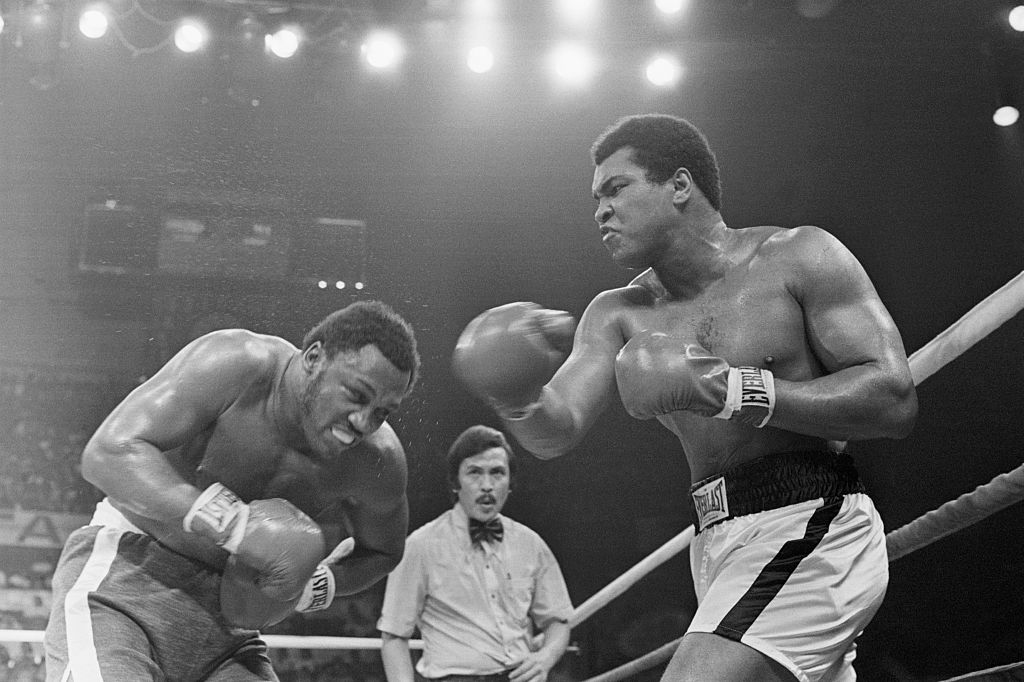 When Joe Frazier Took His Rivalry With Muhammad Ali Too Far
Muhammad Ali and Joe Frazier engaged in one of the best rivalries in the history of sports, a rivalry Frazier would take way too far.
Muhammad Ali and Joe Frazier engaged in not only one of the best rivalries in the history of boxing but in the history of sports.
Muhammad Ali was well known for running his mouth before big fights and would often use words, not his athletic ability, to get inside his opponents' heads. More often than not, it seemed like hollow banter, a way to promote fights that in turn brought more money to everyone's pockets.
However, Joe Frazier didn't always see things that way and got very offended on certain occasions, even once coming to blows with his rival outside the ring. Even in the years after their final battle, Frazier simply never got over the rivalry and ended up taking things way too far.
Muhammad Ali and Joe Frazier started off as friends
On March 22, 1967, world heavyweight champion Muhammad Ali successfully defended his title for the ninth time, knocking out Zora Folley in the seventh round. It would be his last fight for more than three years. After refusing induction into the armed forces, Ali was stripped of his title, stripped of his passport, and was denied a boxing license by every state in the U.S.
One of Ali's biggest supporters turned out to be Joe Frazier, who would later win the heavyweight title which Ali had vacated. Frazier, who met Ali in 1968, was passionate about getting Ali back into boxing as the two had become friends. He loaned Ali money during his suspension, testified to Congress on Ali's behalf, and even petitioned President Richard Nixon to have Ali reinstated. While the two were friends, Frazier also knew getting Ali back into boxing would further his own career. He wanted to be known as the best fighter in the world and the only way that could happen was for him to beat Muhammad Ali.
In 1970, Ali was finally reinstated and, following a couple of tune-up fights, the "Fight of the Century" was on. However, the friendship would turn sour.
The Ali-Frazier friendship ended and the trash talk never stopped during their trilogy
In the build toward the first fight between Muhammad Ali and Joe Frazier, aptly billed the "Fight of the Century", the friendship between the two undefeated fighters took a bad turn. Ali had turned things into a political circus, calling Frazier an "Uncle Tom" and hurling many colorist insults at him, essentially trying to get in Frazier's head. It didn't work. In what turned out to be one of the greatest heavyweight bouts in history, Frazier defeated Ali to retain the heavyweight championship on March 8, 1971. Ali had said that if Frazier won, he would crawl across the ring and admit that Frazier was the greatest. That never happened.
Joe Frazier would lose the title to George Foreman in January 1973. In what was essentially a number one contender's match, he took on Muhammad Ali for the second time on January 28, 1974. Billed as "Super Fight II", things got ugly between the two before the fight. Just five days before the fight, the two sat together to review their first fight in the ABC "Wide World of Sports" studio and things were going okay until they got to the 11th round. Ali called Frazier "ignorant" and the two actually got physical before being separated. As far as the actual fight was concerned, Ali won by unanimous decision.
After Muhammad Ali upset George Foreman at the "Rumble in the Jungle" to win back the heavyweight crown, a third fight with Joe Frazier was scheduled for October 1975 in the Phillippines and was named the "Thrilla in Manila." Again, the talk leading into the fight was nasty with each throwing insults at the other, which led to another great battle between the two in the ring. For 14 rounds, the two legends battled back and forth, leaving everything in the ring. Prior to the 15th round, Frazier's corner ordered the referee to stop the fight. What they didn't know is that Ali had told his trainer to cut his gloves off as he felt he couldn't go anymore either. But the order was ignored and Ali was the winner. Ali would later say that was the closest he'd ever come to dying and that, outside of himself, Joe Frazier was the greatest fighter who ever lived.
Joe Frazier never got over his rivalry with Muhammad Ali
Immediately following the "Thrilla in Manila", Muhammad Ali spoke with Frazier's son, Marvis, and apologized for the comments he had made about his father. Joe Frazier didn't think this was good enough, thinking that Ali should have done that personally. However, when Ali tried to obtain Frazier's private phone number from promoter Butch Lewis to apologize, "Smokin' Joe" wouldn't give it out and continued to hold onto the resentment for years, even when Ali got sick with Parkinson's.
Both retired in 1981 but would make sporadic appearances with another over the years. In 1988, Frazier and Ali were joined by George Foreman, Larry Holmes and Ken Norton on the set of Champions Forever and Frazier mocked Ali's condition, calling him "damaged goods" and later tried to legitimately fight him again after having too much to drink. In his 1996 autobiography, Frazier again took shots at Ali, whom he always referred to as Cassius Clay, saying he didn't feel bad for "The Greatest" whatsoever.
"Truth is, I'd like to rumble with that sucker [Ali] again—beat him up piece by piece and mail him back to Jesus…Now people ask me if I feel bad for him, now that things aren't going so well for him. Nope. I don't. Fact is, I don't give a damn. They want me to love him, but I'll open up the graveyard and bury his a** when the Lord chooses to take him."

Joe Frazier on Muhammad Ali
When Muhammad Ali was chosen to light the Olympic torch at the 1996 Summer Olympics in Atlanta, Frazier thought he should have been the one to do so and said that, given the chance, he would have pushed his rival into the lit cauldron.
In a story published by "Sports Illustrated", Frazier again took shots at Ali's Parkinson's, this time in response to a question from a 10-year-old girl on if he'd ever beaten Muhammad Ali.
"We locked up three times. He won two, and I won one. But look at him now. I think I won all three."

Joe Frazier on Muhammad Ali
Ali repeatedly tried to apologize to Frazier, reaffirming that he had said the things he did to promote a fight. But Frazier simply never wanted any part of it. Even when he did finally say he forgave Ali, Frazier still managed to take subtle shots at his rival. It's unfortunate that the two never fully reconciled before Frazier's death in 2011. But that didn't keep Ali from showing up to the funeral and applauding one last time for his longtime nemesis. Ali passed five years later.
For better or for worse, Muhammad Ali and Joe Frazier will forever be linked.