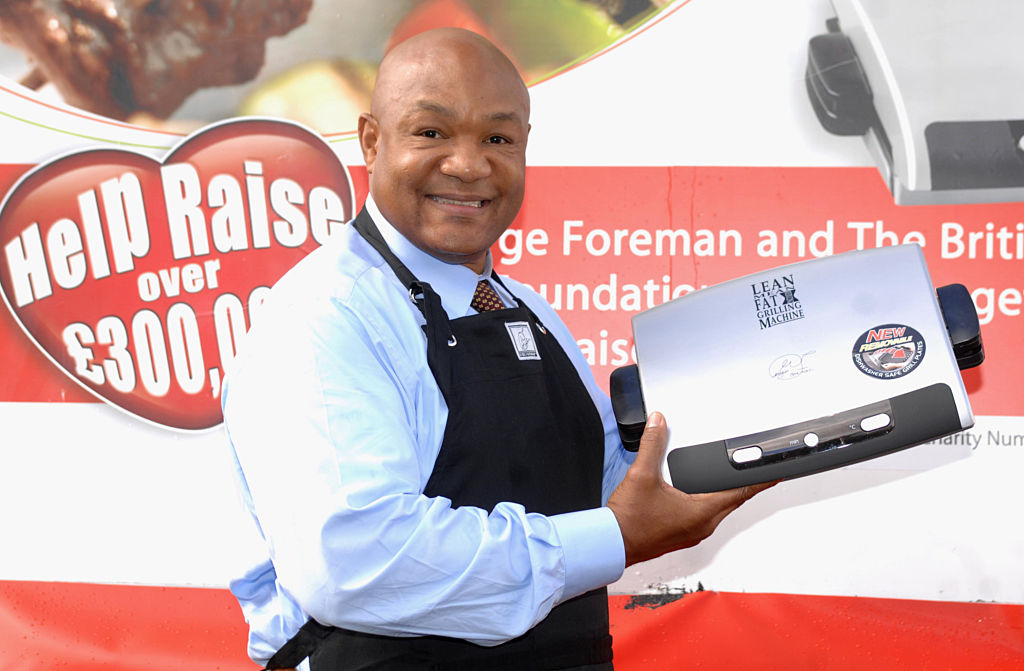 George Foreman Earned Way More Money From His Famous Grill Than He Did as a Boxer
George Foreman was an accomplished boxer, but his prize money can't compare to the profits from his famous grill.
In the world of professional sports, plenty of stars have endorsement deals. Shaquille O'Neal, for example, appears in commercials for lotion, insurance, and everything in between. No pairing, however, can match up with the sheer pop-culture power of George Foreman and his famous grill.
During his time in the boxing ring, Foreman was no slouch. His signature endorsement, however, has netted him far more money than all of his professional bouts combined.
George Foreman's boxing career
As a teenager, George Foreman dropped out of high school and joined a street gang. In 1965, however, he decided to join the Job Corps; that decision would change the course of his life.
Foreman came to know Charles "Doc" Broadus, a former Air Force sergeant who was working as a Job Corps counselor. He encouraged the teenager to take up boxing; motivated by someone believing in him, Foreman threw himself into the sport. Before long, he was racking up wins on the amateur circuit.
In 1968, Foreman even represented the United States at the Mexico City Olympics; he would win a gold medal and, upon returning home, turned pro. He worked his way up those ranks, too, ultimately knocking out Joe Frazier to claim the world heavyweight title. His reign, however, would come to an end in the famous "Rumble in the Jungle" against Muhammad Ali.
After that loss, Foreman's career would take an unusual turn. He stopped boxing and, following a near-death experience, became an ordained minister. The call of the ring, however, proved to be too much. Foreman would resume boxing, even reclaiming the heavyweight title at age 45. He would lose the belt again in 1997, before finally calling it a career.
Becoming the face of his famous grill
While he had an impressive career in the ring, George Foreman is arguably more famous for his eponymous grill. He became the face of the product, however, by chance.
Although there are some different versions of the story floating around, it's generally accepted that wrestler Hulk Hogan could have endorsed the grill. When declining the opportunity, he suggested that his agent offer the product to another client. That client turned out to be Foreman.
It wasn't smooth sailing from there, though. Foreman apparently considered the tiny, counter-top grill to be little more than a toy; everything changed, however, when his wife used the appliance to cook him a burger.
"The grease, everything went away, and the meat was delicious," Foreman explained. "So I called my partners back and said, 'I'm going to do that deal."
How much money did George Foreman make from his famous grill?
During his time in the ring, George Foreman "hated" boxing, but had to keep fighting for the paycheck. While he went from earning a few thousand dollars to earning millions with purses, his famous grill turned out to be a much better investment.
While the endorsement deal didn't include any guaranteed money, Foreman was entitled to 45 percent of the product's profits; before long, the grill was a hit, and the checks started rolling in. Foreman also earned at least $11 million for his grill-based TV appearances and took home an additional $137.5 million in cash and stock as part of a buy-out.
While $200 million has been the standard estimate for Foreman's earnings, the boxer actually stated that they were much higher. "Much more," he told AARP in 2014. "There were months I was being paid $8 million per month."
Regardless of the exact number, that's not a bad profit for the former heavyweight champ.