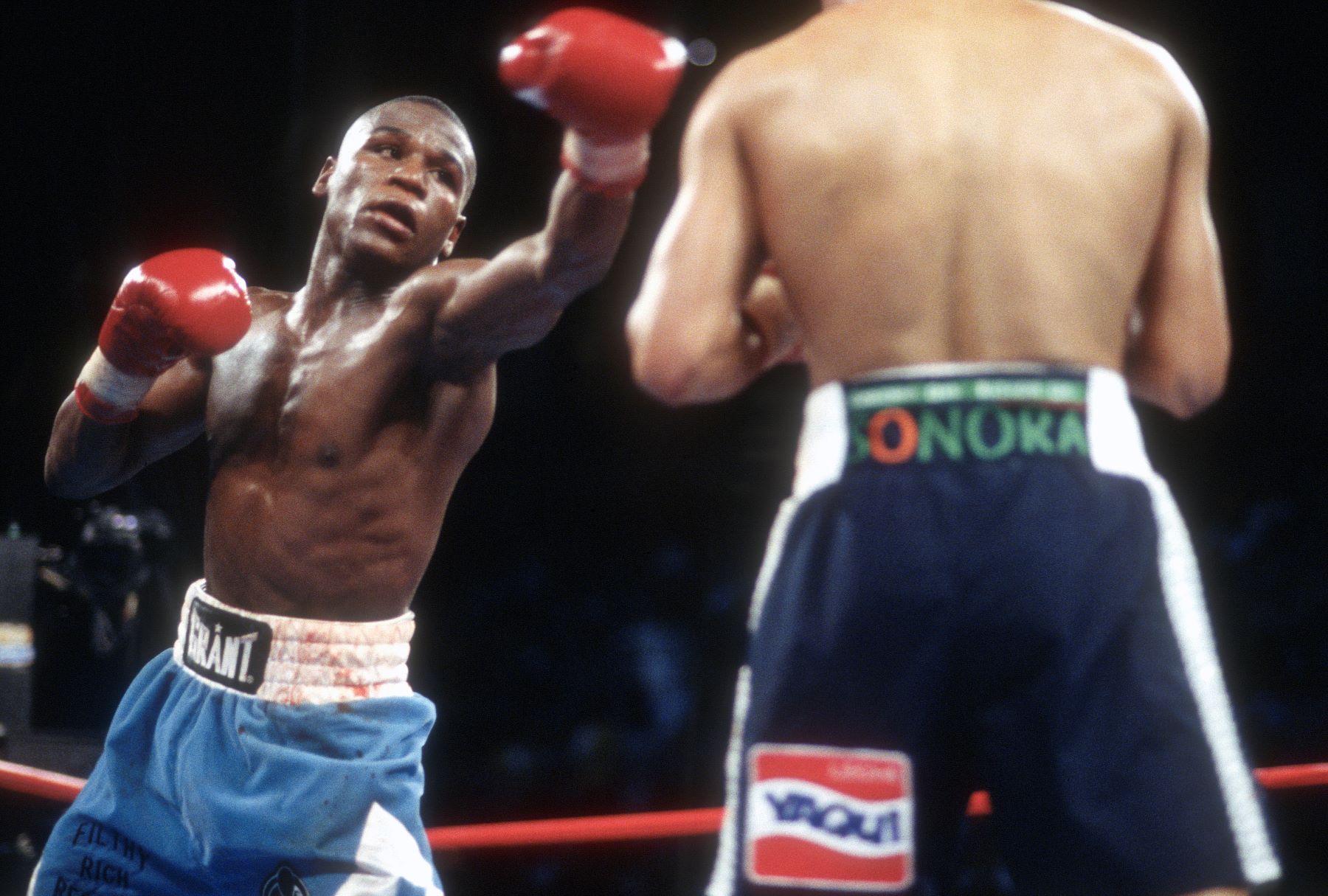 The 1 Fight Floyd Mayweather Really Lost But Judges Gave It to Him Anyway
Here's a look back at the one fight Floyd Mayweather should have lost, which would have tarnished his undefeated 50-0 boxing career record.
The history books will show Floyd Mayweather Jr. has a perfect 50-0 record in the boxing ring. That is indisputable. However, within the boxing community, many believe Floyd Mayweather's record should actually be 49-1. There is dispute about one particular fight where Mayweather was outclassed most of the contest and behind statistically, but judges still awarded him the victory. Here's a look back at the controversial fight. 
Floyd Mayweather's close calls during his career
During his career from 1996 to 2017, Floyd Mayweather was undeniably one of the top boxers in the world. Every boxing and sports outlet said as much. In 2016, ESPN ranked Mayweather as the greatest boxer, pound for pound, of the last 25 years. While his record is perfect, that doesn't mean he didn't have a few bad rounds or even a few less-than-impressive fights.
In fact, when you take a closer look at Mayweather's career, you can clearly see he wasn't always dominant. He was just good enough to win and, in the end, that's all that matters. Of his 50 fights, his opponent took him the distance 23 times or just under half the time he stepped into the ring.
One of the more memorable times Mayweather was challenged happened in 2007 against Oscar De La Hoya. The six-division champion battled Mayweather, and at the halfway point, judges scored the fight even. In the last half of the bout, Mayweather proved to be the better fighter and won in a majority decision, according to BoxRec.
De La Hoya wasn't the only fighter that put Mayweather to the test. Canelo Alvarez and Marcos Maidana both pushed Mayweather the distance only to lose by majority decision. In the case of Maidana, Mayweather knew it was a close fight and offered a rematch five months later where Mayweather won in a much more convincing fashion. 
Mayweather identifies his toughest opponent
Manny Pacquiao, Oscar De La Hoya, Zab Judah, Arturo Gatti, and numerous other big names challenged Floyd Mayweather throughout his career. Interestingly, he doesn't consider any of those as his toughest opponent. That title is reserved for a fighter who went by the nickname The Drunken Master. 
On October 21, 2000, Mayweather fought The Drunken Master, aka Emanuel Augustus. Augustus was known for his unorthodox style, which included a wild array of dipping shoulders, raised legs, and punch sequences, unlike anything the sport had ever seen. He appeared to be part boxer, part string-puppet. His herky-jerky style earned him the funny nickname.
In that fight, Mayweather, who entered with a 24-0 record, battled Augustus, who had a very lackluster 22-16-4 record, according to BoxRec. No one expected it to be close. It wasn't in the end as the fight was stopped in the ninth with Mayweather in control, but there was one stretch during the fourth and fifth rounds where Augustus landed a flurry of punches that bloodied Mayweather's nose and brought the crowd to its feet. Years later, Mayweather admitted that October 2001 fight against The Drunken Master was his toughest opponent.
"If I was rating certain fighters out of every guy that I fought, I'm going to rate Emanuel Augustus first compared to all the guys that I've faced. He didn't have the best record in the sport of boxing, he has never won a world title. But he came to fight and, of course, at that particular time I had took a long layoff."
The fight Floyd Mayweather should have lost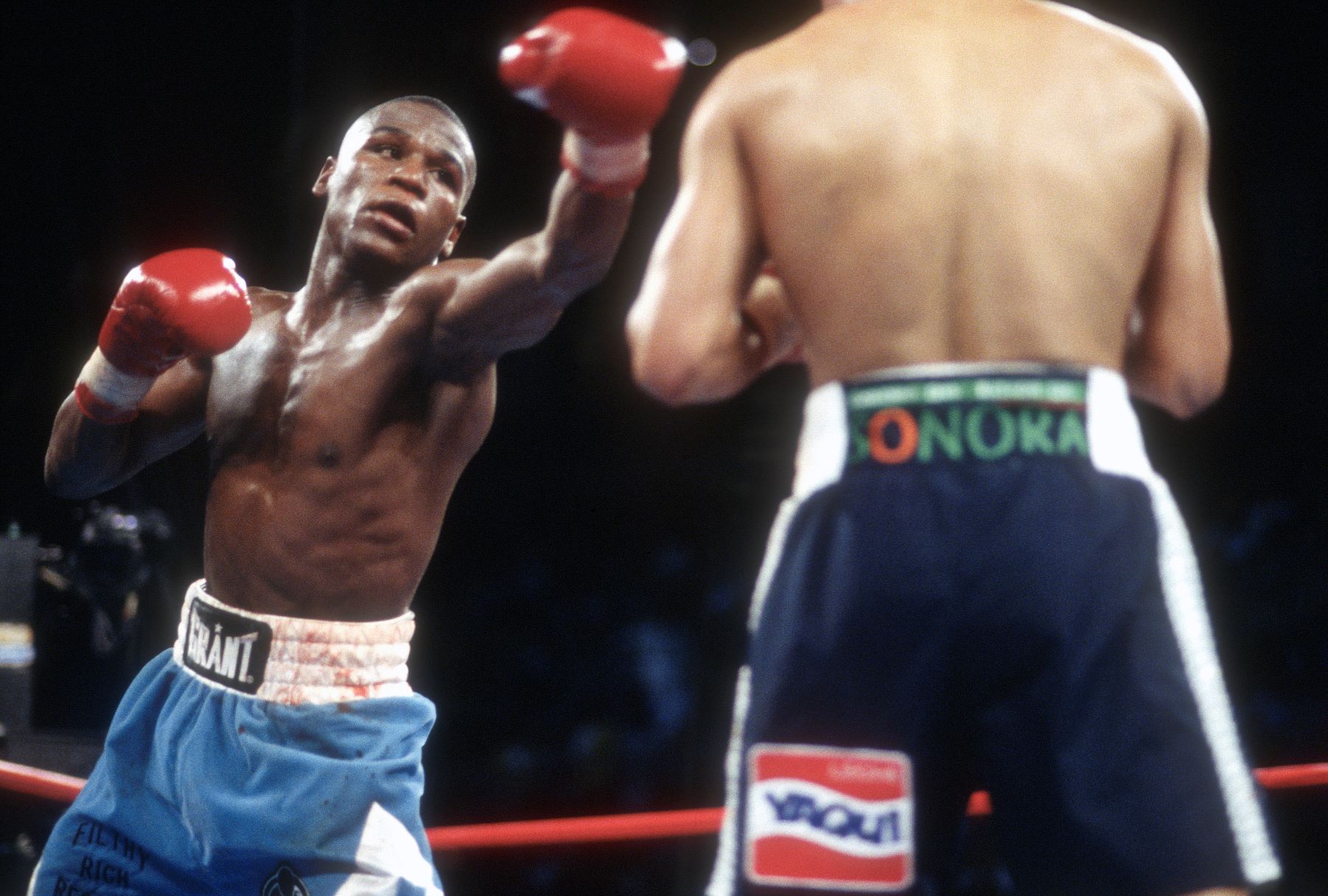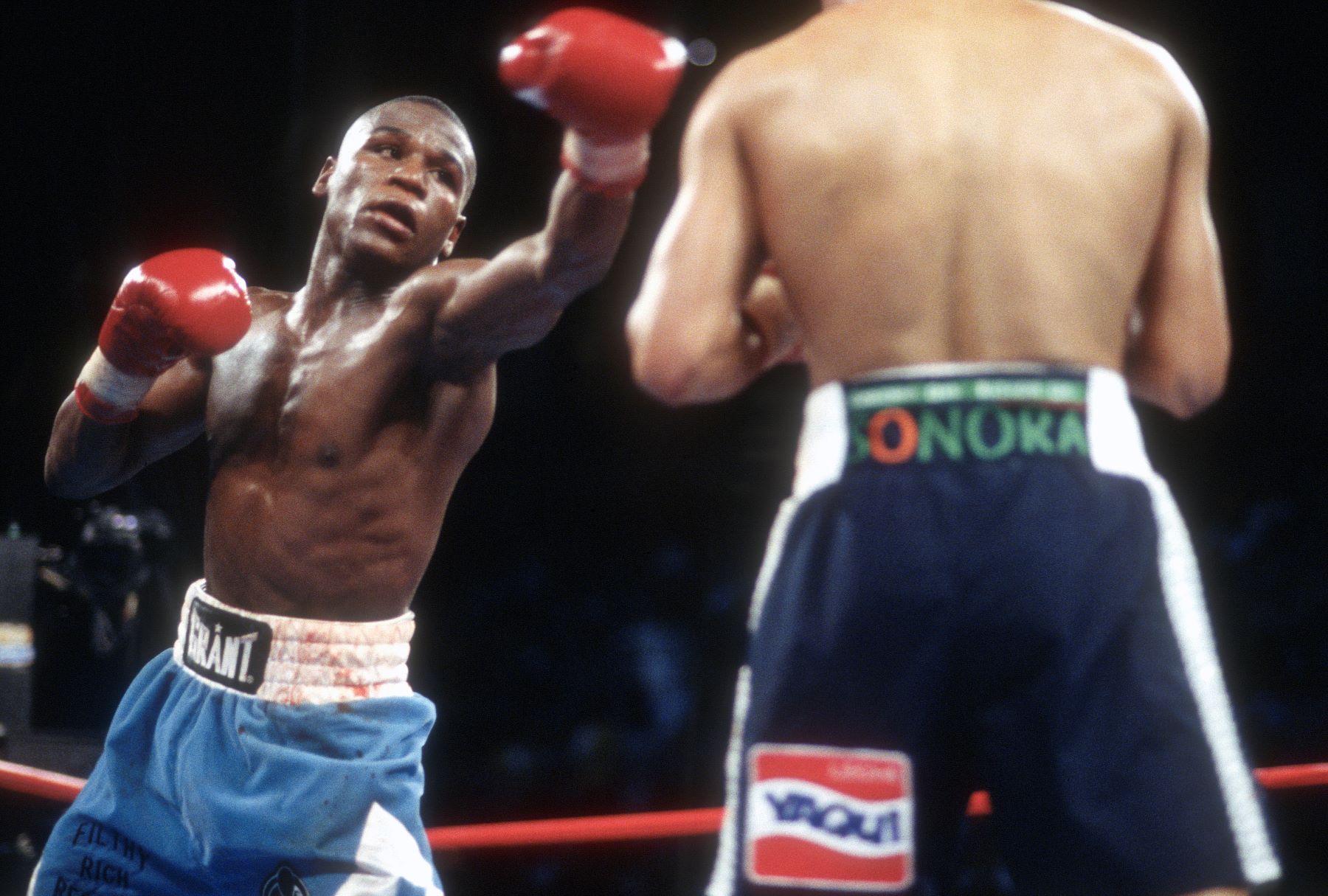 So, has Floyd Mayweather ever lost a fight? Almost. On April 20, 2002, Floyd Mayweather faced Jose Luis Castillo at the MGM Grand in Las Vegas fighting for Castillo's WBC lightweight title and the vacant The Ring lightweight title.
Mayweather came out the fresher boxer and won three of the first four rounds convincingly. The third-round scoring was in some dispute as Harold Lederman, the unofficial ringside television judge, gave the third round to Castillo. There was, however, no disputing Castillo was the better fighter the remainder of the bout. 
Mayweather said in the post-fight interview he had injured his shoulder on his last training day and was unable to use the jab effectively. It was clear that injury adversely affected his performance, and the stats proved it. CompuBox showed Castillo throwing and landing many more punches and power punches than Floyd, according to Bad Left Hook. Lederman's scorecard reflected that as he scored the fight 115-111 in favor of Castillo.
The official judges scored the fight 115–111, 115-111, and 116–111, in favor of Mayweather as he improved to 28-0. The Las Vegas crowd disagreed and heartily booed the decision. Following the fight Mayweather had shoulder surgery and was completely healed when the two met for a rematch in December. The scorecard was actually closer in the rematch, but Mayweather won in an unanimous decision.