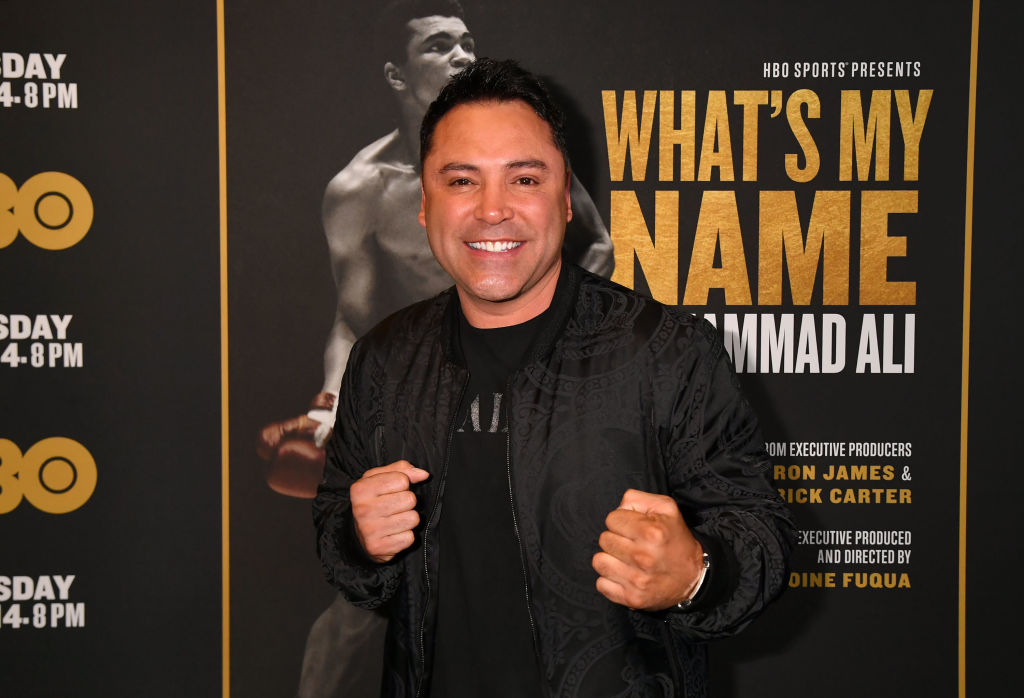 What Happened to Oscar De La Hoya and What Is His Net Worth?
Oscar De La Hoya is one of the most recognizable names in boxing. He retired in 2009. Where is Oscar De La Hoya today and what is his net worth?
Oscar De La Hoya was destined for boxing greatness at a young age. He won numerous amateur national titles before earning gold for the U.S. in the 1992 Barcelona Olympics at 19. De La Hoya went on to have one of the most successful boxing careers as a professional winning 10 world titles in six weight classes before retiring in 2009. What happened to Oscar De La Hoya after his boxing career, and what is his net worth?
Oscar De La Hoya dominates early in his professional career
After winning the gold medal in 1992, De La Hoya turned professional and turned heads. He won his first fight in November 1992; then proceeded to run off 11 straight victories, which included earning his first world title, the WBO junior lightweight title in 1994. 
Over the next four years, De La Hoya, who became known as the Golden Boy, racked up the victories and title belts. His most significant win to date coming in 1996 when he defeated Mexican boxing legend Julio Cesar Chavez for the lineal and WBC light welterweight championship. 
A year later, De La Hoya stepped up in weight class fighting in the welterweight division against a tough opponent in Pernell "Sweet Pea" Whitaker. It was one of De La Hoya's biggest tests as a fighter, but he won a 12-round unanimous decision to earn the lineal and WBC titles. Notably, Ring Magazine also named him as the No. 1-ranked pound-for-pound fighter.
Oscar De La Hoya suffered the first defeat of his pro career in September 1999, when he lost in questionable fashion to Felix Trinidad. For the next decade, De La Hoya struggled to recapture his earlier glory as wins eluded him. He suffered defeats to some of boxing's greatest fighters in Shane Mosley, Bernard Hopkins, Floyd Mayweather Jr., and Manny Pacquiao.
In 2009, De La Hoya hung up the gloves one final time. He finished his career with a 39-6 record.
His business ventures and net worth 
Oscar De La Hoya always knew working in such a violent sport could only last so long and always planned for life after boxing. That's why in 2002 he formed Golden Boy Promotions, a boxing promotions company that would promote all of his fights toward the end of his career including his matchups with Mayweather and Pacquiao.
In addition to his boxing promotions business, which has managed boxing world champions including Canelo Álvarez and Amir Khan, De La Hoya has ventured into numerous other areas outside of sports, including children's books, magazine publishing, clothing, and music, which included a self-titled CD in 2000 that was nominated for a Grammy. 
While De La Hoya is a shrewd businessman, and has amassed a net worth of $200 million, he's also generous with his money. He opened the Cecilia Gonzalez De La Hoya Cancer Center, in honor of his mother, and donated $350,000 to the center. His foundation helps educate underprivileged youth, and he has donated $3.5 million to the De La Hoya Animo Charter High School.
Where is Oscar De La Hoya today?
Oscar De La Hoya has been married to Millie Corretje since 2001, and the couple has two children together. He also has two other sons from previous relationships. 
In the last decade, De La Hoya has publicly admitted he has a substance abuse problem and checked himself in for treatment on multiple occasions. In January 2017, he was arrested for driving under the influence of alcohol. In 2019, during an investigation of attempted extortion, De La Hoya admitted to using cocaine in 2018.
Late in 2019, the 46-year-old was accused of sexual assault for an incident in 2017. De La Hoya has denied the allegations. 
Today, De La Hoya is involved in the day-to-day operations as CEO of Golden Boy Promotions, which has added MMA to its portfolio, and represents a number of top fighters and negotiates business deals with venues to host and televise fights.
De La Hoya's legacy in boxing was secure when he retired from fighting more than a decade ago. With his business thriving, the De La Hoya brand plans to be a big part of the sport where he made his name for many years to come.