Floyd Mayweather Jr.'s Last Loss Was in a Slap Fight
There is something to be said for the notion that the breaks even out in the end. In the case of Floyd Mayweather Jr., experienced boxing observers thought the judges unreasonably handed him Jose Luis Castillo's WBC lightweight title in 2002.
If that was the case, however, is there any boxing victory that can make up for the Olympic gold medal Mayweather was on track to win in 1996 before one of the most unfathomable judges' decisions in the sport's history?
Mayweather thought he was in a boxing match that night in Atlanta. It turns out he was in a slap fight.
Floyd Mayweather Jr. ran the table as a professional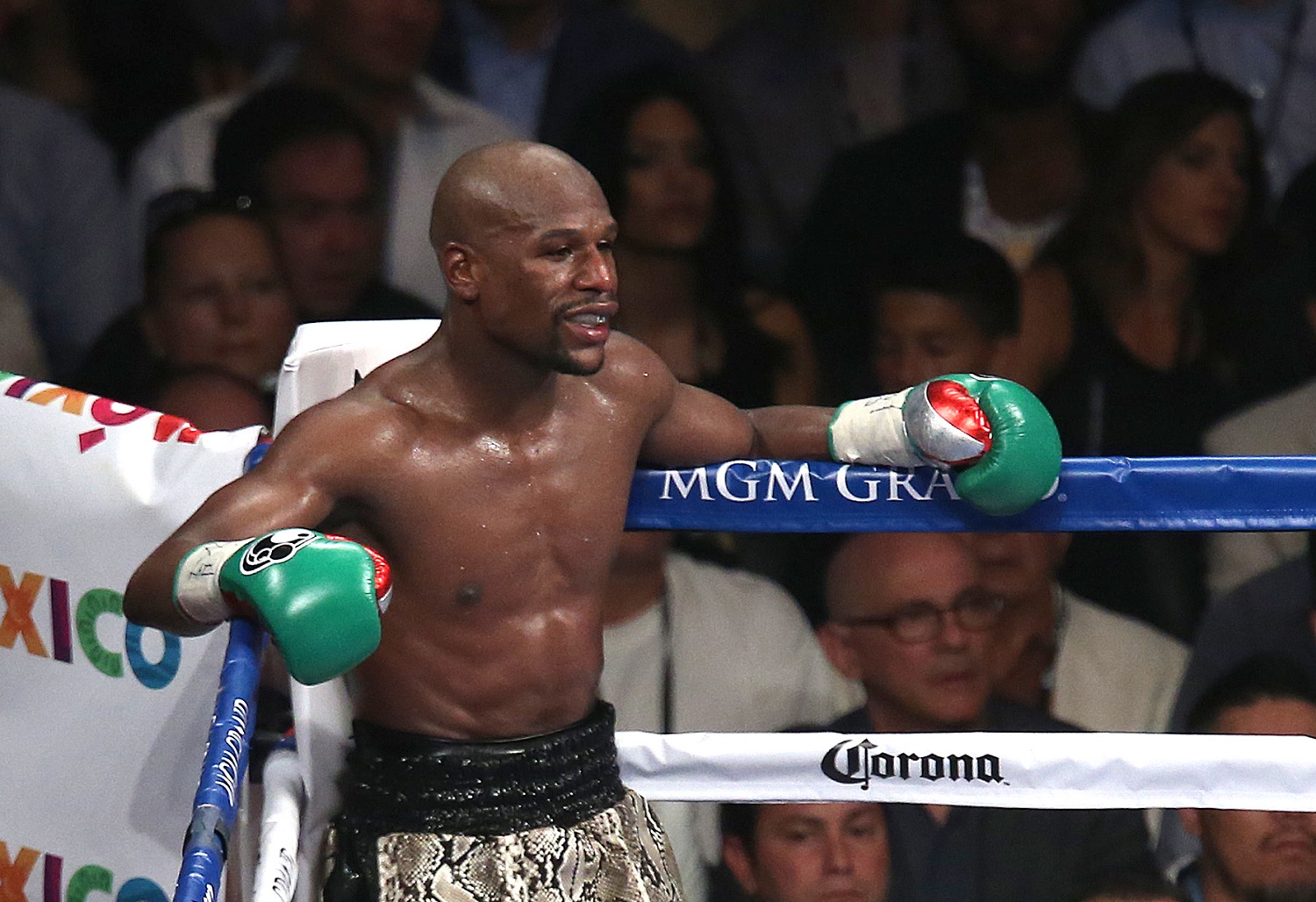 RELATED: UFC Fans Almost Got a $100 Million Fight Between Khabib Nurmagomedov and Floyd Mayweather
There is room to quibble over the quality of his opponents and note how he waited for Manny Pacquiao to start declining before accepting that fight. But no one can dispute that the record shows Mayweather winning all 50 of his professional boxing matches, including 27 by knockout.
Mayweather earned his first belt in just his 15th fight and captured five lineal championships. His last title defense was on Sept. 12, 2015, beating Andre Berto by unanimous decision in a welterweight contest, but he still earned Fighter of the Decade accolades from the Boxing Writers Association of America five years later.
All the while, Mayweather racked up massive paydays by picking opponents who filled arenas and attracted pay-per-view audiences. It translated into him earning $915 million in just a decade, quite a ways from his beginnings as a pro.
Mayweather made his debut with a TKO of Roberto Apodaca on Oct. 11, 1996. It was the first of 12 fights in 13 months on the way to building his 50-0 record.
The whirlwind start was the continuation of an impressive amateur career. Trained by his father and by uncle Roger Mayweather, Floyd Mayweather Jr. captured the first of his three Golden Gloves championships in 1993 as a 16-year-old on his way to an 84-8 record.
Mayweather's loss in the Olympics was controversial
The culmination of Mayweather's amateur career came in 1996. At age 19, he emerged from qualifying to earn the featherweight slot on the U.S. Olympic Team competing in Atlanta. After two decisive victories, Mayweather scored a close decision over Lorenzo Aragon, marking the first time in two decades that an American had defeated a Cuban.
"There was no question in my mind after that that he was going to win the gold," U.S. Coach Al Mitchell told the Atlanta Journal-Constitution.
The victory in the quarterfinals made Mayweather a sudden attraction for the American TV audience. But what happened next became an international controversy, reviving memories of how Roy Jones Jr. lost to Park Si-hun in an implausible judges' decision at the 1988 Olympics in Seoul.
In his semifinal against Serafim Todorov, Mayweather carried the action. Neither fighter delivered a crushing blow, but the American appeared to score consistently while the Bulgarian resorted at times to pawing at Mayweather and delivering light taps that had no effect.
The fight went the distance, leaving the outcome in the hands of the judges. As the announcer read the 10-9 final score to the crowd, referee Hamad Hafaz Shouman raised Mayweather's hand in victory. And then the unthinkable happened: The announcer said Todorov had won, leaving the partisan crowd outraged.
What happened in Atlanta was a slap fight
RELATED: Floyd Mayweather Doesn't Think Kneeling or Black Lives Matter Inscription Solves Anything
Mitchell, the U.S. coach, protested the decision in the Mayweather-Todorov fight. Team manager Gerald Smith pointed to video showing that punches landed by Mayweather were not counted — the majority of judges had to press a button in order to record the point — while lazy slaps by the Bulgarian were counted.
The protest failed, leaving Mayweather with a bronze medal and sending Todorov to a gold-medal bout he subsequently lost. Veteran referee Bill Waeckerle, one of four U.S. judges assigned to the Olympics by the International Amateur Boxing Federation, turned in his resignation in protest.
Mayweather was understandably disappointed, but his pro career awaited. Just 26 months after the Atlanta fiasco, he earned the WBC super featherweight title when Genaro Hernandez's corner threw in the towel at the end of the eighth round.
Ten fights after that, Mayweather added the lightweight belt to his collection — but not without controversy. The judges awarded Mayweather a unanimous decision over Castillo on April 20, 2002, in Las Vegas, but many other observers thought Castillo had won.
Even Mayweather realized that he might have lost in the court of public opinion. He offered Castillo a rematch eight months later, this time coming away with a clear-cut victory.
Like Sportscasting on Facebook. Follow us on Twitter @sportscasting19.