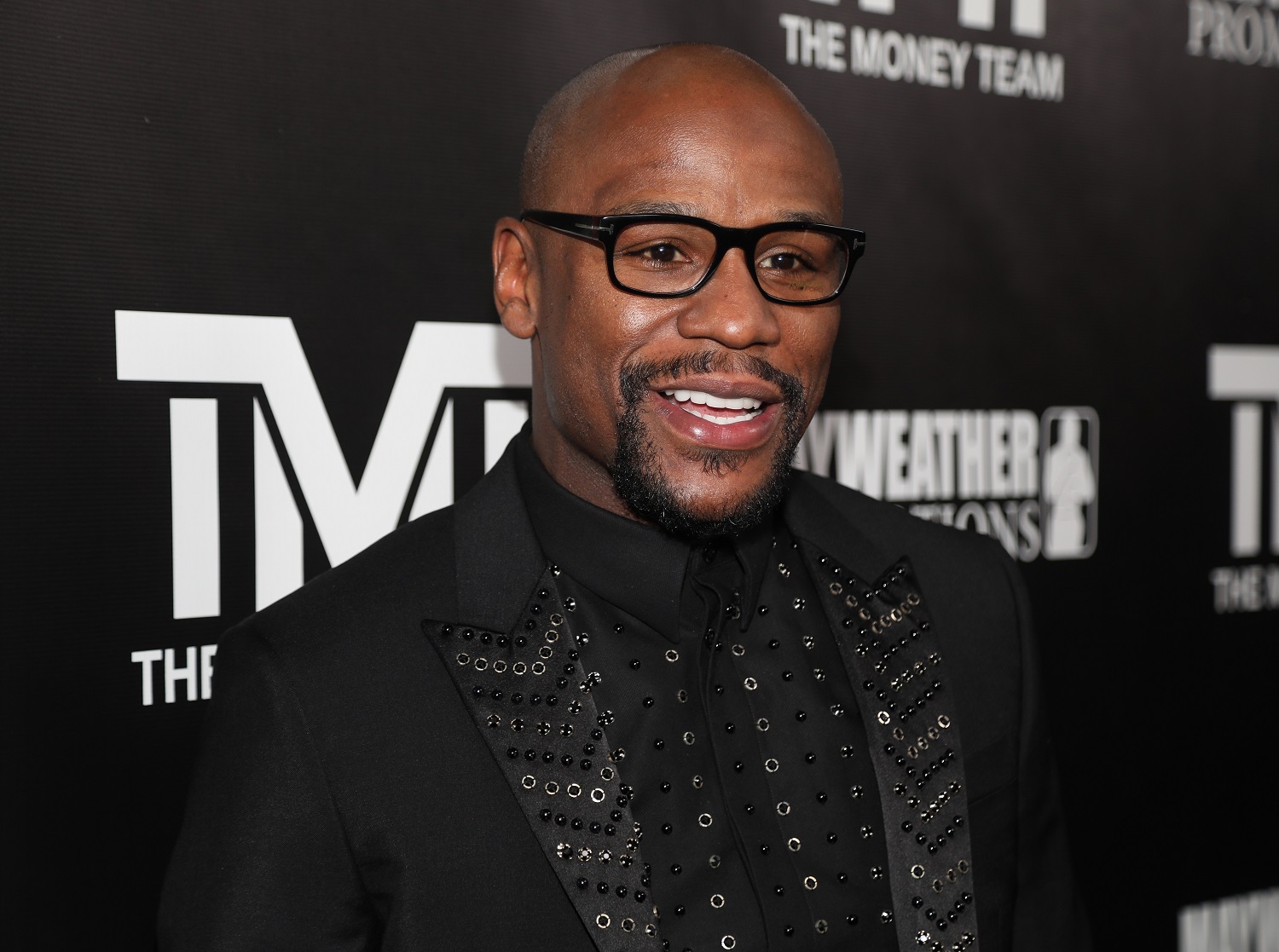 Floyd Mayweather Doesn't Think Kneeling or Black Lives Matter Inscription Solves Anything
Floyd Mayweather is frustrated with athletes kneeling and leagues putting Black Lives Matter on the court or field. He's offering a radically different solution for police brutality.
In 2016, just weeks after Colin Kaepernick first kneeled in protest of police brutality, boxing champion Floyd Mayweather Jr. said the San Francisco 49ers quarterback should focus on his job and suggested that "all lives matter" and that people should "follow order."
Fast forward four years, and Mayweather is once again tackling the subject of race. The undefeated boxer sat down for an interview with Shannon Sharpe on his Club Shay Shay podcast and discussed a variety of topics, including Black Lives Matter, police brutality, and his personal relationship with Breonna Taylor's family.
Floyd Mayweather pays for George Floyd's funerals
Floyd Mayweather Jr. has never himself personally been touched by police brutality, but knows someone who has. The former five-division champion grew up in Grand Rapids, Michigan. Breonna Taylor also grew up in Grand Rapids. On Shannon Sharpe's Club Shay Shay podcast, Mayweather said he's friends with Breonna Taylor's father, who is currently in prison.
While Mayweather personally knows the Taylor family, he didn't know George Floyd or his family. He did, however, know someone who did. Anzel Jennings, who is CEO of Mayweather's music label, grew up with Floyd in Houston. When Mayweather learned of this connection, he had Jennings reach out to Floyd's family. 
Mayweather offered to pay for funeral services in Houston, Minnesota, and Charlotte. The family accepted his offer and later posted a check online for $88,500 that Mayweather had sent them for the costs of the services. 
Floyd Mayweather said using term African American is wrong
During that same interview with Sharpe, Floyd Mayweather said one of the problems that causes division with the Black community is language. He said referring to a Black person as African American has never made sense to him.
"We don't call the Europeans that came over, European Americans. So don't call us African Americans. They call us African Americans when they want to separate us. When I'm competing for the Olympic Team, I'm an American. But when I do something they don't like or they want to separate me, I'm an African American. I didn't compete on the African American Olympic Team. I'm an American.
'It's OK if you want to say he's a Black American, but I'm an American at the end of the day. Because most of the Black Americans that we call African Americans in this country don't know nothing about Africa or don't even know what tribe they come from."
Mayweather doesn't see kneeling as the answer
The Breonna Taylor shooting is a prime example of a flawed law enforcement and justice system that allows police officers to kill someone and then not suffer any consequences. In Taylor's case, no officer has been arrested or charged for her death. This lack of inaction has resulted in protests and demonstrations in cities across America as well as athletes in various sports calling for justice. Mayweather has a solution of his own. 
"We look on the NBA court right now, and we see these guys kneeling, and we see Black Lives Matter. This is what I want to say for the athletes and the entertainers. This is what we need to do. We need to have different policies come in with these police officers.
"If there's something that's not done right, you guys get the death penalty, or you guys get life without parole. If that happens, then guess what? Then we're going to get some different results. Then this will stop. But as long as these guys are just getting a slap on the wrist, this will continue to happen. I don't want the NBA to just put that on the court. I don't want the NFL, these guys just kneeling. Do something about this. Those officers that did that to George Floyd, they deserve life without parole."
Floyd Mayweather's position from 2016 to today has dramatically altered. But like most Americans, he's incensed seeing one Black person after another getting killed and those responsible for the death not facing justice. While his solution might sound radical to some, if those types of punishments were enforced, it's hard to imagine how there wouldn't be a reduction in officer-involved killings. And at this point, all options should be on the table until something changes.   
Like Sportscasting on Facebook. Follow us on Twitter @sportscasting19.