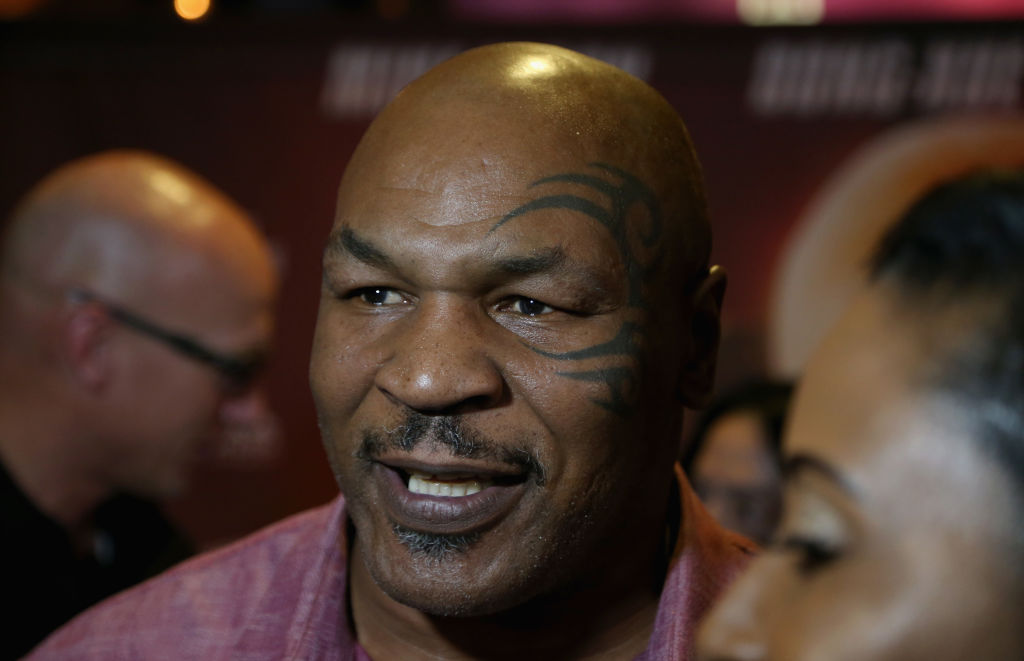 Mike Tyson Revealed What Happened in His Lone Fight in Prison
Mike Tyson once discussed the one and only fight he ever got into while in prison.
At the age of 20, Mike Tyson became the youngest heavyweight champion in history when he destroyed Trevor Berbick, who just happened to be the last man to fight Tyson's idol, Muhammad Ali. He unified the division a year later and remained undefeated until 1990, shockingly losing to Buster Douglas in arguably the biggest upset in boxing history.
Tyson would have four fights following his loss to Douglas but was then out of the sport for years while serving close to three years in prison. But that didn't stop Iron Mike from mixing it up a bit. Actually, he was involved in just one fight in prison and he recently told the story on how things went down.
Mike Tyson was sentenced to six years in prison in early 1992
Following his second fight with Donovan "Razor" Ruddock in June 1991, which made him the number one contender to Evander Holyfield, Mike Tyson was arrested the following month for the rape of 18-year-old Desiree Washington, a Miss Black America contestant whom he had met in Indianapolis at the pageant.
Tyson, who maintained his innocence throughout the trial, was convicted on February 10, 1992, and was sentenced to six years in prison and an additional four years of probation on March 26.
Mike Tyson revealed that he got into one fight while in prison
Otherwise known as Indiana Offender No. 922335, Mike Tyson had a fairly quiet stay at the Indiana Youth Center. He mostly kept to himself, reading up on the teachings of Islam (he converted during his sentence) and working out to stay in shape for a return to the ring upon his release. There were reports of minor incidents, including him threatening a prison staffer, which cost him three days in a disciplinary cell. But overall, he just wanted to do his time and go home, which he said wasn't always easy given his superstar status. Naturally, when you're Mike Tyson, someone is going to want to test you and that did happen. As he explained on his "Hotboxin' with Mike Tyson" podcast, the former champ did have to mix it up once while on the inside.
"I treated anybody the way I wanted them to treat me. And that's just how it was. They weren't scared of me. It all came down to respect.

"Just one time (I had to put punch someone in prison). Somebody said something and I just went over there and hit him. We were locked down for a long time and it was just something that was irritable and I went over there and hit him."

Mike Tyson
Tyson was released in March 1995.
The comeback
Upon his release, Mike Tyson wasted little time getting back into the ring. After training for a few months, he made his comeback in August 1995 against little-known Peter McNeeley, whom he knocked down numerous times in the first round before the fight was stopped. Iron Mike went on to regain the heavyweight crown the following year.