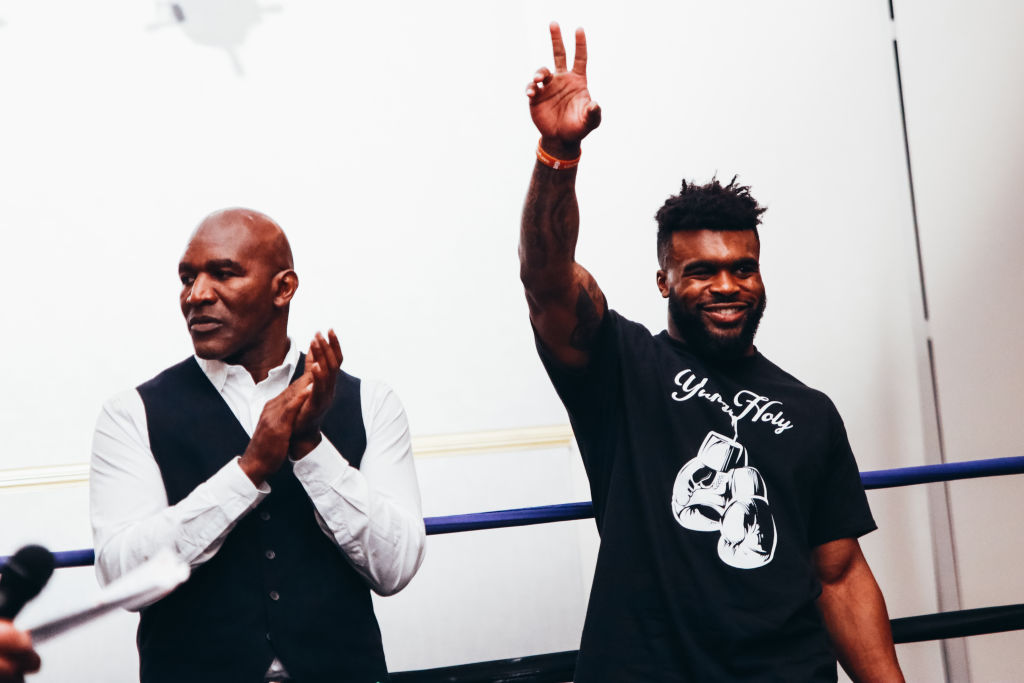 Evander Holyfield Has a Crazy Number of Kids, Two of Whom Are Trying to Build Their Own Legacies in Pro Sports
Two of Evander Holyfield's many children are building their own legacies in sports, one in the ring and another in the NFL.
Evander Holyfield is one of boxing's all-time great champions. To this very day, he still remains the only man to win the undisputed title in two weight classes, first at cruiserweight in the late 1980s and then in the heavyweight division in the 1990s. It's unfortunate that Holyfield might always best be remembered for having his ear bitten off by Mike Tyson because, as his nickname suggests, he truly was the "real deal" in his prime, taking part in some of the biggest and best fights of the '90s.
While staying busy inside the ring with fights against the likes of George Foreman, Riddick Bowe, Michael Moorer, Ray Mercer, Lennox Lewis, and Tyson, Holyfield stayed plenty busy outside the ring as well, fathering 11 children with six different women. Naturally, having that many children has cost him quite a bit of money over the years, which is perhaps why he's looking to get back in the ring at the age of 57. But if and when he does put the gloves on again, he won't be the only Holyfield in professional sports as two of his sons are looking to build legacies of their own.
Evan Holyfield is following in his father's footsteps as a boxer and has a 4-0 professional record
Following a stellar amateur career, 22-year-old Evan Holyfield (birth name Eleazar Evan Holyfield) turned pro this past November, making his debut on the undercard of the Canelo Alvarez-Sergey Kovalev bout in Las Vegas. Originally contracted as a junior middleweight fight, Holyfield's bout with Nick Winstead was contested at catchweight as Winstead couldn't make the 154-pound limit. Weight wouldn't matter here as Holyfield had an impressive debut, knocking Winstead out in 16 seconds to capture his first pro win with Evander Holyfield right there in the front row.
Just three weeks later in Houston, Evan was impressive yet again, earning a third-round TKO win over Henry Mendez. In February, Holyfield earned his third consecutive victory by knockout, annihilating Travis Nero in 82 seconds. In his most recent fight in March, Holyfield went the distance for the first time in his career, earning a four-round decision over Dylan Carlson. Evan Holyfield is still quite raw but the potential is certainly there.
Elijah Holyfield played college football at Georgia and is now a member of the Philadelphia Eagles
Elijah Holyfield has taken a different path than his father and brother, choosing the football field over the boxing ring. He enrolled at the University of Georgia in 2016 but played in just five games as a true freshman, rushing for 29 yards on six carries. In his sophomore season, his role was a little bigger as he rushed for 293 yards on 50 carries but he had a breakout year in 2018, rushing for 1,018 yards and seven touchdowns. He chose not to return for his senior season and entered his name in the NFL draft pool.
Unfortunately, Holyfield's name did not get called during the 2019 NFL draft but he signed with the Carolina Panthers as an undrafted free agent. He was waived just before the regular season began but was re-signed as a member of Carolina's practice squad. The Panthers let his contract expire but Elijah Holyfield was picked up by the Philadelphia Eagles this past New Year's Eve and will take his second shot at making an opening-day roster later this year.
Evander Holyfield is preparing for a comeback to the ring at age 57
Apparently not wanting Mike Tyson to get all the attention, Evander Holyfield recently announced that he's also making a comeback to the ring, although the 57-year-old certainly has no plans to go after any titles. He'll be competing in exhibition matches to raise money for Unite 4 Our Fight, a charity designed to aid in youth development.