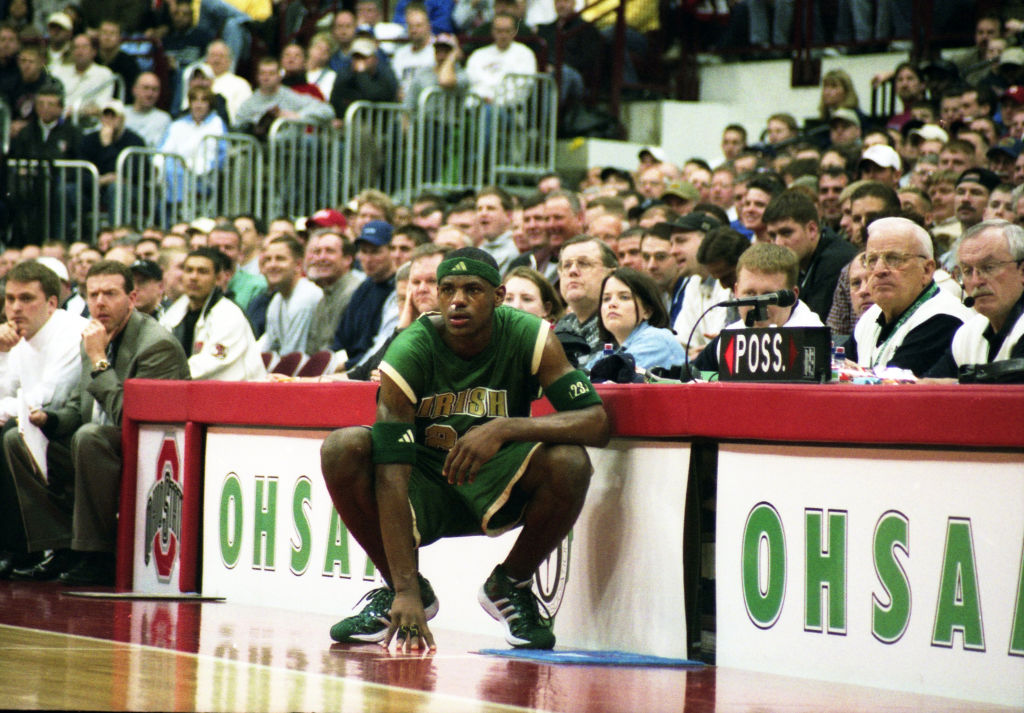 LeBron James Had a More Depressing Childhood Than You Think
While LeBron James has grown into one of modern sport's biggest stars, his life started out in much more challenging circumstances.
It's easy to assume that professional athletes are living the dream. They get to play a children's game for a living, after all, and are paid handsomely for their efforts. Once you look beyond the money, however, even the biggest stars are still human beings. Los Angeles Lakers forward LeBron James is living proof of that reality.
While James has been dominating the basketball scene since he was in high school, his life hasn't been a walk in the park. In fact, King James' childhood was tougher than you might think.
LeBron James' early rise to prominence
Most athletes reach the national stage during their time in college. LeBron James, however, was simply too talented to remain under the radar.
During his freshman year at St. Vincent-St. Mary High School, James earned a place on the varsity basketball team; unsurprisingly, he started dominating the competition. At the end of his sophomore season, LeBron took home the Ohio Mr. Basketball title and earned a place on the USA Today All-USA First Team.
After that, James' star only continued to rise. His games started appearing on television; no matter the opposition, LeBron always seemed to rise to the occasion. By the time he entered the 2003 NBA draft—he, of course, went first overall to the Cleveland Cavaliers—the teenager was nationally known as the next big name in basketball.
The road to the NBA started in difficult circumstances
On the basketball court, LeBron James seemed like the perfect player. His childhood, however, was anything but ideal.
In 2003, Lawrence Donegan chronicled James' rapid rise to fame for the Guardian. LeBron's mother, Gloria 'Glo' James, gave birth to him when she was 16-years old; his father, Anthony McClelland, was "a casual boyfriend with an extensive criminal record." That left Gloria to fend for her young family on her own.
LeBron bounced between houses, living in as many as six locations in a single year. He was absent from school more often than not;  "I saw drugs, guns, killings; it was crazy," James explained to Donegan. One moment, however, would change everything.
After learning about Glo's situation, Frank Walker, LeBron's football coach, offered to give the boy a home. "My life changed. I had shelter and food,' LeBron explained in that Guardian feature. "I'll never forget what the Walkers did for me, especially Frank. He doesn't get the recognition he deserves because he's real quiet, but he was the first one to give me a basketball and the first one to show a real interest."
LeBron James has made good on his opportunity
Thanks to Frank Walker, LeBron James got a chance to have a more normal childhood. It's safe to say he has more than made good on that opportunity.
James has developed into one of the biggest stars in basketball history; at this point, his athletic resume speaks for itself. The forward has won three titles, two Olympic gold medals, and four NBA MVP awards; with all respect to His Airness, he's the closest thing we have to the second coming of Michael Jordan. LeBron's greatness, however, extends beyond the hardwood.
While almost every major athletes does charitable work, James is doing his part to make sure the children of Akron, Ohio get on the right track. The LeBron James Family Foundation does everything from running the free I Promise School to helping students pay for college; there's even an I Promise Village, which provides transitional housing, hopefully keeping students from experiencing the same struggles that James himself did.
LeBron James might have had a tough childhood, but that wasn't the end of his story. Instead, it was only the beginning.