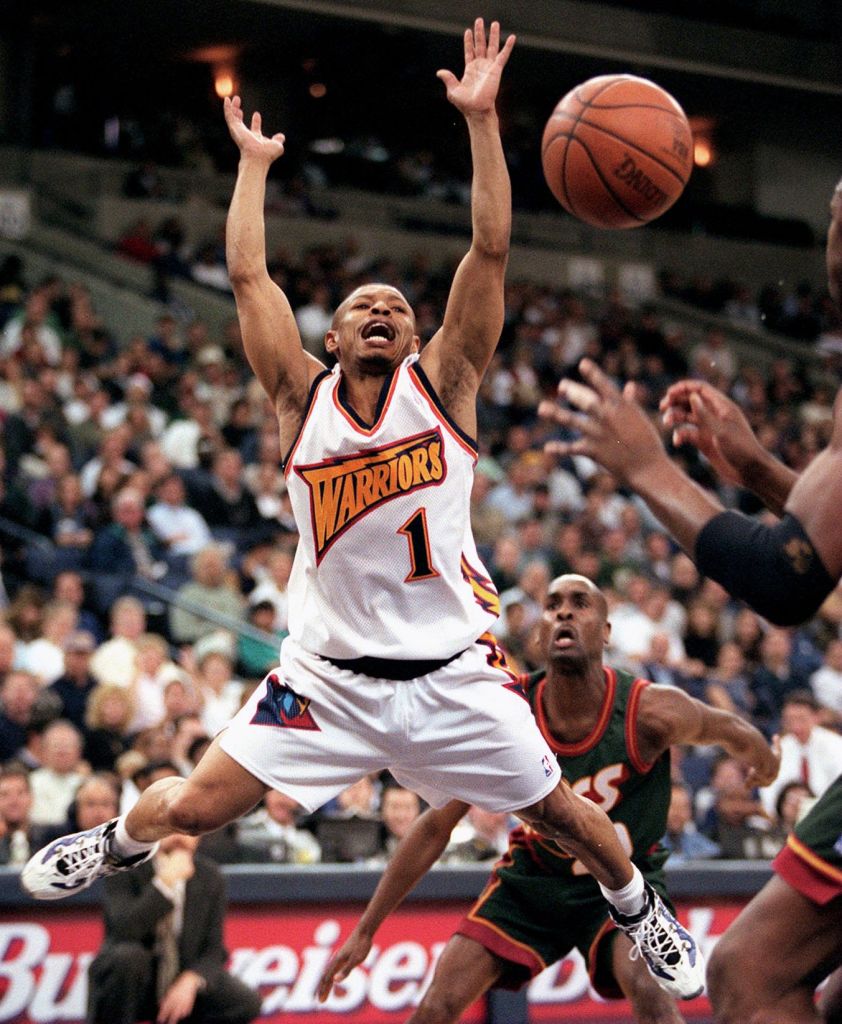 Did Michael Jordan Really Use 5 Words to Ruin Muggsy Bogues' NBA Career?
Michael Jordan earned a reputation as one of the NBA's most notorious trash talkers. Muggsy Bogues watched his career tumble because of one Jordan sentence.
When it comes to trash talkers, there wasn't anyone better than Michael Jordan. The fiercely competitive six-time NBA champion dominated opponents physically and mentally throughout his storied NBA career. Of course, that career famously included a brief baseball attempt before Jordan rejoined the Chicago Bulls to extend their dynasty. When His Airness left the outfield for the hardcourt, he wasted no time exacting vengeance on his NBA brethren during that 1994-95 season. Allegedly, his most famous trash-talking victim happened to be the shortest player in league history: Muggsy Bogues.
Muggsy Bogues developed into a solid starter for the Charlotte Hornets
Muggsy Bogues faced many doubters in his basketball career. That's part of the territory when you're the shortest player on the court no matter what level you're playing at. However, the pint-sized point guard played so well at Wake Forest that he became a legitimate NBA prospect. In a stacked 1987 NBA draft class that saw David Robinson go No. 1 overall to the San Antonio Spurs, Bogues didn't have to wait too long to hear his name called.
After the Bulls landed Scottie Pippen in a draft-night trade at No. 5, the Pacers selected sharpshooter Reggie Miller with the 11th pick. The Washington Bullets made Muggsy Bogues the 12th player off the board. Despite his size concerns, he actually played more minutes than every player taken after him except for Mark Jackson, who went 18th overall.
Bogues played sparingly in his only season with the Bullets before the newly-minted Hornets selected him sixth overall in the 1988 NBA Expansion draft. By his second season in Charlotte, Bogues became the team's starting point guard and averaged a career-high 10.7 assists per game. He held down for several years and watched his production steadily rise. However, after averaging a career-high 11.1 points during the 1994-95 regular season, everything changed come playoff time.
Michael Jordan's NBA return
That fateful '94-95 season marked the return of Michael Jordan. His brief minor league baseball career cost him most of the regular season, but he still averaged 26.9 points at age 31. However, the Phil Jackson-led Bulls were far from the dominant squad that won three NBA titles before his sudden retirement. Chicago went 55-27 without its best player in '93-94. Yet, the Bulls won just 34 games before Jordan returned at the end of 1995 to help Chicago go 13-4 down the stretch.
The Bulls finished third in the NBA Central Division and entered the playoffs with a top-five defense. Toni Kukoc and B.J. Armstrong played key roles as secondary scoring options along with 3-point specialist Steve Kerr. In the first round of the playoffs, the Bulls traveled south to take on the Hornets, who had secured just their second postseason berth since becoming an NBA franchise.
How Jordan may have ruined Bogues' NBA career
In a true David vs. Goliath matchup, the battle-tested Bulls faced an up-and-coming Hornets team featuring the dynamic duo of Alonzo Mourning and Larry Johnson. The titanic frontcourt combined to average nearly 43 points per game in a series that turned out to be more competitive than it probably should have been. Michael Jordan dropped 48 in a Game 1 victory before Mourning exploded for 23 points and 20 boards in a Game 2 victory that tied the series. The Bulls returned home and made easy work of the Hornets in Game 3, which set the scene for one of the most hotly-contested rumors in Jordan's storied career.
According to former Bulls assistant coach Johnny Bach, the 6-foot-6 Jordan had to guard the 5-foot-3 point guard on a key possession late in the game. What happened next has become a popular urban legend:
On the biggest possession of the game, Muggsy had the ball with the Hornets down one. Jordan backed off of him and told him, 'Shoot it, you f***ing midget.'  Muggsy shot it, didn't come close. A year later Muggsy actually told Johnny Bach that he believes that single play ruined his career. His shot never recovered.
While it's never been proven whether the five-word exchange actually happened, the fact remains that Michael Jordan's legendary trash-talking skills make it more than believable. Coincidence or not, Muggsy Bogues missed most of the following season with a knee injury and never averaged more than 8.0 points per game for the rest of his career after that fateful playoff encounter against Michael Jordan.