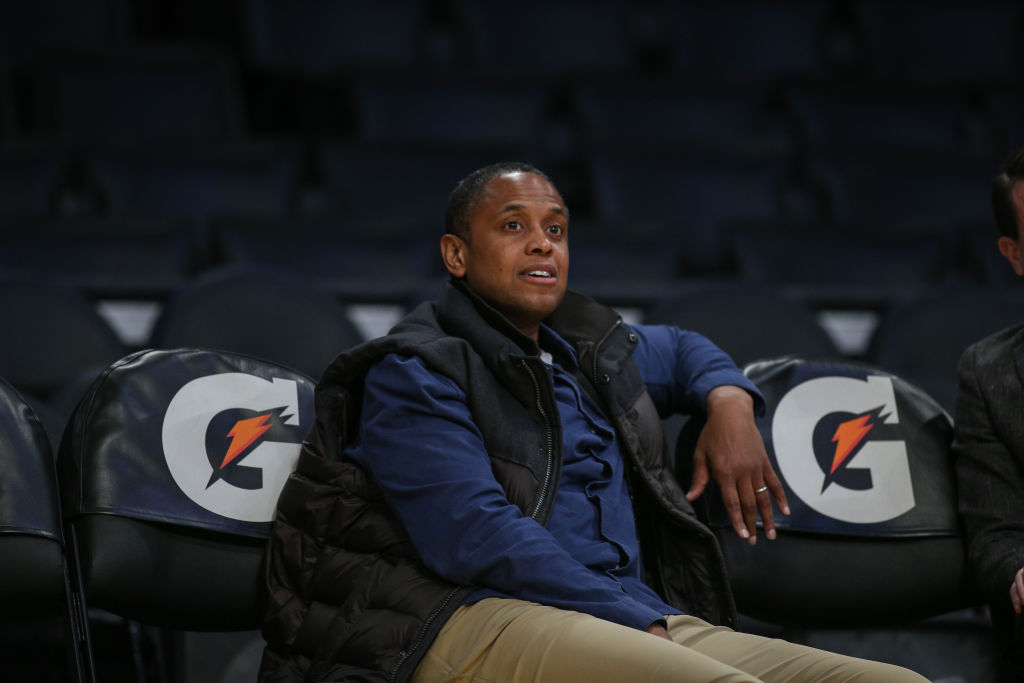 Remember When B.J. Armstrong Started in the NBA All-Star Game?
A look at how former Chicago Bulls point guard B.J. Armstrong once got voted into and was actually a starter in the NBA All-Star Game.
B.J. Armstrong is never going to be looked at as one of the elite players in NBA history. Is his name recognizable? Of course. He was a key role player for the Chicago Bulls during their first three-peat in the early 1990s, first coming off the bench and eventually replacing John Paxson as the starting point guard alongside Michael Jordan, Scottie Pippen, Horace Grant, and Bill Cartwright.
But then Jordan was gone, retiring ahead of the 1993-1994 season to try his hand at baseball, jolting the entire landscape of the NBA. Jordan was the biggest star the game of basketball had ever seen and Chicago Bulls fans were looking to somehow fill the void that Jordan left behind. Wanna know how much they missed Jordan? Simply wanting a Chicago Bulls guard in the 1994 NBA All-Star Game, Bulls fan voted in B.J. Armstrong as a starter for the Eastern Conference. Sure, Armstrong was a decent player. But an All-Star? And a starter at that?
B.J. Armstrong takes on a bigger role with the Bulls
After coming off the bench for the Chicago Bulls in his first few years in the NBA, B.J. Armstrong became the starting point guard in the Windy City in 1992, the season after the Bulls had won their second NBA title. With John Paxson getting older, Armstrong became a key role player in the Bulls' third championship, averaging 12.3 points and four assists per game that season.
With Jordan gone in 1993, Armstrong was asked to step up his game even more and performed well. Scottie Pippen had obviously become the number one option for Chicago and had a career year in 1993-1994, averaging a career-best 22 points per game to go along with 8.7 rebounds and 5.6 assists. Horace Grant had become the second option and also had the best year of his career, earning an All-Star nod of his own with 15.1 points and 11 rebounds per night.
Pete Myers had replaced Jordan as the shooting guard and Toni Kukoc had finally joined the team but it was Armstrong that needed to pick up some of the scoring slack behind Pippen and Grant. And he did so, averaging a career-best 14.8 points per game that season. Now I'm not saying that's not impressive. But was it All-Star worthy?
Armstrong led all guards in voting for the 1994 NBA All-Star Game
When you look at the options for the 1994 NBA All-Star Game, the big names obviously stand out. Charles Barkley was coming off an MVP season. Shaquille O'Neal had already become a huge star. Scottie Pippen was having the best year of his career. Hakeem Olajuwon would lead the Houston Rockets to the title that season. And the list goes on with Karl Malone, Clyde Drexler, Gary Payton, David Robinson, Patrick Ewing, John Stockton, Alonzo Mourning, Mark Price, and then…B.J. Armstrong. It just doesn't look right, does it?
Yes, B.J. Armstrong was having the best year of his career. But when you look at options for starting guards, or just guards at all, in the Eastern Conference, was B.J. Armstrong really one that would stick out? You know who wasn't on that All-Star team in 1994? Reggie Miller. Penny Hardaway. Trust me, I could keep going.
And the other crazy part here? B.J. Armstrong received more votes than any other guard in the NBA with 529,065 and was third overall in the voting, behind only Barkley and Shaq. Yep, that means that Armstrong received more votes than even Scottie Pippen. Now that's just nuts.
How did he do in the game?
To his credit, B.J. Armstrong played well in his first and only All-Star Game of his career. In 22 minutes, he shot 5-for-9 from the floor, including 1-for-2 from beyond the arc, for 11 points, one of five double-digit scorers for the East in a 127-118 victory. Scottie Pippen led the way with 29 points and 11 rebounds and took MVP honors.
Armstrong would play one more season with the Bulls before becoming the first selection in the expansion draft by the Toronto Raptors in 1995. He refused to report and was traded to the Golden State Warriors, where he spent two years. After stints with the Hornets and Magic, he returned to Chicago for one final season in 1999-2000.
In 11 NBA seasons, B.J. Armstrong averaged 9.8 points and 3.3 assists per game.