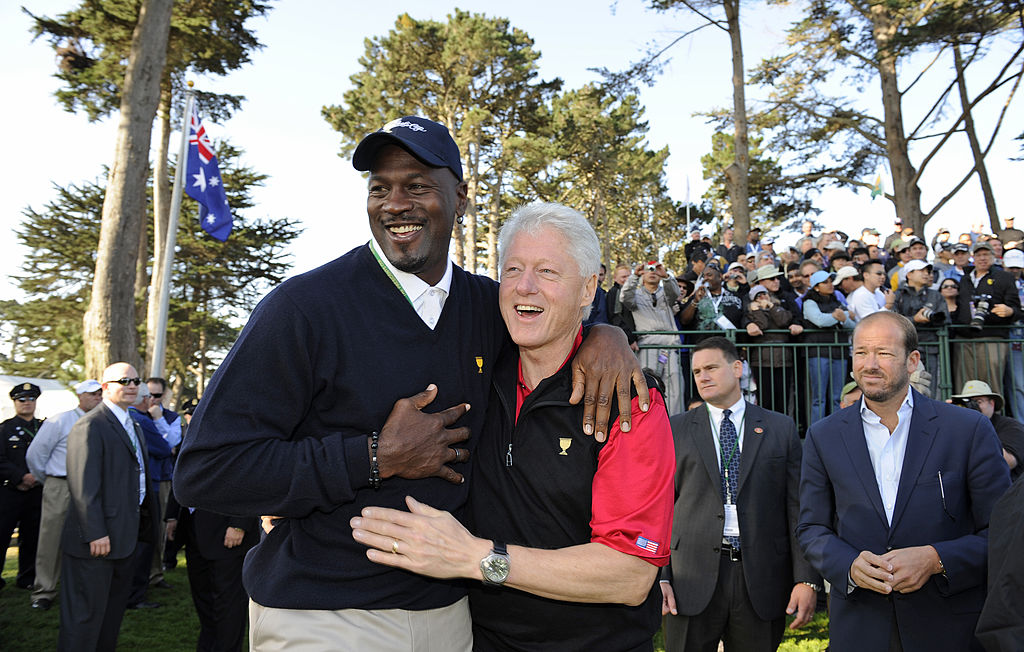 Michael Jordan Talked Trash to Everyone, Even Bill Clinton
Michael Jordan will go down in history as one of sports' best trash-talkers. Even Bill Clinton wasn't safe from MJ on the golf course.
Both on and off the basketball court, Michael Jordan is larger than life. As a Chicago Bull, the guard's dominance became the stuff of legend; from kids everywhere donned red 23 jerseys and played with their tongues sticking out, trying to imitate their hero. His Airness, however, also talked trash with ruthless ease.
That competitive spirit, however, didn't discriminate. Michael Jordan even talked trash to Bill Clinton during a 'friendly' round of golf.
Michael Jordan's famous will to win
During his professional basketball career, Michael Jordan established himself as one of the most dominant athletes we've ever seen. That commanding presence, however, extended beyond the hardwood.
MJ, of course, spent 13 seasons with the Chicago Bulls and played another two campaigns with the Washington Wizards. The guard averaged 30.1 points per game, good for more than 30,000 total points over his career, but was more than a pure scorer. Jordan was a winner.
His Airness won six NBA championships and six MVP awards, but that wasn't enough. Whether he was hitting the golf course or sitting at the card table, Jordan refused to lose; in retirement, that competitive fire extends to more benign pastimes, like BeJewled, word-search puzzles, and Sudoku.
Trash-talking his way to the top
During his playing career, Michael Jordan's talent was legendary. His trash-talking, however, was almost as notable as his scoring touch.
In the heat of the moment, His Airness wouldn't pull any punches. He went after Reggie Miller in a scrimmage, ignoring the fact that the result didn't matter. Utah Jazz fans even felt Jordan's wrath on at least one occasion.
Due to their proximity to Jordan, the Chicago Bulls dealt with plenty of trash talk, too. While Steve Kerr explained that MJ wanted to ensure that everyone could handle the pressure, that didn't make the situation any easier. After Rodney McCray joined the Bulls, Jordan apparently unleashed a verbal assault on the forward in practice; McCray could "hardly put up a jumper" after that and retired at the end of the season.
Michael Jordan even talked trash to Bill Clinton
It's one thing to talk trash to fans or your teammates, but it's another thing to taunt the former president of the United States. Michael Jordan's competitive spirit, however, knows no bounds.
Clinton is a fan of golf and has used his status to hit the course with some of the sport's biggest names. A day on the links with Jordan, though, was far from a pastoral experience.
Modern golf courses have several sets of tees, allowing players to experience the course at a length that matches their skill level. When Clinton headed to the middle tees, however, Jordan wasn't having it.
"Jordan coaxed him from the white tees to the championship tees by saying, 'You're going to play from the little girls' tee?'" Jordan's challenge was for Clinton to break 100; he did," John Paul Newport explained in a 201 Wall Street Journal article.
While dipping into gendered insults isn't cool, Jordan's trash talk seems to have worked. If he was using the seem strategy from his playing days and seeing if his partner could handle the pressure, Bill Clinton apparently passed the test.