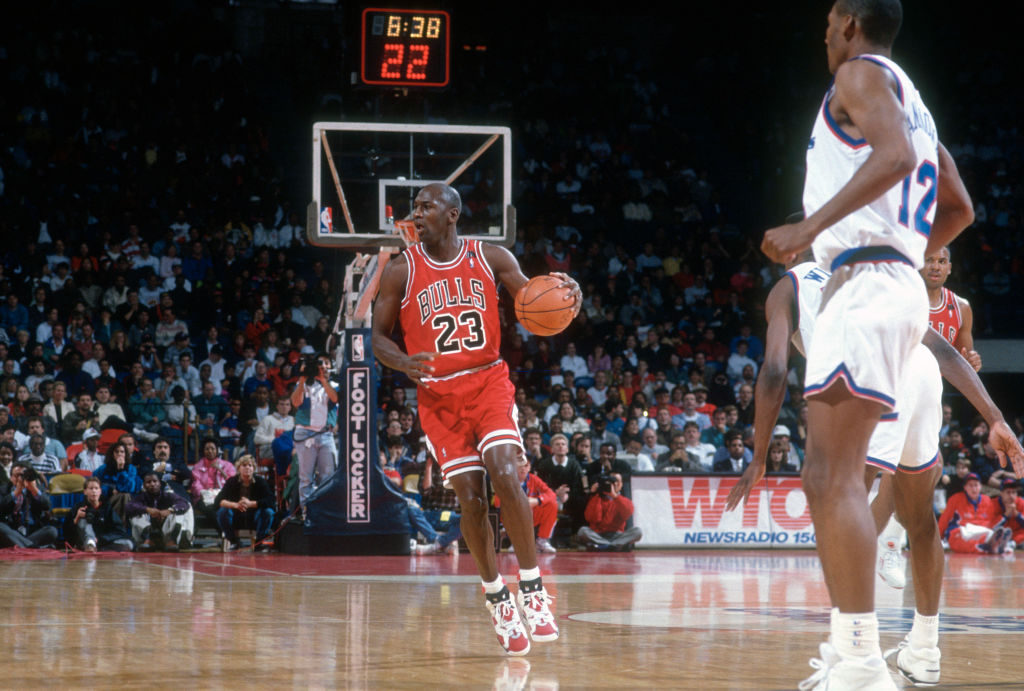 Why Did Michael Jordan Wear Number 23?
Few uniforms in sports are more famous than Michael Jordan's 23 Chicago Bulls jersey. But how did he get that iconic number?
In the world of professional sports, certain numbers speak for themselves. The number 3 on the New York Yankees, for example, can only belong to Babe Ruth. In more modern times, Kobe Bryant made both 8 and 24 his own. No one, however, can top Michael Jordan and his iconic number 23 jersey.
His Airness' didn't end up with his number purely by chance, though. In fact, there's a sentimental reason behind Michael Jordan's famous 23.
Michael Jordan's legendary basketball career
Even if you aren't a diehard NBA fan, it's impossible to be unfamiliar with Michael Jordan's greatness. While MJ doesn't want to call himself the greatest player of all-time, he sits atop the sport's pantheon.
Jordan's basketball career, however, got off to an infamous start as he failed to make his high school's varsity team at the first attempt. After a growth spurt, he made the squad the next fall; before long, he was named a McDonalds' All-American and on his way to the University of North Carolina.
After his time in college, which included a National Championship, Jordan headed to the pros and landed with the Chicago Bulls. While he had some struggles getting past the Detroit Pistons, His Airness's greatness proved to be unstoppable. Even with a brief sojourn into professional baseball, Jordan scored over 30,000 points, won six championships, and six MVP awards before calling it a career.
Why did Michael Jordan wear number 23 on his jersey?
While there were a few notable exceptions, Michael Jordan took to the court wearing number 23 on his back. That wasn't by accident; 23 carried a special significance for the NBA legend.
Jordan may now stand alone as basketball immortality, but even legends have role models. For MJ, that was his older brother, Larry. The two brothers competed in everything, especially on the basketball court.
Playing on the varsity basketball team, Larry Jordan wore number 45; when Michael made the team, he donned 23 because it was (roughly) half of his brother's number.
He, of course, stuck with that number throughout his college and professional careers. During his time on the baseball diamond, however, he wore Larry's 45; MJ also briefly stuck with the number during his return to the NBA but would switch back to 23 before long.
The legacy of 23 lives on today
While it's been quite a while since Michael Jordan took to the basketball court, the legacy of 23 lives on. Whether you're watching high school, college, or professional basketball, you'll surely see someone wearing that famous number in honor of MJ.
LeBron James is probably the most famous of those current players; while he briefly switched to six in Miami, he reverted back to 23 after leaving South Beach. For him, it's about paying tribute to the man who inspired him as a boy.
"So when I started playing basketball, I was like: 'Oh man, that two-three looks good. I wanna be able to fly like him," James said in February 2019. "I wanna be able to shoot like him. I wanna be able to dunk on somebody like him. I wanna be able to stick out my tongue like him in the air and yell in somebody's face like MJ."
Years ago, Michael Jordan started wearing number 23 because of his older brother. Now, countless players around the world wear 23 because of His Airness.