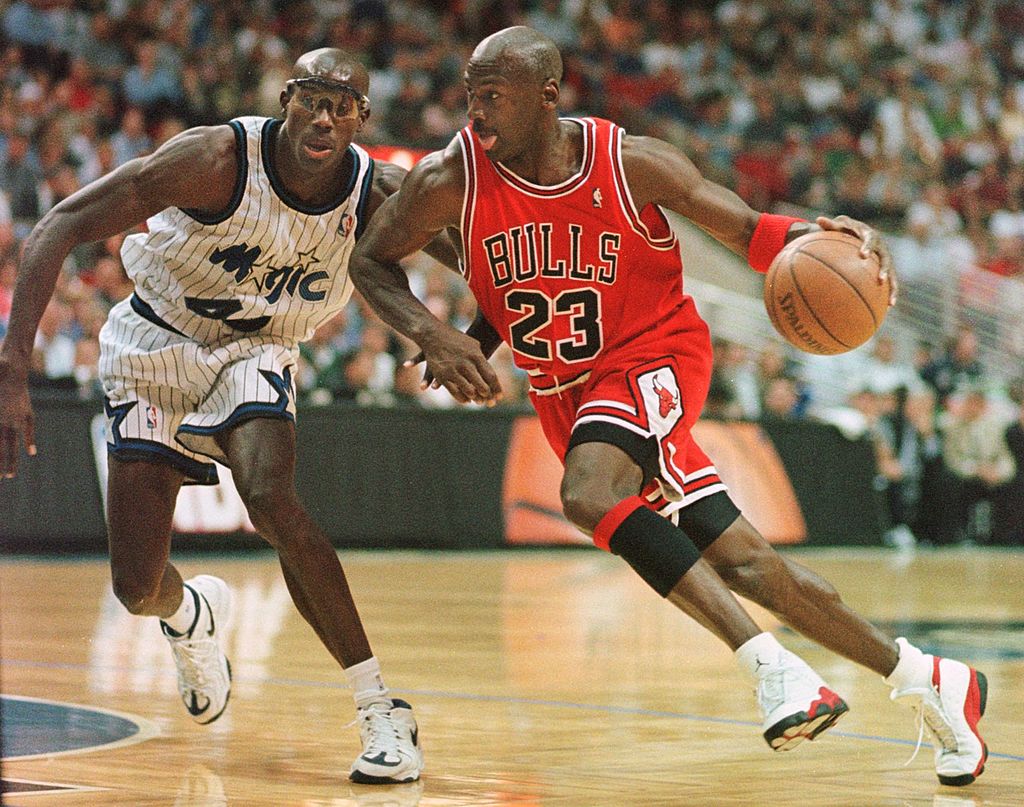 Here's Why Michael Jordan Played 1 Memorable Game on Valentine's Day 1990
Michael Jordan had dozens of memorable moments in the NBA, but Valentine's Day 1990 might have been the most unique game of his career.
For Michael Jordan, February 14, 1990, was one of the more unique experiences of his career. He didn't have a horrible shooting night or get ejected, but it was still surreal for Chicago Bulls fans to see on their TV screens. That particular game was memorable for one surprising reason, and Jordan's performance stacked up well against some of his other best career highlights.

Not wearing No. 23?
The thing that made that Valentine's Day game against the Magic so unique is that Jordan did not wear his customary No. 23 jersey. His jersey was stolen, and he had to settle for wearing a No.12 jersey instead.

Having a jersey stolen wasn't typical for NBA players as security was usually very tight around their superstar players. It was very surprising for someone to swipe a jersey from a locker room.

How did he do wearing the new number?
In the game against the Orlando Magic, Jordan put up 49 points in the nameless jersey. He shot 21-of-43 from the field, while also pulling down seven rebounds. The most surprising stat from this game was Jordan only made it to the line for 10 free throw attempts, making seven of them. 
The Bulls lost the game 135-129, but Jordan had his No. 23 back in time for their next matchup; he scored 38 points in a 111-107 win in early April that season.

Other memorable games for Michael Jordan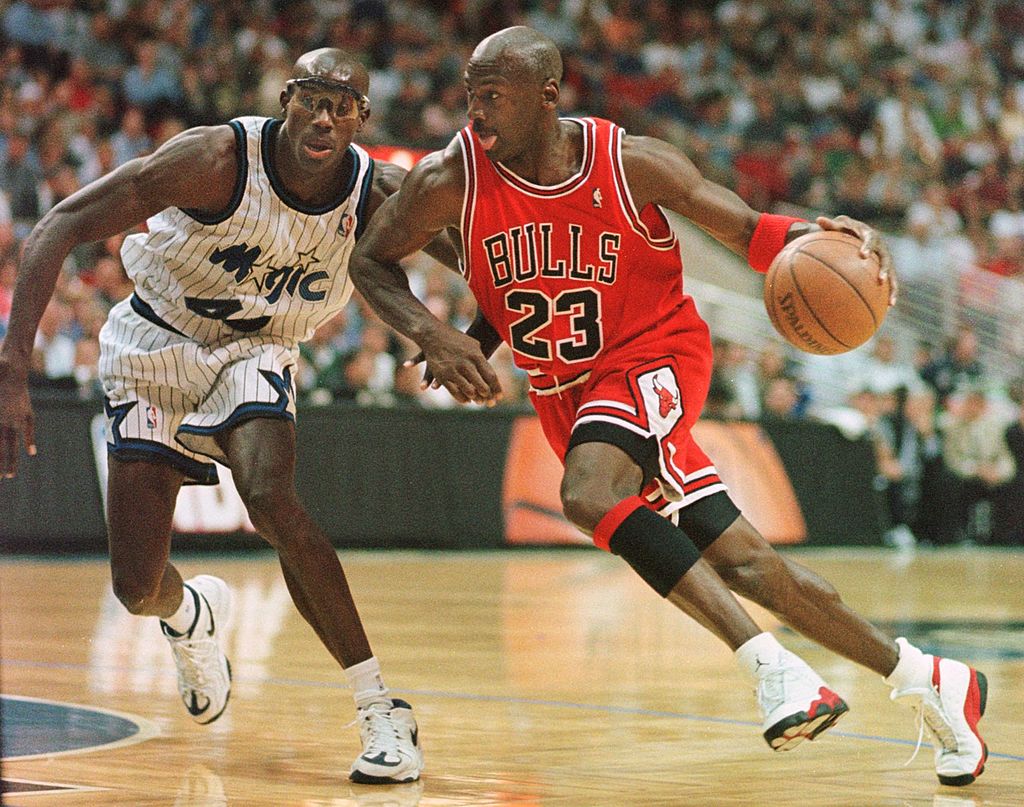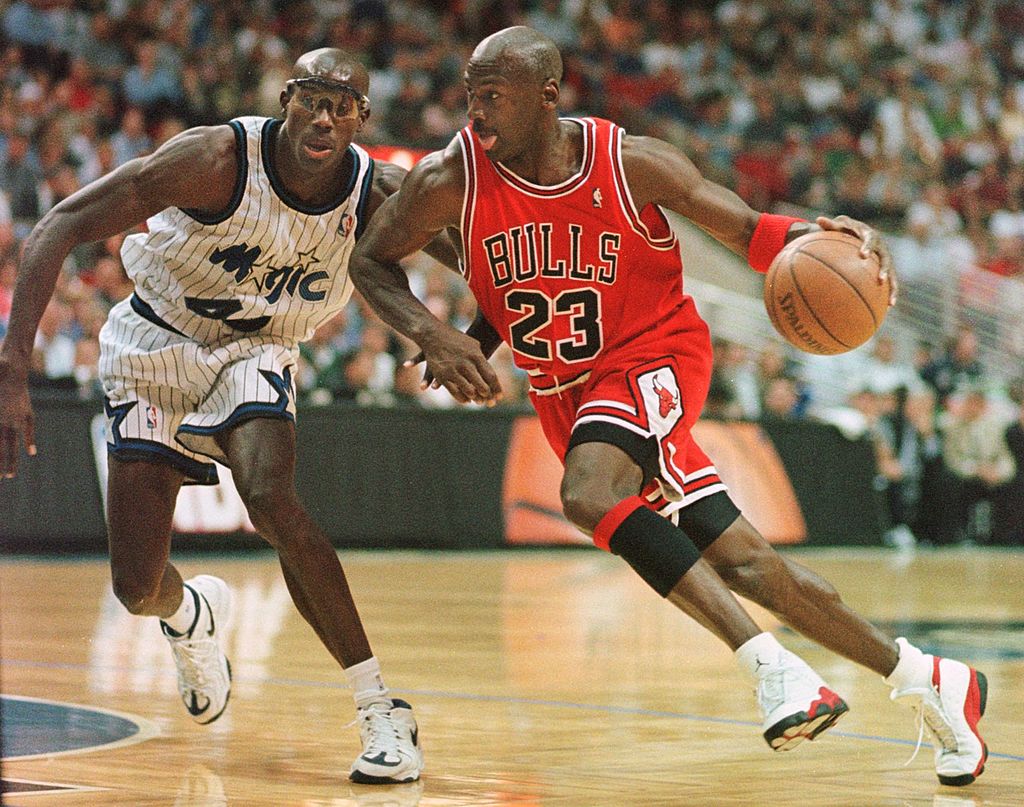 By the time Michael Jordan dropped 49 points while wearing the No. 12, his status as an all-time NBA legend was already secure. After all, he had several standout performances on his resume by then. When you think of Jordan's career, which games stand out to you the most? A few come to our mind.
Schooling the Celtics
The first for us is the 63 point playoff performance against the Boston Celtics. Larry Bird said God was disguised as Michael Jordan, and to this day, it is recognized as one the game's best playoff performances. Chicago didn't have a lot of scoring options in the early portion of Jordan's career, so it wasn't a surprise to see Jordan single-handedly keep this team in the game.
Clutch shot against the Cavaliers
Before Michael Jordan and the Bulls won the NBA Finals, No. 23 was well versed in late-game heroics. During the 1989 NBA playoffs, Jordan's series-clinching buzzer-beater against the Cavaliers helped spark Chicago on a run to the Eastern Conference finals that year.
Double-nickel against the Knicks 
When Jordan abruptly retired after the Bulls' first championship three-peat, it left a void in the basketball world. The man that became a global icon walked away from the game in the middle of his prime.

His return was even more epic. His first game back against his hated rival the New York Knicks at Madison Square Garden was simply masterful. All Jordan did was score 55 points on 21-of-37 shooting.

He was also 10 of 11 from the free-throw line. No one had an answer for Jordan, and he also had a powerful dunk on Patrick Ewing, that Knicks fans to this day say was a traveling violation that wasn't called. 

As Jordan's second stint in Chicago progressed, he had even more memorable games.

More of Michael Jordan's most memorable accomplishments
Not only did Michael Jordan power Chicago to three straight titles in the early 1990s, but he also led the Bulls to another three-peat. They won titles against the Seattle SuperSonics and the Utah Jazz (back-to-back matchups against the Jazz).

The "flu game" against the Jazz in 1997, Jordan's final shot over Byron Russell that sealed the second three-peat in 1998 — we can go on and on about iconic moments during Jordan's career. Those are two more moments that you can spend hours talking about. The only real question about Michael Jordan's career was: would the Houston Rockets have won back-to-back titles if he didn't retire?

Jordan won six NBA championships (with six NBA Finals MVP awards), was named to 11 All-NBA teams, and made 14 All-Star teams. A force on both ends of the floor, he not only holds the record for highest career points per game average, but he was also selected to nine All-Defensive teams.

When you look at what Michael Jordan accomplished during his playing career, wearing No. 12 and scoring nearly 50 points while doing so barely registers. Still, it's one of the more unique games of Jordan's legendary career. Would you be surprised if something like this happened in today's NBA? It would be a sight to see LeBron wearing a nameless jersey, which makes Jordan playing in the No. 12 so memorable.