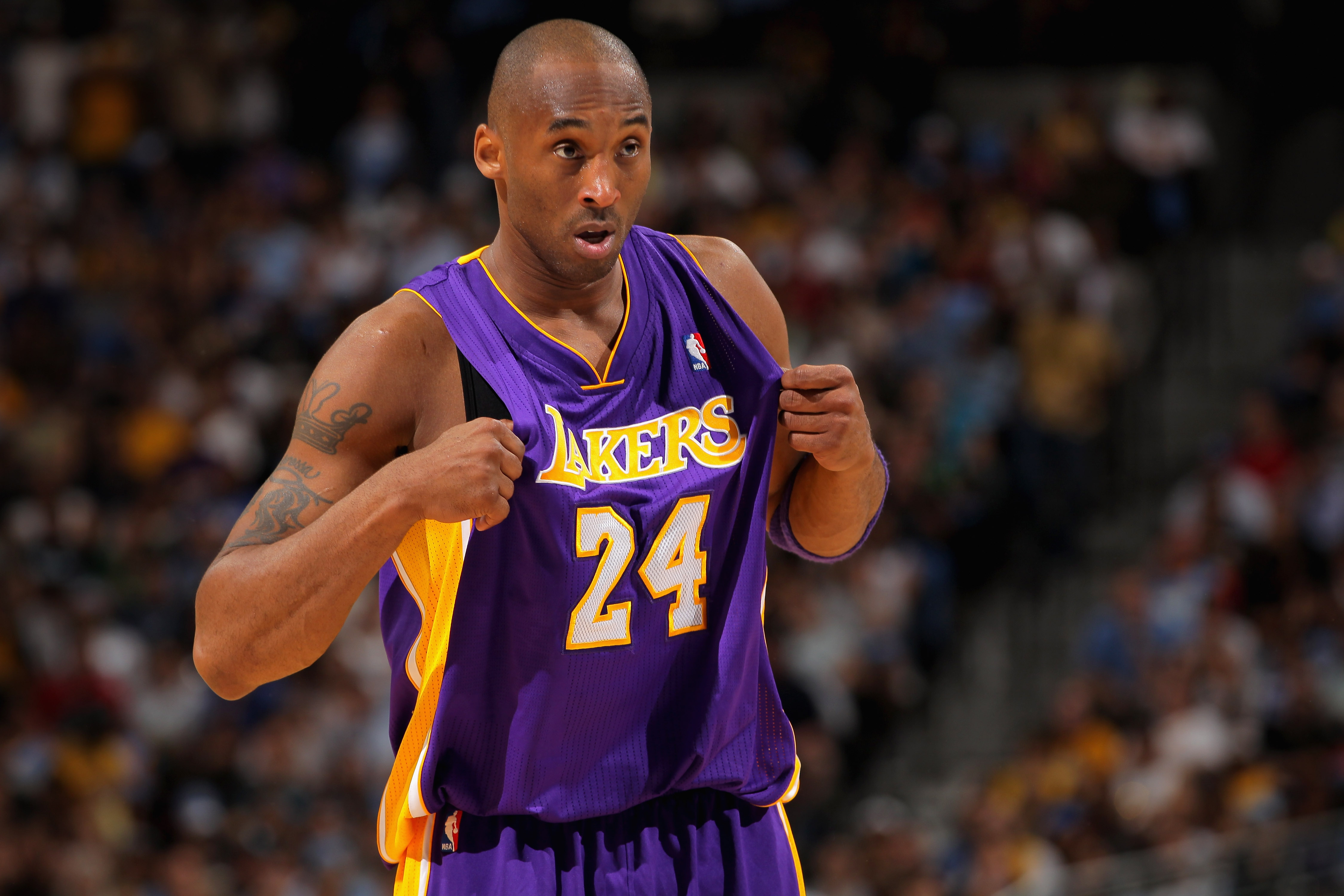 Why Did Kobe Bryant Have 2 Jersey Numbers?
Why did Kobe Bryant go through his career wearing the No. 8 and No. 24 jerseys over his two decades in the NBA?
If you take sit back and take a look at the legendary career of Kobe Bryant, you'll notice his dominance, his competitiveness, and his will to win. You'll also take note that he has two jersey numbers retired by the Los Angeles Lakers. Bryant began his career in LA wearing No. 8, but midway through his Hall of Fame career, he switched over to No. 24. Why the move?
Kobe Bryant's change from 8 to 24
The Charlotte Hornets selected Kobe Bryant with the 13th overall pick in the 1996 NBA Draft before trading him to the Lakers. Through the first 10 years of his career, Bryant donned No. 8 and enjoyed a tremendous amount of success, earning eight of his 18 NBA All-Star appearances.
According to Baxter Holmes of ESPN, Bryant initially chose No. 8 based on his Adidas camp number, 143, as these numbers add up to eight. Bryant said his time in the No. 8 jersey was when he was proving to himself that he belonged in the NBA.
"When I first came in at 8, is really trying to 'plant your flag' sort of thing. I got to prove that I belong here in this league. I've got to prove that I'm one of the best in this league. You're going after them. It's nonstop energy and aggressiveness and stuff."

Kobe Bryant
Before the 2006-07 season, Bryant made the switch to 24, a number he wore early in his career at Lower Merion High School in Ardmore, Pennsylvania. According to ESPN, Bryant never intended to make a switch, but he did because the Lakers changed directions by trading Shaquille O'Neal to the Miami Heat. He hoped to make the switch immediately, but the deadline passed, so he waited until the 2006-07 season for change. He called it his way of starting over.
"It's kind of a clean slate," he said. "I started new. Just start completely fresh, focus on the number that meant a lot to me."
Kobe Bryant's production: 8 vs. 24
It does not appear that Bryant had more success with one number than the other. In fact, the numbers are eerily similar. In the No. 8 jersey, he racked up 16,866 points, just 89 more than he compiled when he wore No. 24.
He won three NBA championships in the No. 8 jersey. Bryant also earned a scoring title in those 707 games with the 8 on his back.
While wearing No. 24, he collected 16,777 points. He also won a pair of NBA titles, two Finals MVP awards, a scoring championship, and an MVP award. He was named an All-Star 10 times in the 639 games played in that jersey.
Bryant, who tragically died in a helicopter crash in January 2020, was a gamer. Nobody flaunted the competitive fire he did, and it didn't matter what jersey he wore.