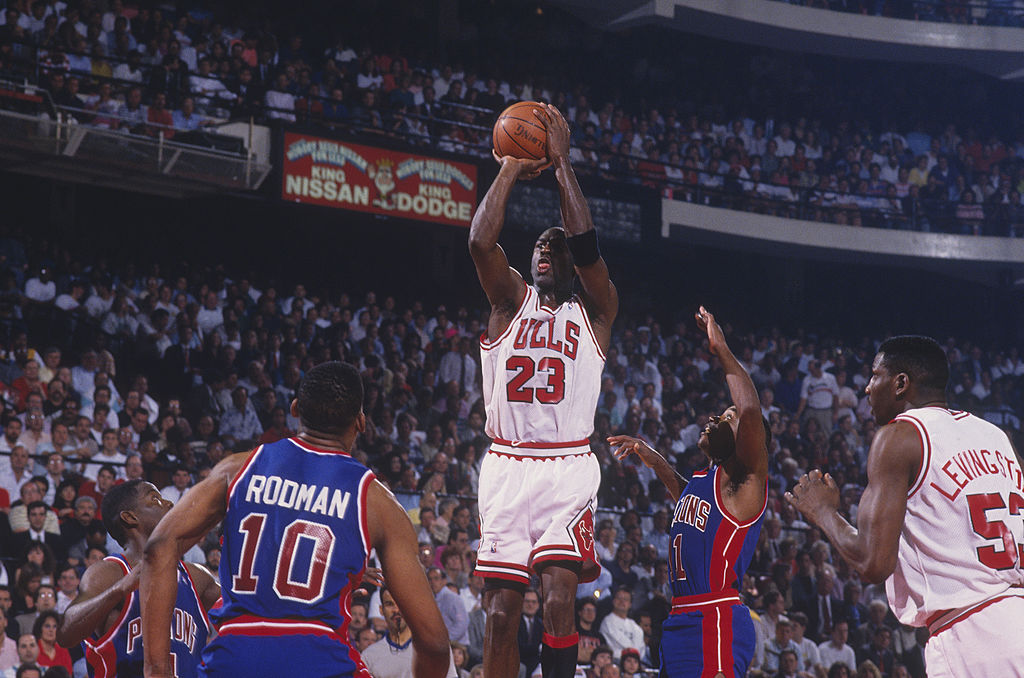 Michael Jordan Strikes Fear in Teammates in New Video from The Last Dance Documentary
Michael Jordan achieved greatness because he demanded excellence. A new video from The Last Dance documentary shows just how demanding Jordan could be.
Michael Jordan isn't the greatest of all time by accident. A reported original cut from The Last Dance documentary, scheduled for airing this summer, reveals a side of Jordan we haven't ever seen, but one we always imagined about someone who achieved sustained excellence because he demanded it of his teammates and himself. If anyone ever questioned whether it was Jordan's team, this clip leaves no doubt who was in charge of the Bulls.
The Last Dance documentary series
In May 2018, ESPN announced it would be releasing a 10-part documentary series on the 1997-98 Chicago Bulls season and Michael Jordan's last season with the team. The series would feature interviews and never-released footage from that season, in which the Bulls defeated the Utah Jazz 4-3 in the NBA Finals.
ESPN initially scheduled the release of the series for December 2018. In December 2019, the series had still not aired, but ESPN released another trailer. At the trailer's conclusion, it says, "Coming in June." 
There's been much speculation about the contents of the documentary based on what the three-plus minute trailer briefly offers up in behind-the-scenes footage. One thing not in question is the people who agreed to be interviewed for the series. At the trailer's end, it flashes a who's who of the basketball world including Kobe, Barkley, Magic, as well as President Barack Obama. 
The trailer prominently features Jordan and, at one point, the Hall of Famer admits to ridiculing his teammates until they elevated to his standard. His words harsh but a tool he regularly used to motivate. 
One of The Last Dance original cuts released
According to David Astramskas of Ball is Life, he shared the original cut of The Last Dance on Twitter, indicating he wasn't sure if the footage would make it into the final version of the series filmed more than ten years ago. 
In one scene, Jordan berates teammate Scott Burrell for making one jump shot the whole night. In another, Jordan confronts Toni Kukoc, a left-hander, and challenges him to improve his right-handed game. 
Not surprisingly, Jordan doesn't shy away from his demanding and confrontational style. 

I really didn't care if I broke 'em. And if they did get broken, they're not going to be any help to us when we need 'em the most.

Michael Jordan
Former teammate Judd Buechler said before he arrived in Chicago he had heard stories of Jordan's exacting style. "Guys needed to be traded and guys were moved from the team because they couldn't take criticism from MJ." 
Former teammate and current Golden State Warriors head coach Steve Kerr said there was an intimidation factor with Jordan. 
"You were kind of scared of him. Scared of what he was going to say," Kerr bluntly confessed.
Possible early release of the documentary?
With the coronavirus shutting down the nation, including all sporting events and their live broadcasts, many in the Twitterverse and beyond have speculated ESPN might release the series early. 
With various rumors swirling about an early release, ESPN responded with a big kibosh. Michael McCarthy of Front Office Sports reported a comment from an ESPN spokesperson, who said the reason there will not be an early release is because "the production of that film has not yet been completed."
More than two decades after it was all originally filmed, and they are still editing the final product? Are they toning MJ's tenor down? Are they getting more players to talk?
Whatever the case may be, if we have waited this long and despite the growling sounds of our voracious appetite for original sports programming, we can wait for a few more months. It will be interesting to see what makes it into the final product. If the recent footage is any indication, it's going to be fun to watch.