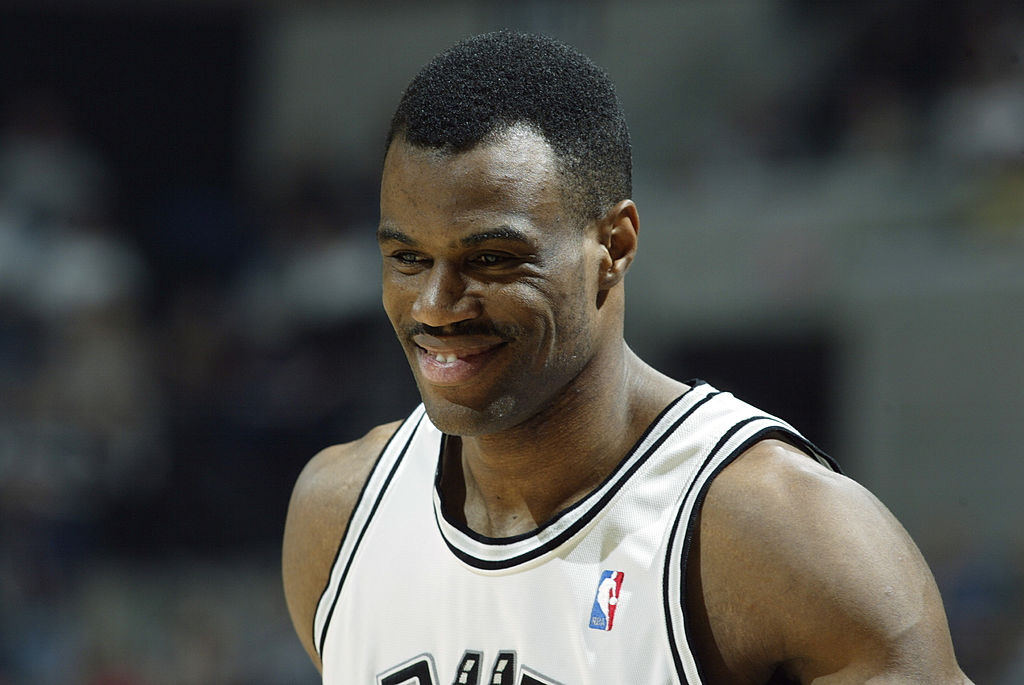 The 1987 NBA Draft Might Be One of the Most Underrated of All Time
A look at the 1987 NBA draft class, which produced a number of Hall of Famers, NBA champions, and notable players.
When NBA fans discuss the best draft classes of all time, it's the big ones that are usually mentioned.
There's the 1984 NBA draft class that included Michael Jordan and a number of other future Hall of Famers. There's the 1996 class that included Kobe Bryant, Allen Iverson, Ray Allen, and Steve Nash. There's the 2003 class that included LeBron James, Dwyane Wade, Chris Bosh, and Carmelo Anthony. There's the 2009 class that included Stephen Curry and James Harden.
However, one that often isn't brought up is the class from the 1987 NBA draft, which produced four Hall of Famers and a plethora of notable players and All-Stars, some of whom were key pieces on NBA championship teams.
David Robinson
David Robinson was the first overall pick in the 1987 NBA draft by the San Antonio Spurs, although he didn't appear in the league until 1989 due to his commitments to the Navy. He was worth the wait. Robinson won the Rookie of the Year in 1990.
In 14 seasons with the Spurs, Robinson averaged 21.1 points and 10.6 rebounds per game and won two NBA titles. "The Admiral" was a 10-time All-Star selection, a 10-time All-NBA selection, an eight-time All-Defensive selection, won the Defensive Player of the Year award and was the NBA MVP in 1995.
David Robinson was named to the NBA's 50th Anniversary All-Time Team in 1997 and was inducted into the Hall of Fame in 2009.
Scottie Pippen
While Scottie Pippen, who was taken fifth in the 1987 NBA draft by the Seattle Supersonics (he was traded to Chicago for Olden Polynice and draft picks), is sometimes looked at as Michael Jordan's sidekick on the six Bulls championship teams, he was a great player in his own right.
Pippen averaged 20 or more points in four of 10 seasons in his first run with the Bulls and was a seven-time NBA All-Star. He finished third in the NBA MVP vote in 1994, the year Jordan stepped away to play baseball, and won the All-Star Game MVP that same season. Pippen was also a fantastic defensive player, selected to 10 All-Defensive teams in his career.
After winning his sixth championship with the Bulls, Pippen played one year for the Houston Rockets and four years with the Portland Trailblazers before returning to Chicago for his final season in 2003-2004. Pippen joined David Robinson on the NBA's 50th Anniversary All-Time Team and was inducted into the Hall of Fame in 2010.
Reggie Miller
Taken with the 11th pick in the 1987 NBA draft by the Indiana Pacers, Reggie Miller became one of the best three-point shooters in NBA history.
It took a couple of seasons for Miller to adapt to the league but once he did, he became a force. He made his first All-Star team in his third season, averaging a career-high 24.6 points per game. Somehow, it would take him five years to earn another All-Star nod. Miller may best be known for his battles with the New York Knicks in the postseason. In 1994, he scored 25 points in the fourth quarter alone to beat them. The following year, he scored eight points in nine seconds to get a win for the Pacers. Incredible stuff.
In 18 seasons, all with the Indiana Pacers, Reggie Miller averaged 18.2 points per game. He sits in second place on the all-time list for three-pointers made with 2,560. He was inducted into the Hall of Fame in 2012.
Other notable players from the 1987 NBA Draft
While David Robinson, Scottie Pippen, and Reggie Miller are the only Hall of Famers from the 1987 NBA draft class, there were some other good players that were taken that year.
Kenny Smith (6th selection) won two NBA titles with the Houston Rockets. Kevin Johnson (7th selection) was a three-time NBA All-Star, a five-time All-NBA selection, and was responsible for one of the great highlights of the '90s (see above). Horace Grant (10th selection) was a key member of the Bulls' first three-peat. Muggsy Bogues (12th selection) was the shortest player in NBA history and had a solid career.
Mark Jackson (18th selection) was an NBA All-Star and is one of just five players in history with 10,000 assists. Reggie Lewis (22nd selection) was an All-Star and on his way to a great career with the Boston Celtics before tragically passing away in 1993. Sarunas Marciulionis (127th selection) was a great international player, played seven seasons in the NBA, and was inducted into the Hall of Fame in 2014.