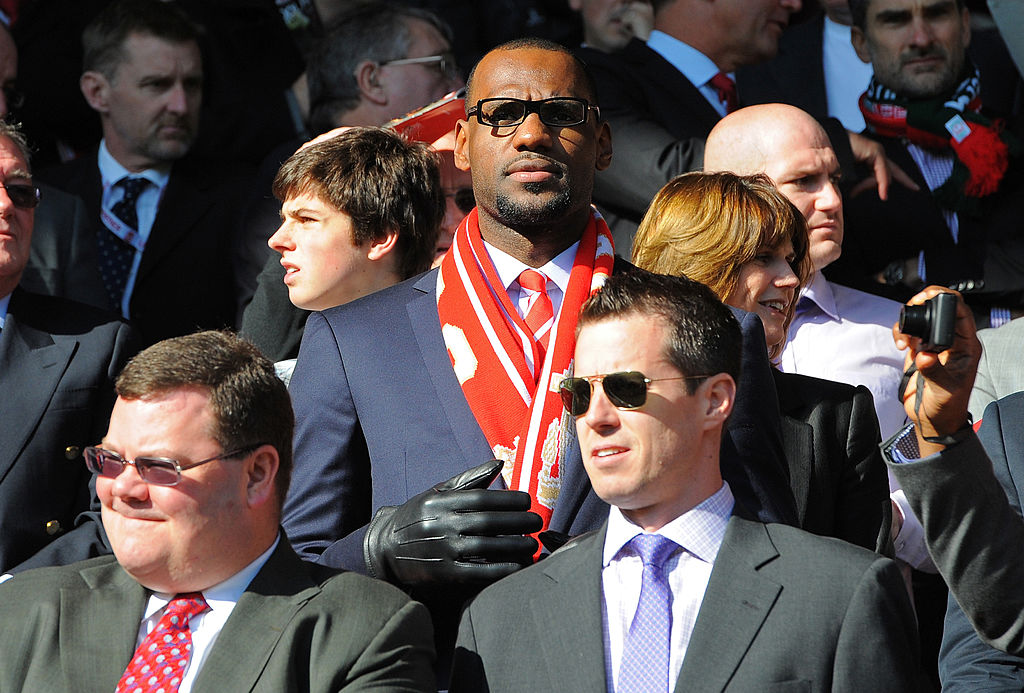 LeBron James Has Made Tens of Millions as Owner of Liverpool FC
LeBron James has been successful in both basketball and business. As owner of Liverpool FC, James' stake in the club has increased in value by tens of millions of dollars in recent years.
LeBron James has made his name and money in the United States as a superstar basketball player and the face of the NBA. In Europe, James is recognized as a basketball player and owner of the English Premier League club Liverpool FC, where the value of his ownership stake has skyrocketed in recent years.
How LeBron James made his money in basketball
In LeBron James' 17-year NBA career, he's put up impressive numbers. The 16-time All-Star has averaged 27.1 points per game over his career en route to winning three NBA titles, and earning awards, including 15-time All-NBA, six-time All-Defensive team, and four-time MVP. 
Those impressive figures have earned him the status as the best player in today's game and he's paid well for it. For the 2019-20 season, James is scheduled to make $37.4 million. That amount is roughly 10 percent of what James has earned over his entire career, which, according to Spotrac, is reportedly $306.9 million.
In addition to his annual salary, James is the top U.S. star in endorsements pulling in $55 million a year from brands including Beats, Blaze Pizza, Coca-Cola, and Nike. James has a lifetime contract with Nike that pays him $32 million a year. All of it combined, James makes around $92.4 million annually.
James has found great success in business
With his substantial yearly earnings from basketball and endorsements, James has invested in various businesses throughout his career. Some have been more profitable than others. In 2008, James was pitched an opportunity to invest in a fledgling company called Beats Headphones. James asked for a small stake in the company in exchange for wearing and promoting the product. 
In 2014, when Beats by Dre sold to Apple for $3 billion, James reportedly made more than $30 million. Former teammate Kendrick Perkins said James actually made $700 million on the deal. In addition to Beats, James also invested $1 million early on into the pizza chain Blaze Pizza. He has seen a reported $25 million return on his investment. 
LeBron James has a diversified portfolio, which includes ownership stakes in companies including digital sports programming network Uninterrupted, as well as SpringHill Entertainment, his production company, which has produced the television game show The Wall.  
LeBron James' ownership of Liverpool FC has made him millions
In October 2010, Boston Red Sox owner John Henry and chairman Tom Werner bought Liverpool FC for $477 million. Henry and Werner also own Fenway Sports Management, a global sports marketing firm that agreed to a joint venture in April 2011 with James and his marketing firm, LRMR. As part of that deal, James received a two percent stake in Liverpool FC of the English Premier League. At that time, James' stake was reportedly valued at $6.5 million.
Since James received his stake in the club, the team's value has skyrocketed, especially in the last couple of years, as Liverpool stayed near the top of the English soccer standings and won the UEFA Champions League in 2018-19 and finished second the year before. In 2019, Forbes valued the club at $2.183 billion.
Based on the club's current value, James' investment has grown nearly seven times from $6.5 million to $43 million in nine years. 
LeBron James may be known by most for his moves on the basketball court playing for the purple and gold of the Los Angeles Lakers, but he's becoming known in the business world for his moves off the court that have turned to gold in recent years.