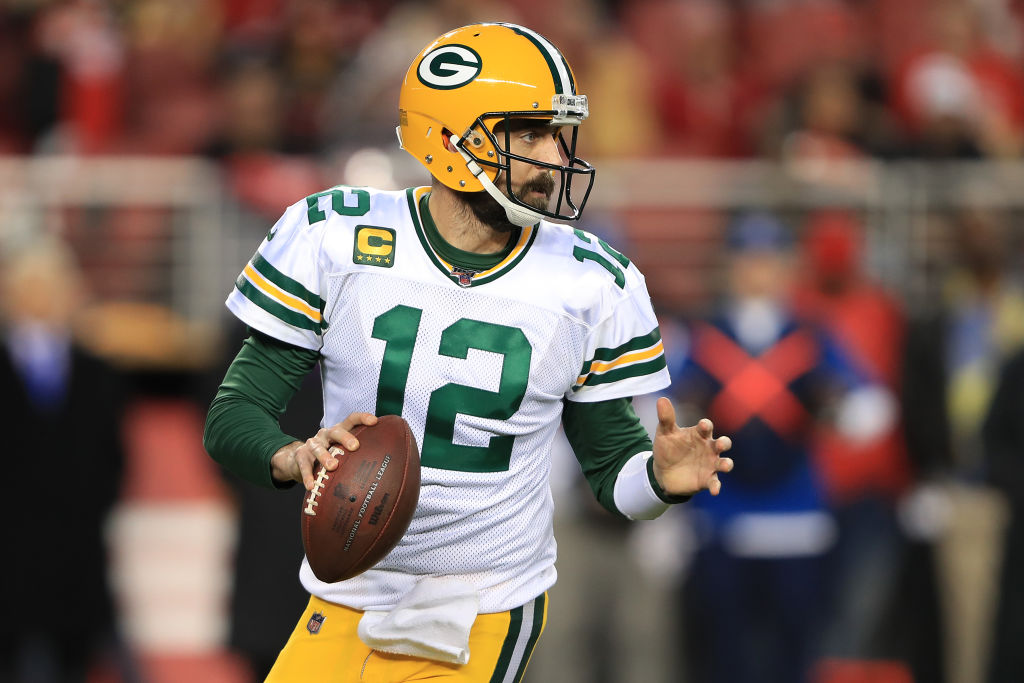 Aaron Rodgers Used Money From Green Bay Packers to Purchase Milwaukee Bucks
Aaron Rodgers has played his entire 15-year career in Wisconsin. With his money earned from the Packers, he decided to purchase the Milwaukee Bucks.
Aaron Rodgers is synonymous with Green Bay. For now. The future of the Packers star quarterback appears to be in some doubt with the recent selection of Jordan Love in the first round of the NFL draft. Regardless of whether Rodgers leaves next year or in five years, he will always have a team to return to in Wisconsin as an owner of the Milwaukee Bucks.  
Aaron Rodgers puts up Hall of Fame numbers with Packers
In his 15 seasons in Green Bay, quarterback Aaron Rodgers has earned a plethora of individual accolades including a pair of NFL MVP Awards, the 2010 Super Bowl MVP, two All-Pro team honors, and eight Pro Bowl nominations. 
He has helped guide the Packers to 10 playoff appearances, including a 31-25 victory over the Pittsburgh Steelers in the 2010 Super Bowl. For his career, Rodgers has the highest passing rating in NFL history. 
Before last season, the Packers rewarded Rodgers with a four-year, $134 million contract extension that made him the highest-paid player in the NFL. In his career, he has earned more than $219 million, and in 2018-19 alone, Rodgers pulled in $90 million, including endorsements.
Rodgers investments in other businesses
With his massive amount of wealth, Rodgers has invested in various business ventures including restaurants with fellow Wisconsin sports hero Ryan Braun, as well as a helmet technology company that creates helmets designed to better protect players.
Last year, Aaron Rodgers added to his business portfolio when he made a substantial seven-figure investment in the launch of a venture capital fund called RX3 Ventures. RX3 is focused on investing in consumer brands like Privé Revaux Eyewear, rowing machine Hydrow, and helmet maker VICIS.
The new venture is a perfect fit for Rodgers as it is backed by numerous investors from the world of sports, such as Desmond Howard, Danica Patrick, and a half-dozen NFL quarterbacks, including Sam Darnold.  
Aaron Rodgers buys Milwaukee Bucks
When the Milwaukee Bucks were bought in 2014 for $550 million by Wes Edens and Marc Lasry, the new owners immediately started seeking local investors. They approached Aaron Rodgers, who had sat court-side for years at Bucks games and was friends with Edens. While he was interested in the deal, he didn't feel that the timing was right and took a pass.
Fast forward to 2018. When a minority investor of the club decided to sell their share, Edens knew exactly who to call. There was, however, one big change since they last spoke about investing in the team—the club was now valued at more than $1 billion. Despite that rate increase, Edens offered Rodgers a buy-in deal at the original team value.  
While numbers have never officially been revealed, at the initial valuation amount of $550 million and Rodgers reported one percent stake, he invested around $5.5 million. When the deal was officially announced, Rodgers expressed his excitement in becoming an owner of a sports team, and in particular, the Bucks.  
"I have proudly called Wisconsin my home for the past 13 years, and I am thankful for the friendships and the opportunities I have been given to live and play here. I am excited and honored to deepen my connection to the region by joining Wes Edens, Marc Lasry, Jamie Dinan, Mike Fascitelli and the ownership group of the Milwaukee Bucks. As a huge fan of the NBA and the sport of basketball, this is a dream come true for me, and I look forward to furthering my affinity for Wisconsin sports as a minority owner in a team I love and support."
Whenever Rodgers finally calls it quits, whether it's in Green Bay or some other city, he now has a vested interest, literally, and will be able to return to Wisconsin and cheer on one of his two favorite teams.