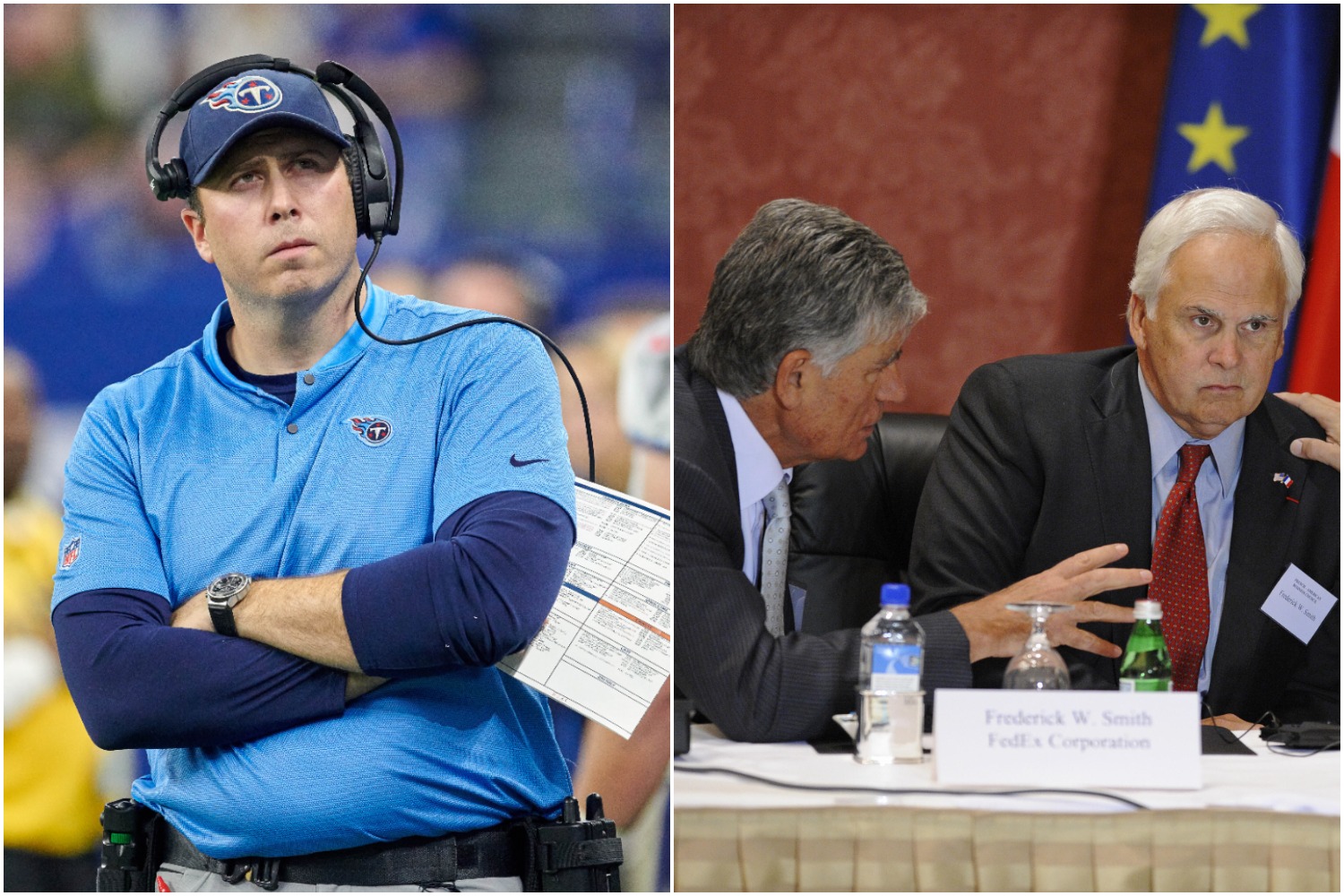 Washington Redskins Future Controlled by Father of Titans Coach Arthur Smith
Titans OC Arthur Smith may not be a household name, but his famous father will have a major effect on the future of the Washington Redskins.
Arthur Smith sounds like the name of an accountant more than an NFL offensive coordinator. The man in charge of running Mike Vrabel's offense for the Tennessee Titans may not be a household name, but his father surely is. In fact, Smith's dad has the power to change the entire Washington Redskins organization.
That's what happens when you're a multi-billionaire. So who exactly is Arthur Smith's father, and how does he factor into the Redskins changing their team name? Let's take a closer look at the unique connection between the Titans OC and one of the NFL's most historic franchises.
Arthur Smith is the Titans OC and the son of a famous billionaire
He may not carry nearly the same star power as Mike Vrabel, but Arthur Smith proved his worth to the Titans in his first season as the team's offensive coordinator. Of course, Smith had to work his way up from the bottom to eventually earn the coveted power position.
The Memphis native spent nearly a decade with the organization, mostly working with tight ends. So when Vrabel named Smith as his OC after the 2018 season, everyone rightfully questioned how exactly a no-name position coach would perform in a much more prominent role.
It turns out that the longtime assistant more than rose to the occasion. Tennessee entered the 2019 season without a clear-cut plan at quarterback. The team acquired Ryan Tannehill in a trade, but no one could have expected him to eventually win NFL Comeback Player of the Year honors after his inconsistent career in Miami.
Just a year after ranking 27th in points scored, the Titans skyrocketed to 10th thanks in large part to Smith's ability to get the ball in his best playmakers' hands. Tannehill exploded for a career year, as did Derrick Henry. Rookie A.J. Brown looked like a 10-year veteran for a Titans team that surprisingly advanced to the AFC Championship.
Arthur Smith elevated his stock with a fantastic debut as a play-caller. And speaking of stock, his father happens to be incredibly wealthy. Only he could be looking to unload his shares in the Redskins sooner than later.
FedEx CEO Fred Smith looks to sell his stake in the Redskins
Most people wouldn't know Arthur Smith from Joe Schmo. But the Titans OC happens to have a famous father. Fred Smith founded FedEx in 1971 and still serves as CEO today. The former U.S. Marine has built a substantial net worth thanks to his $38 billion shipping and logistics company.
Smith also invested in the Redskins. In 1998, FedEx bought the naming rights to the team's stadium for $205 million. However, FedEx Field could get a major rebrand if Fred Smith intends on backing up his promise.
Last week, FedEx publically asked Dan Snyder to change his team's name. Then, Pro Football Talk reported that Fred Smith and two other minority owners intend to sell off their combined 40 percent ownership stake in the team.
Smith's dissatisfaction with the name and other issues already had brought Smith to a point where he, along with fellow minority owner Dwight Schar, had actively been trying to sell their pieces of the team. However, both have to date been unable to find a buyer. These dynamics make it even more reasonable to wonder whether, behind the scenes, Smith, Schar, and/or minority owner Robert Rothman are hoping that, ultimately, Snyder decides to sell his controlling interest in the franchise. If he does, it may be easier for Smith and Schar to find buyers.
If Fred Smith follows through on his end, that could have drastic effects on Dan Snyder's team. Would FedEx try to sever ties with the franchise altogether? How will the business dynamic change if such a large ownership share gets sold off? And who exactly will replace Smith and his fellow minority owners?
Will Dan Snyder ultimately change his team's name?
Dan Snyder faces tremendous pressure to acquiesce and change his team's name. The Redskins may be a storied franchise, but in the wake of the racial equality and social justice movement, it makes sense to finally get rid of the offensive nickname.
However, Snyder has stood firm in the past by refusing to make any changes to his franchise. Will Fred Smith's desire to sell off his shares and potentially pull the FedEx name from the Washington franchise lead the vilified owner to finally give in?
Only time will tell, but for now, it appears as though Snyder has no choice. It just goes to show that money talks. And while Arthur Smith may not wield huge influence across the NFL, his famous father most certainly does.