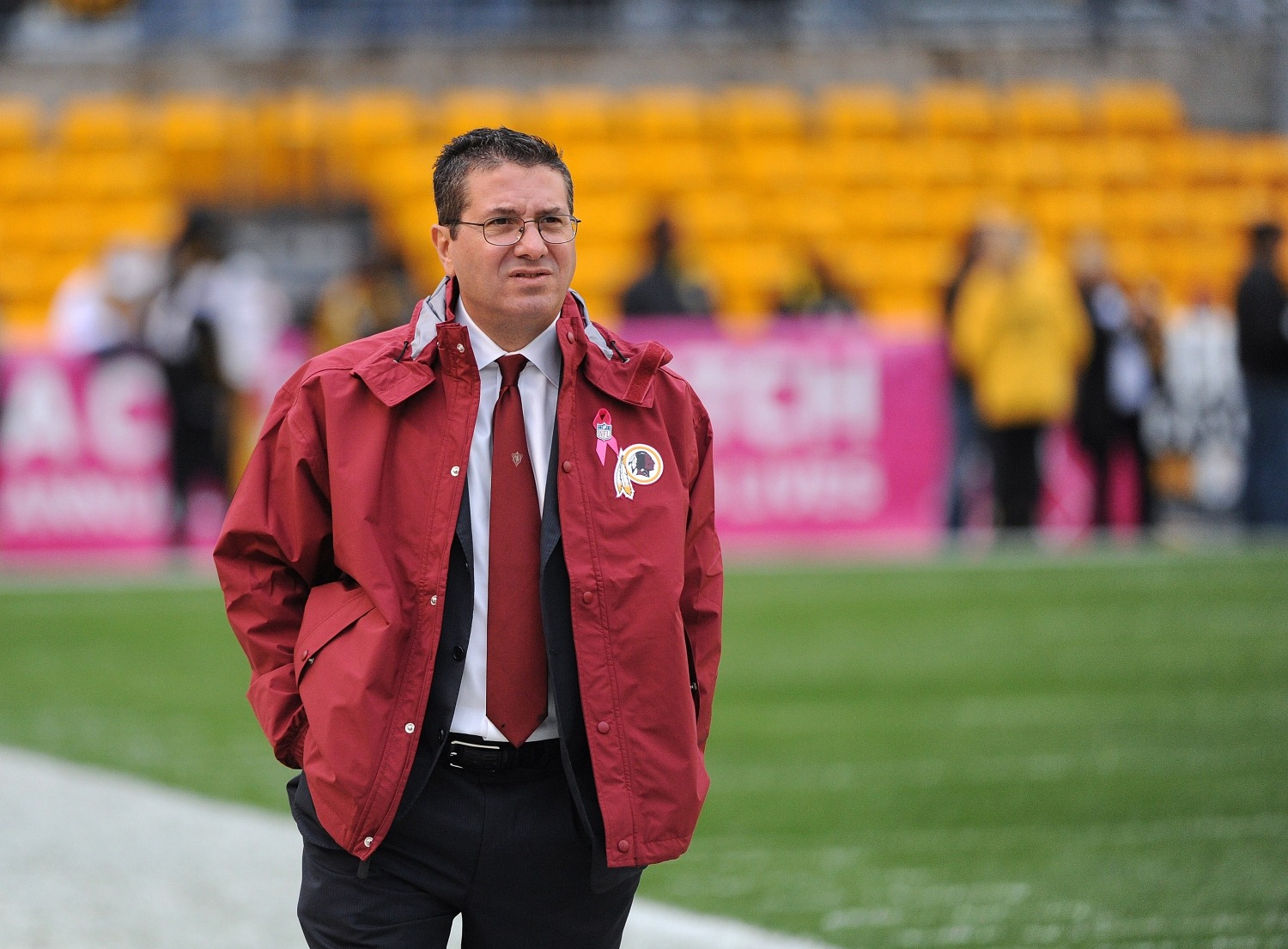 Redskins Owner Dan Snyder Has 620 Billion Reasons to Change His Team's Name
Dan Snyder has long refused to change the Redskins name. Now, the wealthy NFL owner faces a $620 billion decision to finally give in.
Dan Snyder didn't become an NFL owner by making dumb decisions. He has, however, made some truly awful ones as the man in charge of the Washington Redskins. From botched free-agent signings to draft busts, Snyder has allowed his franchise to tumble from its days as one of the NFL's model organizations.
Now, though, he faces a $620 billion decision to change the name of the team he purchased just over 20 years ago. But will Dan Snyder succumb to the financial and social pressure to change the name of his beloved team? Or will he continue to refuse to acquiesce?
Dan Snyder has long refused to make changes to his franchise
While owners like Jerry Jones and Robert Kraft have made billions and brought championships to their respective franchises, Dan Snyder can't touch those accomplishments. Wealthy in his own right, Snyder has failed to achieve success from a winning perspective.
Since purchasing the Redskins in 1999, Snyder has watched his franchise cycle through countless head coaches and even more quarterbacks. Washington has made just four playoff appearances in the new millennium. Meanwhile, Snyder watched the New York Giants win two Super Bowls. And in 2017, the Philadelphia Eagles also hoisted the Lombardi Trophy.
Aside from his utter failures at running an NFL franchise, Dan Snyder has earned plenty of criticism for refusing to change his team's name. Groups have protested in an effort to usher in a new era, but those efforts have failed to move the needle.
In fact, Snyder has gone on the record multiple times by saying he will never change the Redskins' name. However, in the wake of the racial equality and social justice movement, he may have to change his stance as well as the name of one of the NFL's most storied franchises.
Redskins owner faces a $620 billion decision to change the team's name
Money talks. So when the topic of changing the Redskins' name came up recently, it sparked some serious debate about whether the alteration should take place. Ultimately, though, Dan Snyder may not have a choice. That's what happens when investors worth $620 billion threaten to sever ties with key sponsors.
According to Adweek (H/T ESPN), Nike, FedEx, and PepsiCo received letters signed by 87 investment firms and shareholders asking the companies to cut ties with Dan Snyder's team unless a name change occurs.
Adweek listed six investment groups in particular: First Peoples Worldwide, Oneida Nation Trust Enrollment Committee, Trillium Asset Management, LLC Boston Common Asset Management, LLC Boston Trust Walden Mercy Investment Services and First Affirmative Financial Network. The groups appealed to PepsiCo after it dropped the Aunt Jemima image from its syrup. In the letter, they praised Nike for its association with Colin Kaepernick, but noted, "However, Nike continues to provide uniforms and equipment to the Washington, D.C. NFL football team which bears the logo and name."

For Dan Snyder, he likely doesn't have a choice in changing his team's name. At least not when key corporate sponsors and their shareholders make a threat to pull out of Washington.
A new era in Washington appears likely
Dan Snyder certainly has a tremendous financial incentive to move forward with getting rid of the Redskins and bringing in a new mascot and nickname. However, he also faces pressure from other key parties.
After the Redskins released a statement saying they will review the name change idea, NFL commissioner Roger Goodell issued his own response that said, "In the last few weeks we have had ongoing discussions with Dan and we are supportive of this important step."
Reading between the lines, it definitely seems like Goodell wants Snyder to make a change. After all, any negative press surrounding the Redskins' name change will hurt the NFL's bottom line in some way.
On Friday, Ian Rapoport tweeted that the Redskins name will likely be changing. The monumental decision will shake up the NFL world in so many ways, including marketing and branding.
Looking ahead, it will be interesting to see how Dan Snyder approaches the decision to change the name of his franchise. Will he solicit ideas from fans? What will branding be like? Does he risk losing older generations of Redskins fans?
Ultimately, we will have to wait for the process to play out. But it looks like a new era in Washington is coming…if Dan Snyder finally gives in.