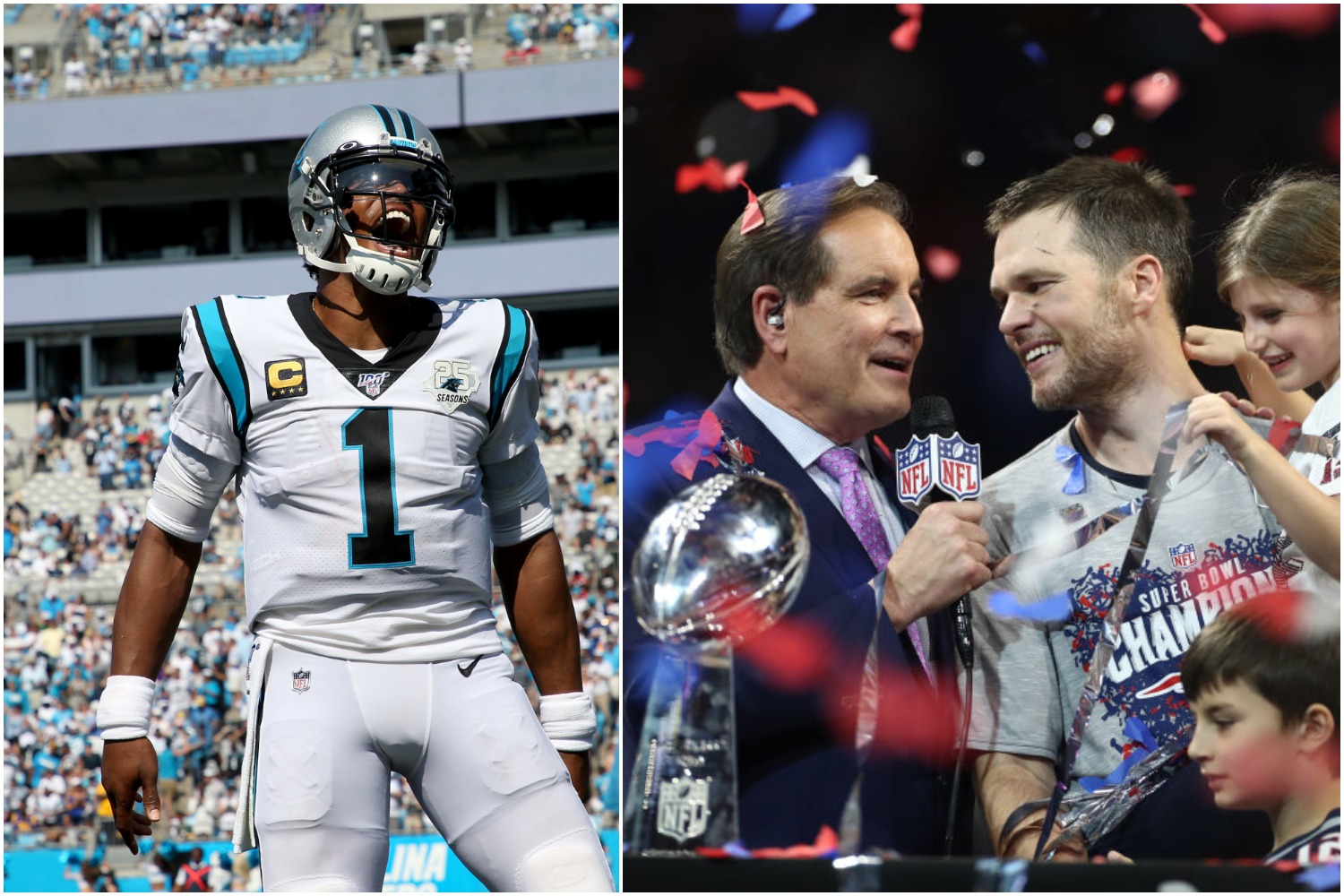 Cam Newton Has More Kids Than Tom Brady Has Super Bowl Rings
Cam Newton actually has more kids than Tom Brady has Super Bowl rings. By joining the Patriots, Newton can finally earn his first ring.
Cam Newton and Tom Brady both play the same position, but they've had vastly different NFL careers. Newton entered the league as the No. 1 overall pick thanks to his dual-threat abilities. Brady began his New England Patriots career as a lowly sixth-round pick with about as unimpressive a physical build as you'll ever see from a pro athlete.
As the elder statesman, Brady obviously has the leg up on Newton in terms of longevity. His legendary NFL career includes six Super Bowl rings, three NFL MVP trophies, and countless clutch moments. Meanwhile, Bill Belichick's handpicked replacement for TB12 hasn't tasted championship glory. In fact, he actually has more kids than Brady has Super Bowl rings.
Cam Newton has seven kids but zero Super Bowl rings
Despite entering the league as the No. 1 pick in 2011, Cam Newton has never won a Super Bowl ring. In fact, in nine years as the starting quarterback for the Carolina Panthers, he made the playoffs just four times. With a 68-55-1 career record and one forgettable Super Bowl appearance, Newton certainly hasn't come close to achieving Brady's success.
That doesn't mean he hasn't enjoyed some standout moments. The former Heisman Trophy winner won league MVP honors in 2015 after throwing 35 touchdowns and running for 10 more. At his peak, Newton proved difficult to defend given his ability to escape the pocket and shed would-be tacklers.
However, while Brady collected six rings in New England, Newton scores a goose egg in that department. Surprisingly, he does top Brady in one non-football-related statistic.
On Father's Day, Newton shared on Instagram that he is a proud father of seven kids: Jaden, Shakira, Chosen, Sovereign-Dior, Camidas, Caesar, and Cashmere. Brady, on the other hand, has three children. Newton shared a touching message in his post about being a dad.
A daddy isn't defined as the man who makes the child (not in all instances), but rather a man who extends his hands and time to help with the child's raising and his heart to LOVE the child through anything! Blood doesn't always make you DADDY. Being a dad comes from the heart. Anybody can make a baby but it takes a real man to raise a child! Kudos to all the real men worldwide! Happy Father's Day to us.
With a beautiful family, Cam Newton certainly has much to celebrate. But as he begins his journey with the Patriots, the 31-year-old faces a ton of pressure to replace a man who has enough rings to give away to all but one of Newton's children.
Tom Brady won six Super Bowls with the Patriots before taking his talents to Tampa
Even without premium talent around him, Tom Brady still became the greatest quarterback of all time. And while his individual statistics certainly deserve praise, he's not considered the GOAT because of gaudy touchdown numbers. Instead, he swiped that title away from Joe Montana by leading the Patriots to six Super Bowl victories across two dominant decades.
However, years of working with Bill Belichick eventually wore thin on the 14-time Pro Bowler. And without the long-term financial security he desired, Brady surprisingly said goodbye to Robert Kraft and Patriot Nation.
By joining the Tampa Bay Buccaneers, Brady swapped out a disappointing cast of weapons for one of the NFL's most gifted group of skill players. Instead of refusing to make things work with N'Keal Harry, he gets to air the ball out to Mike Evans and Chris Godwin. Oh, he also managed to get Rob Gronkowski to come out of retirement and orchestrate a trade to Tampa.
Will Newton win his first Super Bowl ring before Brady snags his seventh?
For Tom Brady and Cam Newton, the 2020 NFL season represents a massive change in what they've grown accustomed to. The former no longer has to deal with the grind of Bill Belichick's program. The latter will now get the best (and toughest) coaching of his life.
More importantly, both quarterbacks will face tremendous pressure to lead their respective teams to a Super Bowl berth. On paper, both the Patriots and Buccaneers boast talent-laden rosters capable of making a deep playoff run.
Newton's arrival should spark some offensive innovation in New England. Meanwhile, Brady should be rejuvenated playing in an offense filled with capable targets and a head coach who couldn't be any more different than his old boss.
Ultimately, Cam Newton may not stick around past this season. He could resurrect his career and rehab his value playing for the Patriots. More importantly, he has a legitimate opportunity to win his first Super Bowl ring. But will he taste championship glory before Tom Brady wins his seventh ring? Nobody knows yet, but it will surely be fun to watch.