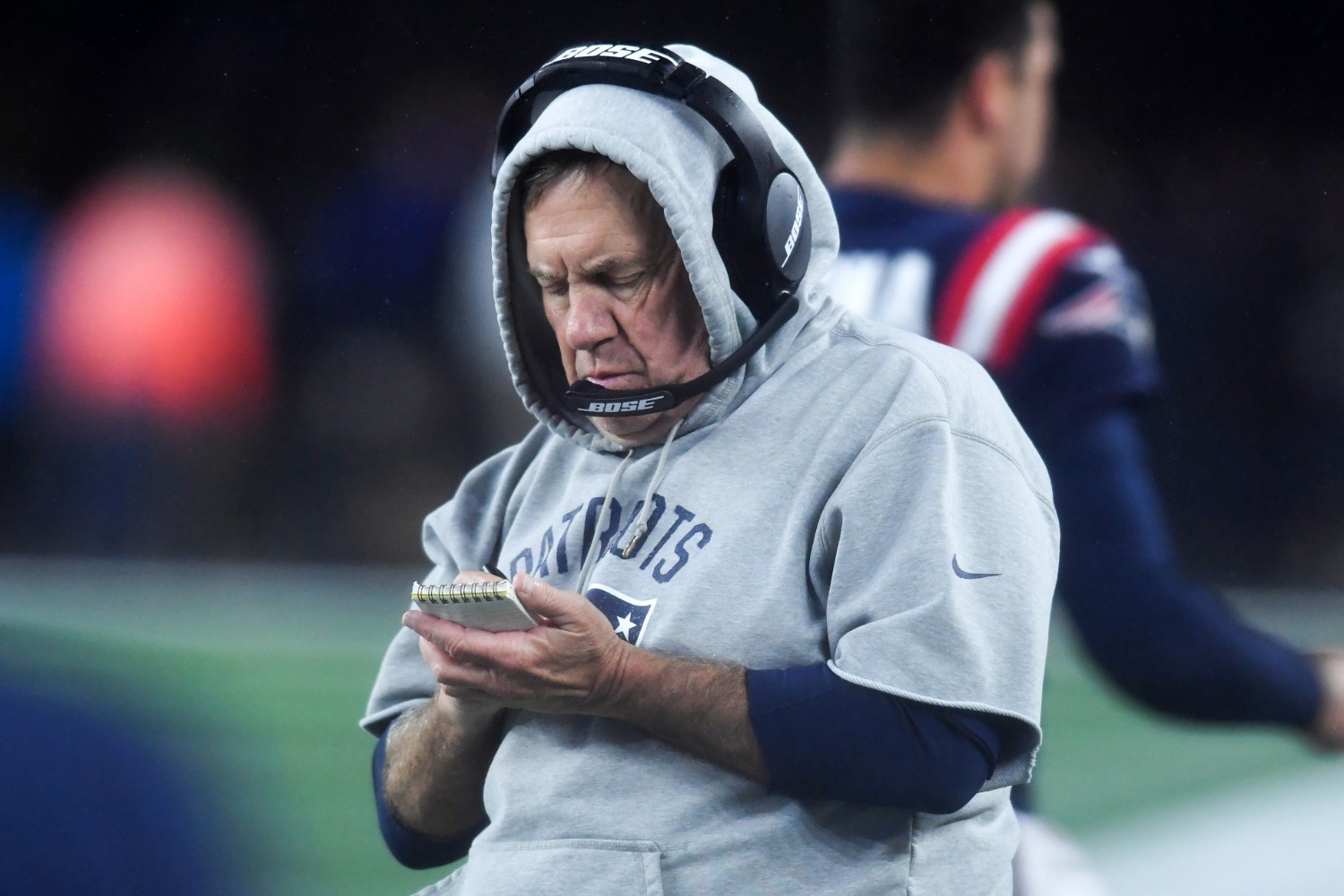 Bill Belichick is Getting Connected to a Crazy COVID-19 Conspiracy Theory
Bill Belichick is no stranger to controversies given his history with Spygate, but the Patriots coach just got thrown into a COVID-19 conspiracy theory.
Bill Belichick survived Spygate. He mostly avoided any responsibility with Deflategate. But the latest conspiracy theory involving the New England Patriots coach proves that other NFL teams have absolutely no idea what he's doing, but they seem to believe he's willing to sacrifice the 2020 season for a major opportunity in 2021.
The Patriots have lost key starters this offseason
Last season, the Patriots boasted the NFL's top-ranked defense. Spearheaded by a fantastic linebacker group that included Dont'a Hightower, Kyle Van Noy, and Jamie Collins, New England finished first in points allowed for just the third time in Bill Belichick's entire tenure.
While the Patriots came up short in their quest to advance to the Super Bowl for the fourth straight season, that failure largely fell on an undermanned offense. However, that dominant unit lost Van Noy and Collins in free agency. Belichick also traded Duron Harmon while he sat at the dentist, leaving some holes on the league's No. 1 defense.
Though Belichick did fill some of those vacancies in the 2020 NFL draft, his team suffered critical losses recently due to COVID-19. Hightower opted out of playing this season. So did Patrick Chung, who plays a unique role as a hybrid defender.
Even the offense lost a critical component with Marcus Cannon electing to sit out the 2020 NFL season. When you throw in Tom Brady's departure, it certainly looks like the Patriots will look very different in 2020.
Bill Belichick just got thrown into a crazy COVID-19 conspiracy theory
With so much uncertainty about the 2020 NFL season, conspiracy theorists have come out of the woodwork. When looking at all the moves that have happened in New England, it apparently led one NFL executive to surmise that this could all be part of a master plan by Bill Belichick.
ESPN's Adam Schefter tweeted a conversation between himself and an NFL executive who opined, "You know Bill is masterminding all of this somehow."
When Schefter asked for what reason, the unnamed executive simply said, "I don't know! That's why he is who he is!"
Of course, many have drawn a connection between the Patriots' opt-outs and Belichick tanking the 2020 season. That would, in theory, set New England up with the chance to take Trevor Lawrence with the No. 1 pick. Considering the Patriots have drafted in the top-10 just twice in Belichick's career, the opportunity to land a potential franchise QB sounds intriguing.
The conspiracy theory that Belichick would tell players to opt-out in order to gain a better draft position makes little sense given his history. Would a coach with a reputation for exploiting every competitive advantage possible to win really encourage two of his veteran defensive leaders to sit out the season just to have a chance at a top-five pick in 2021?
It's a theory that may sound fun, but the idea of Bill Belichick purposefully losing makes zero sense. However, losing six players to COVID-19 opt-outs definitely puts the Patriots in a different position than a few days ago.
What will the Patriots look like in 2020 and beyond?
Assuming the 2020 NFL season does occur, the Patriots have some major roster flaws to address. Hightower qualifies as the team's most critical loss. The three-time Super Bowl champion has been the leader of the defense for years. A physically imposing linebacker with underrated pass-rush skills, Hightower's production and leadership skills will be sorely missed.
Bill Belichick did start the youth movement at linebacker by drafting Josh Uche and Anfernee Jennings in April. The former arrives from Michigan with a reputation as an explosive athlete capable of getting after the quarterback. Jennings boasts the ideal frame to set the edge and should have no trouble transitioning from Nick Saban's defense to Belichick's.
However, the rookie linebackers will have to assume much bigger roles without Hightower around. So too will Kyle Dugger, the team's top draft pick. The former small-school star should get the first crack at replacing Chung, who just signed a contract extension this offseason.
If there's a silver lining to this situation, it's that Belichick can do serious damage next offseason. He can rollover the additional cap space he just received for next year when he's already primed to have a boatload of money available to spend. New England could have its pick of a free-agent class that will likely include some cap casualties if the salary cap gets cut.
But let's not pretend this is part of a master plan. Bill Belichick values winning above everything. His track record reflects a coach who will go to great lengths to win Super Bowl championships. It's time to put the silly COVID-19 conspiracy to rest before it grows any more legs.