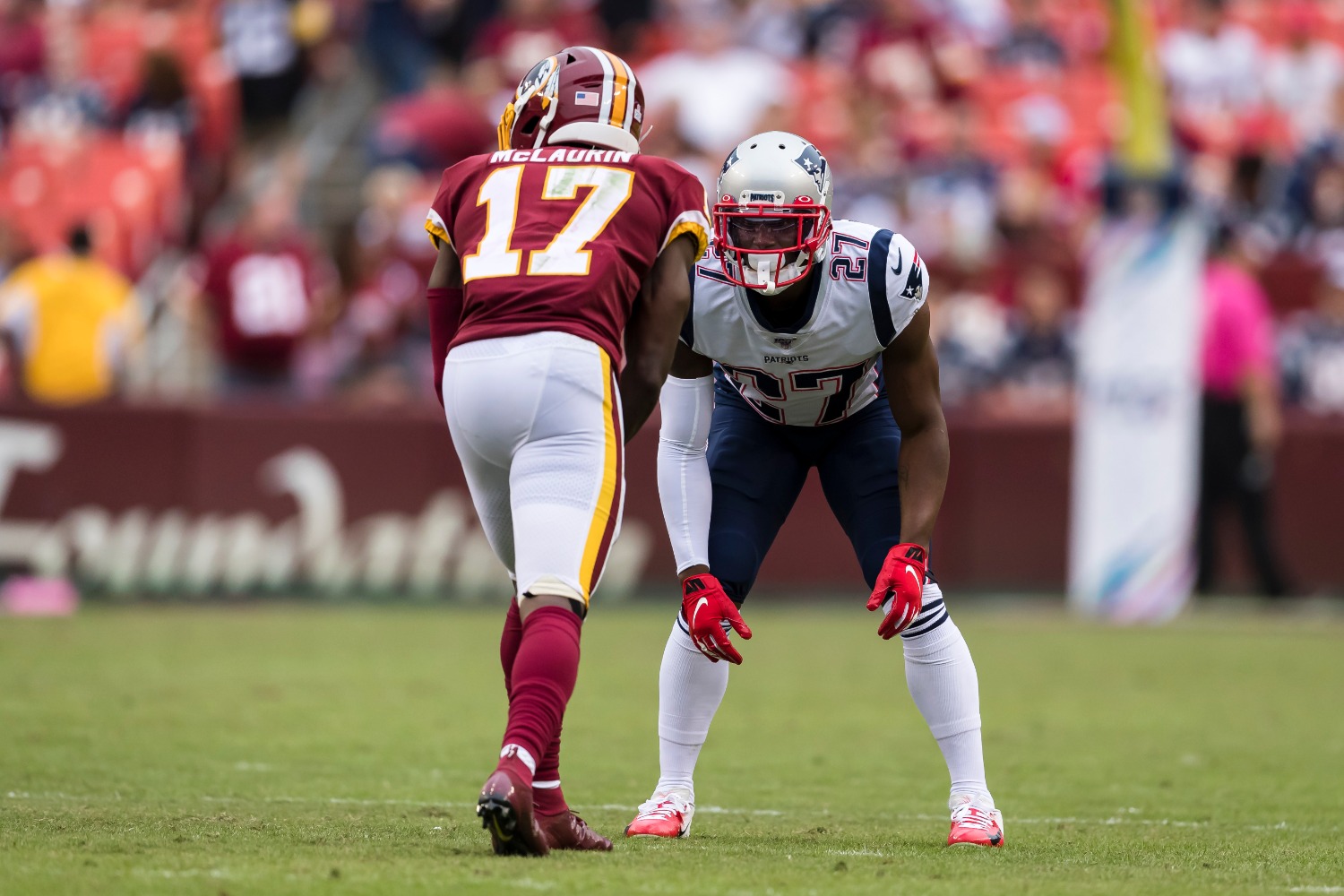 Bill Belichick Faces Monumental Decision About His $750,000 Rising Star
Bill Belichick will have to pay up to retain J.C. Jackson, who has quietly developed into one of the NFL's best young cornerbacks.
Bill Belichick has made it a habit out of turning undrafted free agents into key contributors. Over the years, Malcolm Butler, David Andrews, and Jonathan Jones have earned big paydays after signing with the New England Patriots out of college. The NFL's shrewdest general manager struck gold again in 2018 by landing J.C. Jackson after the draft ended.
Now, the former undrafted free agent set to make $750,000 this season can break the bank by continuing his strong streak of shutting down receivers. But will Bill Belichick give Jackson a huge raise with Stephon Gilmore already on the roster? Even if he doesn't land a contract extension from the Patriots, expect J.C. Jackson to get a massive raise sooner or later.
J.C. Jackson's journey to the New England Patriots
If everything had worked out as expected for J.C. Jackson, he probably would have become a first-round pick. But due to a legal incident at the University of Florida, he transferred to Riverside City College before landing at the University of Maryland. The long-limbed, athletic corner made the most of his two seasons with the Terrapins.
As a sophomore, Jackson totaled 40 tackles to go along with one interception, six passes defended, and one forced fumble. He followed up with another 40-tackle season while snagging three picks. Conceivably, that should have set him for an early-round draft selection, especially after turning in solid testing numbers at the scouting combine.
Though many expected Jackson to get selected in the middle rounds, not a single NFL team spent a draft pick on the talented defensive back. However, Bill Belichick smartly scooped up the underrated prospect on a three-year, $1.72 million deal.
Jackson has quietly developed into one of the NFL's best young corners
The Patriots have assembled one of the NFL's deepest secondaries over the last few years, especially since poaching Gilmore from the Buffalo Bills. With a deep cornerback group featuring Jason McCourty and Jonathan Jones, Jackson faced an uphill battle to just make the team. Thanks to his feisty competitiveness and sticky coverage skills, he earned a roster spot.
Though Jackson has started just 11 games in his first two seasons, he has quietly developed into one of the NFL's top young corners. As a rookie playing on a largely veteran defense, he recorded three interceptions and batted away six more passes.
Last year, Jackson started six games and took his game to another level. Even though Gilmore rightfully earned plenty of praise, his younger teammate has quietly performed at an elite level himself. According to Pro Football Focus, Jackson has allowed the lowest completion percentage of any corner since 2017.
As one of the NFL's secret rising stars, J.C. Jackson has positioned himself well for a massive raise.
Bill Belichick faces huge financial decision
Bill Belichick will only pay J.C. Jackson $750,000 in 2020. When you consider that Gilmore carries an $18.7 million cap hit this season, that makes Jackson an incredible bargain…for now.
The 24-year-old will become a restricted free agent after the 2020 season. And if he continues to perform at an elite level, his initial $1.72 million contract will look like a drop in the bucket.
Belichick does have a few options to retain Jackson's services. He could place a first-round tender on the secret star, which could prohibit a team from trying to swipe the talented corner from Belichick's clutches.
In addition, the Patriots could look to lock up the 6-foot-1, 198-pounder to a long-term deal. Darius Slay currently tops all NFL corners with an average annual salary of $16.68 million. Gilmore checks in at 10th in the league with an AAV of $13 million, according to Spotrac.
You would have to assume that Jackson would command at least $10-12 million annually, and that's on the low end. He very well could command a Gilmore-like contract if he remains consistent.
That could put Belichick in a precarious situation. Would Jackson be satisfied playing the 2021 season on a one-year tender? Or would he hold out and demand a trade in order to land a multi-year deal? Plus, Gilmore will still be under contract in 2021, though he does carry a pricey cap hit of $19.7 million.
Belichick has a problem other teams would be envious of. Does he invest again in the reigning NFL Defensive Player of the Year despite his advancing age? Or does he build around his young understudy? Perhaps the Patriots head coach will throw a complete curveball and keep both. Whatever the case, he can't be too upset about having multiple star corners.
Either way, J.C. Jackson's $750,000 salary in 2020 makes him the NFL's best bargain. Sooner than later, he will get a massive raise. Only time will tell if it's Bill Belichick who gives it to him.