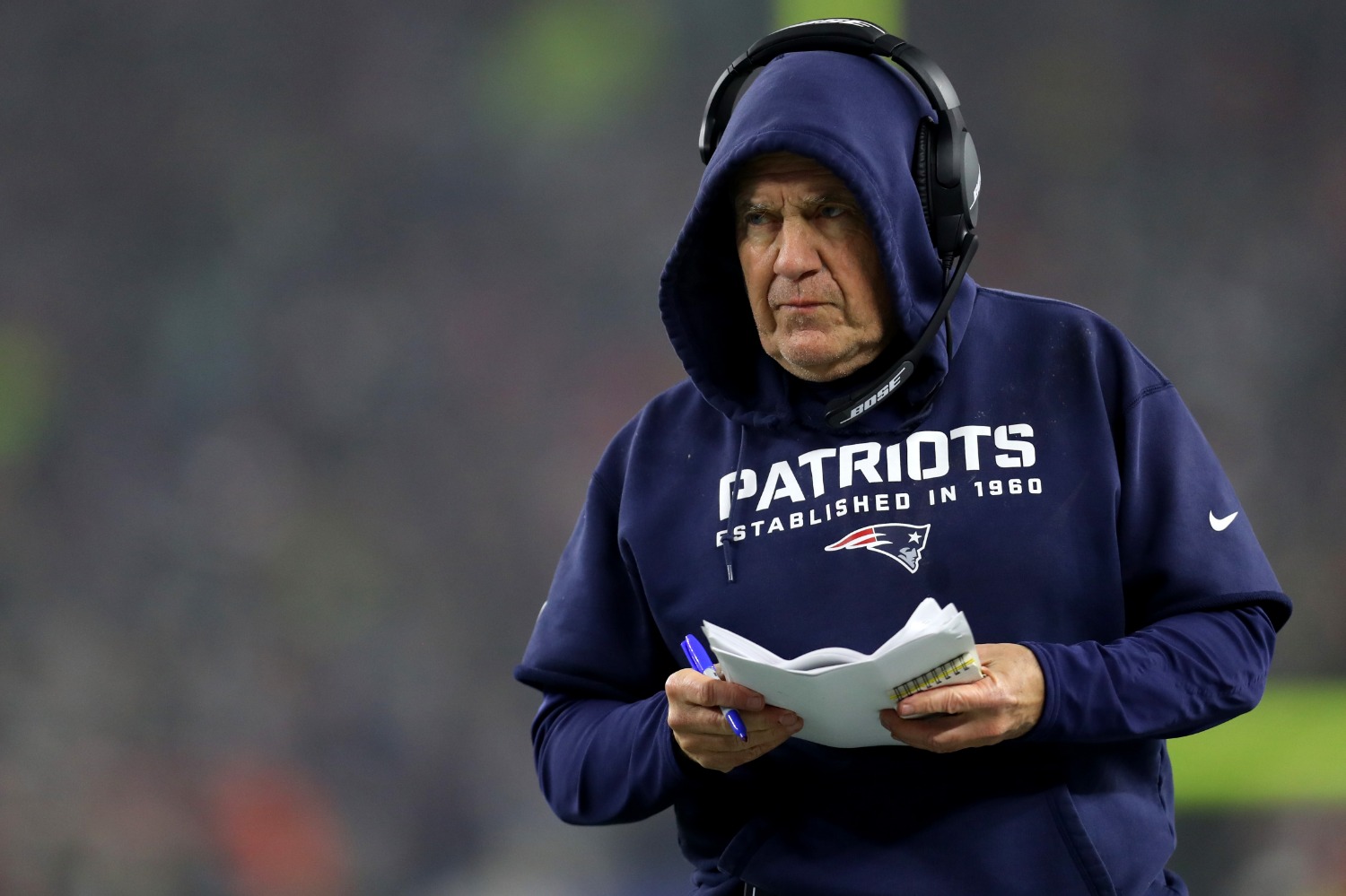 Bill Belichick Can't Ignore the $15 Million Problem He Just Created
Bill Belichick surprisingly used the franchise tag on Joe Thuney, but will the New England Patriots head coach keep his $15 million guard?
Bill Belichick usually gets things right. You don't win six Super Bowl titles and turn the New England Patriots into the most dominant dynasty in sports history by making many wrong moves. But in the case of Joe Thuney, Belichick has created a $15 million problem that he cannot afford to ignore. But will he find a solution? The odds certainly look stacked against him.
Joe Thuney has developed into an elite guard
For years, Bill Belichick dominated the NFL draft. The Patriots became a dynasty due in large part to their strong draft-and-develop model that emphasized finding players who fit their scheme. Belichick built the early foundation of the dynasty with core homegrown pieces like Richard Seymour, Vince Wilfork, Asante Samuel, and of course, Tom Brady.
However, the NFL's most successful general manager has not been quite so successful in recent years. Dominique Easley, Cyrus Jones, and Duke Dawson all turned out to be huge busts despite their early-round status. Yet, Belichick made one of the best picks of his career in 2016 by snagging Joe Thuney in the third round.
A versatile, tough, and intelligent leader at North Carolina State, the 6-foot-5, 308-pounder has started every game since the Patriots made him the 78th player chosen in 2016. Along the way, he has earned two Super Bowl rings and earned second-team All-Pro honors in 2019.
Even after Nate Solder and Trent Brown departed in free agency in successive years, Thuney remained incredibly consistent and actually improved. At 27 years old and clearly in the prime of his career, he entered the 2020 offseason with the opportunity to earn a massive raise.
Bill Belichick surprisingly used the franchise tag to retain Thuney
While Patriots fans would acknowledge Thuney's importance to the offense, nobody really focused on his free agency early on. Instead, all eyes remained on Brady. But when the six-time Super Bowl champion made it clear he had played his last game as a Patriot, Belichick smartly slapped the franchise tag on his All-Pro guard.
At least, the move seemed smart at the time. Clearly the Patriots' best offensive lineman, it made sense to ensure that Thuney wouldn't depart for nothing. After all, with so many teams in need of quality offensive linemen, it wouldn't have taken long for the star left guard to score a massive deal on the open market.
Just four days after the Patriots placed the franchise tag on him, Thuney signed the tender. That locked him in to a $14.78 million salary for 2020. And as we've come to find out, that number, and Thuney's overall fit in New England, now looks like a problem that Bill Belichick created and must now solve.
Belichick must solve $15 million problem that he created
Nobody doubts Joe Thuney's ability. He has never missed a game and has anchored an offensive line that played at an incredibly high level during the team's 2018 Super Bowl run. Yet, his nearly $15 million cap hit for 2020 represents a problem for the economically-wise Belichick.
Sure, Thuney makes the Patriots better. Getting rid of him would certainly leave a gaping hole on an offensive line that already has question marks at center and possibly at left tackle given Isaiah Wynn's injury-riddled two-year career.
But from an economic perspective, it makes zero sense to keep Thuney around. The Patriots already signed right guard Shaq Mason to a five-year, $45 million deal in 2018. In Thuney's case, he would likely command somewhere between $13-15 million per year. Is Belichick going to tie up such a large percentage of the salary cap on two guards? That's doubtful.
The Patriots are backed into a corner with Thuney's contract
However, the Patriots don't have a ton of leverage in this situation. With the July 15 deadline gone, Thuney cannot sign a contract extension until after the 2020 season. That means any team looking to trade for him would essentially be renting him for a year.
Would a team give up anything more than a third-round pick knowing Thuney will also need a potentially record-breaking contract? Rarely does Bill Belichick back himself into a corner. But in this case, he may have to settle for lower draft compensation in order to free the Patriots of Thuney's $14.78 million salary.
That would give the team more flexibility to pursue other free agents, or perhaps swing a trade for another target for Cam Newton. Maybe it would open the door for New England to sign Jadeveon Clowney.
Ultimately, though, Bill Belichick put himself in this situation by assuming he could get a team to send an early-round pick for Joe Thuney. Now, he will have to figure out whether he wants to absorb that massive cap hit this year and keep his star guard, or trade him for whatever compensation he can muster and ensure the team doesn't overspend at one of the least valuable positions in football.