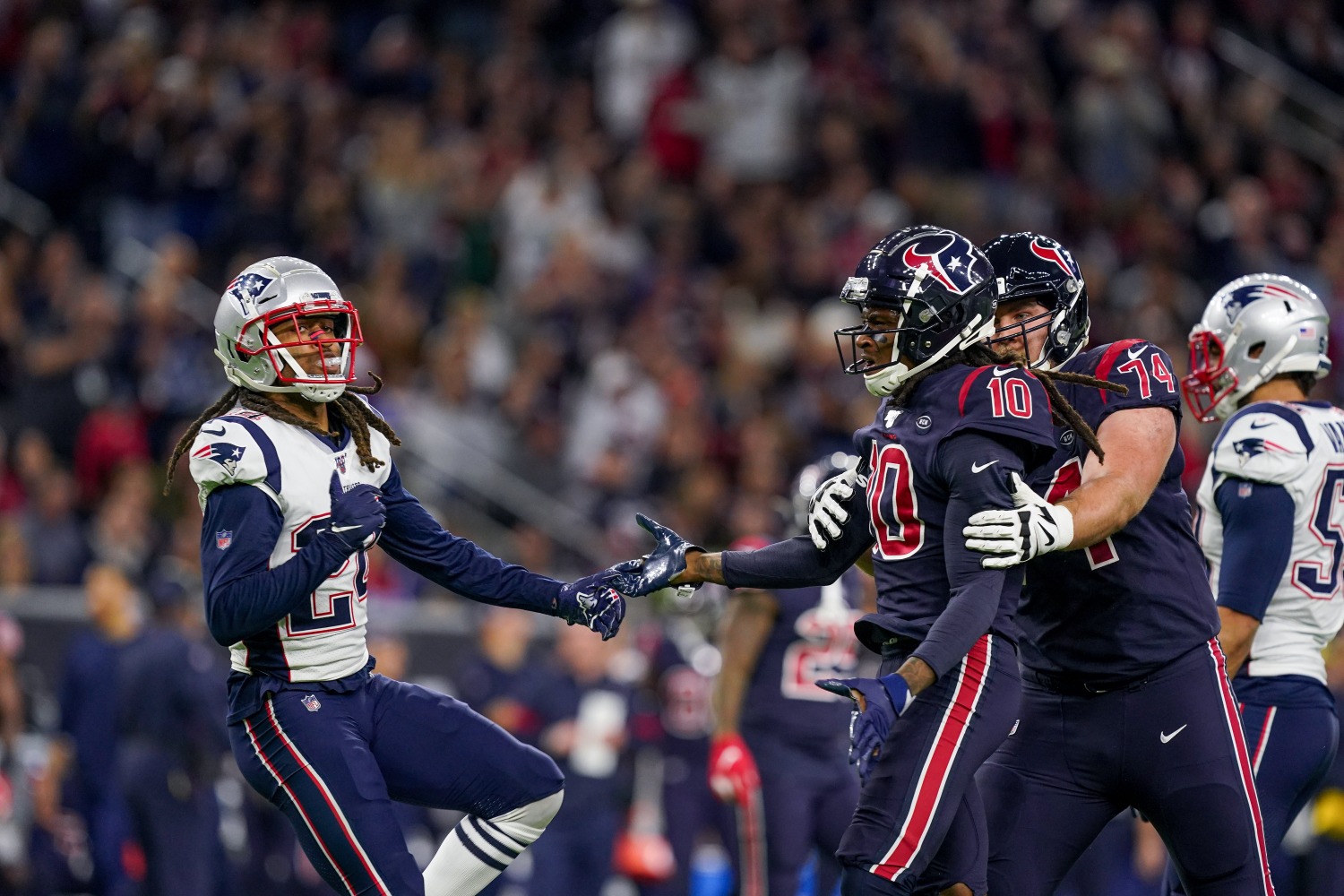 Stephon Gilmore Just Savagely Disrespected DeAndre Hopkins Without Saying 1 Word
Reigning NFL Defensive Player of the Year Stephon Gilmore savagely disrespected DeAndre Hopkins without saying a single word.
Stephon Gilmore knows a thing or two about covering elite wide receivers. After all, you don't earn NFL Defensive Player of the Year honors without shutting down some of the league's top pass-catchers. The New England Patriots star recently discussed the most difficult wideouts to cover. And without saying a single word, he savagely disrespected DeAndre Hopkins.
Stephon Gilmore is the reigning NFL Defensive Player of the Year
Bill Belichick stunned the NFL world when he handed Stephon Gilmore a five-year, $65 million contract on the first day of free agency in 2017. The former first-round pick flashed Pro Bowl skills with the Buffalo Bills. But to see Belichick pay top dollar for a player not even considered to be the best at his position raised more than a few eyebrows in Foxborough.
Making the transition to a complicated defensive scheme proved troublesome for Gilmore. However, he eventually grasped the concepts and looked like a No. 1 CB late in the year.
Though the Patriots suffered a heartbreaking defeat in Super Bowl 52, Gilmore and the defense rebounded with a fantastic 2018 season. The 6-foot-1, 202-pounder earned first-team All-Pro honors and snagged a game-sealing interception in New England's Super Bowl victory against the Los Angeles Rams.
Last season, the South Carolina native took his game to another level. Thanks to his combination of technique, length, and speed, Gilmore easily ranked as the best corner in the NFL. By season's end, he earned another first-team All-Pro selection, a third Pro Bowl trip, and the NFL Defensive Player of the Year award.
The Patriots star savagely disrespected DeAndre Hopkins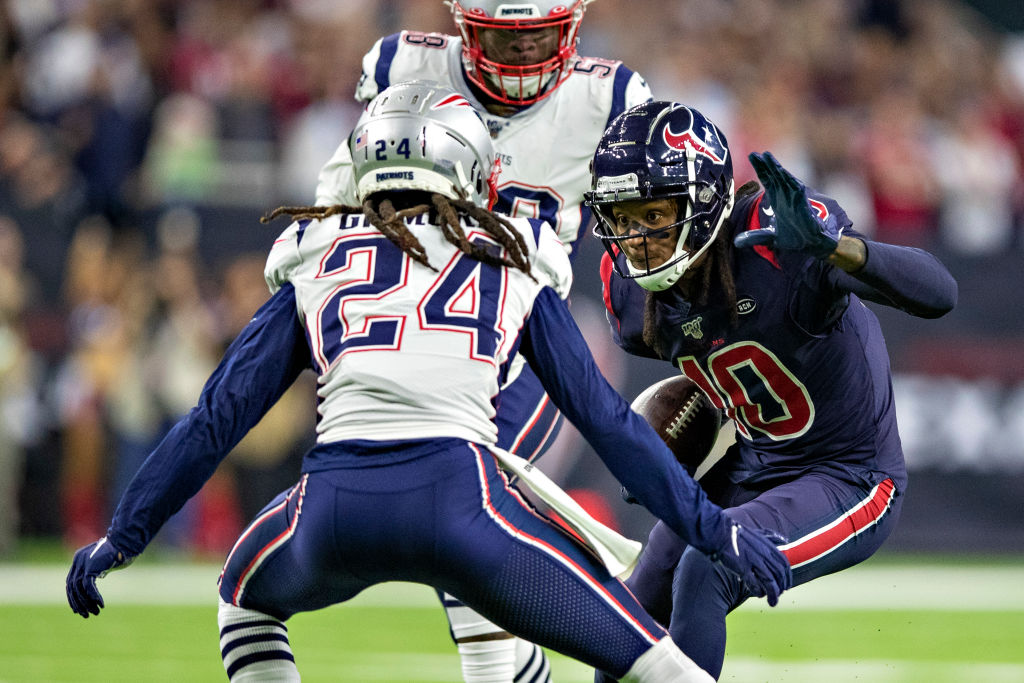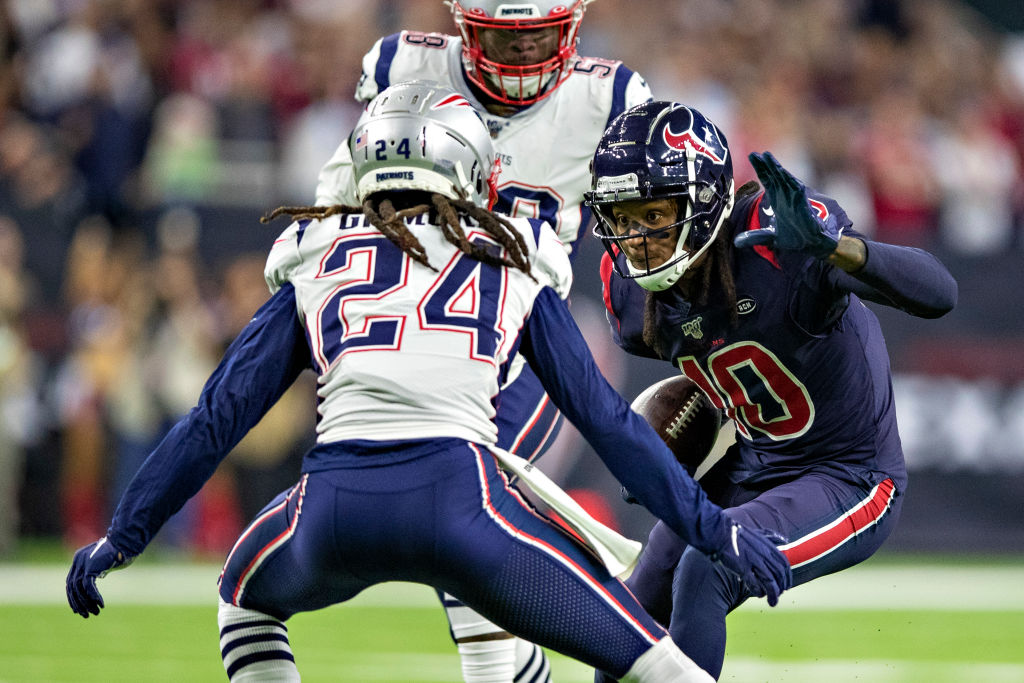 As the NFL's best cornerback, you can trust Stephon Gilmore's evaluation of opposing wide receivers. The reigning DPOY made a recent appearance on "The Bakari Sellers Podcast" to offer his insight into the top-five most difficult receivers to play against.
Gilmore immediately brought up Antonio Brown and Tyreek Hill, whose speed has given the Patriots problems in the past. In addition, the star corner named Odell Beckham Jr. as being "pretty tough." He also added Julio Jones and Michael Thomas to his list.
Notice a name missing? That's right. Despite being widely viewed as the NFL's best receiver, if not at least in the top three, DeAndre Hopkins didn't get a mention from Gilmore. That certainly seems surprising since Hopkins racked up 104 catches, 1,165 yards and seven touchdowns last season.
In fact, Hopkins has earned first-team All-Pro honors in each of the last seasons. He led the NFL in touchdowns catches in 2017 and set career-highs in catches (115) and yards (1,572) in 2018. Still, he got no love from Gilmore. But considering their history, the savage sign of disrespect makes sense.
Hopkins and Gilmore can settle the score in Week 12
Stephon Gilmore and DeAndre Hopkins got into a Twitter war after they squared off in Week 13 of the 2019 season. In the contest, the Patriots corner held the Texans star to just five catches for 64 yards. That led Hopkins to call out his adversary by saying the Patriots had to double-team him all night to keep him at bay. Of course, Gilmore fired back by saying New England only double-teamed Hopkins on two snaps.
Gilmore probably exacerbated the issue by leaving the four-time Pro Bowler off his top-five list. This season, the two fantastically talented skill players will get a chance to settle the score in Week 12.
Of course, Hopkins won't be catching passes from Deshaun Watson. Thanks to Bill O'Brien's incompetence as a general manager, he will now operate as Kyler Murray's No. 1 target.
New England will host the much-improved Arizona Cardinals on Nov. 29 at 1 p.m. Given their impressive array of offensive talent, the Cardinals pose a serious threat to the Patriots. Ultimately, we will get a chance to see Stephon Gilmore and DeAndre Hopkins line up across each other once again. And you can bet the winner of that matchup will likely celebrate a team victory when the final whistle blows.