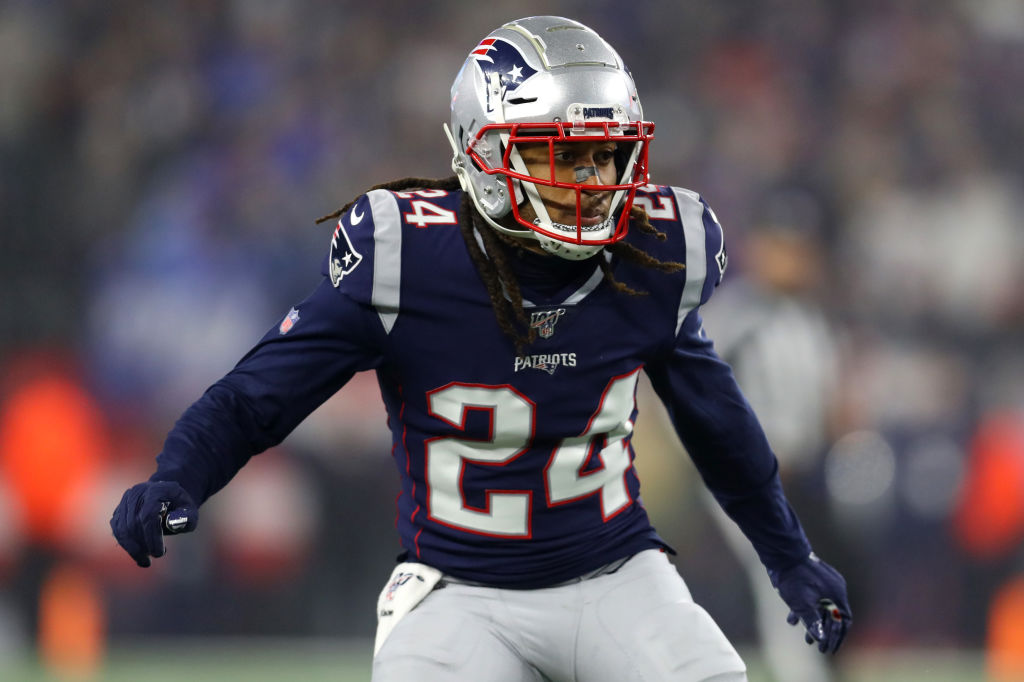 The Patriots' Stephon Gilmore Praises Amari Cooper but Doubts Another Star WR
New England cornerback Stephon Gilmore disagrees with Rex Ryan's take on Dallas Cowboys receiver Amari Cooper but likes a Patriots fan's negative take on Stefon Diggs.
Elite NFL receivers are sometimes perceived as disruptive because of their insistence on having the ball in their hands, but cornerback Stephon Gilmore may have just caused unnecessary drama on a level comparable to the wideouts that he defends against on Sundays.
The New England Patriots veteran, who sometimes calls out opponents, stood up for a star receiver last week on social media but then followed up by endorsing a diss of his former team's new high-profile wideout.
Ex-NFL coach Rex Ryan stirred things up
The Dallas Cowboys opened the NFL free agency period last month by giving wide receiver Amari Cooper a five-year, $100 million contract to keep him off the market. Appearing on ESPN last week, Rex Ryan said the Cowboys made a mistake, but he saved his harshest words for the player.
He called Cooper the "biggest disappearing act in the National Football League," questioned his love of the sport, and called the receiver a "turd." Ryan went back on the air later in the day to apologize for his language but remained insistent that Cooper isn't worth the money.
The drama caught the attention of New England Patriots defender Stephon Gilmore, who called Cooper "one of the toughest receivers in the league to cover. His release game is probably top 2."
Gilmore's take on Cooper was mildly curious considering what happened when the Patriots hosted the Dallas Cowboys last season. Gilmore praised Cooper in interviews ahead of the game but then held him to zero catches on just two targets, accounting for the receiver's worst day in a season in which he generally performed well against top NFL secondaries.
Stephon Gilmore endorses fan's shot at Stefon Diggs
Sharing his thoughts on Amari Cooper wasn't the only item on Stephon Gilmore's itinerary last week. Shortly after his tweet about Cooper, he approved of a "dig" at the new star receiver of the Buffalo Bills, with whom Gilmore began his NFL career.
Gilmore will likely be assigned the duty of primary coverage on Stefon Diggs twice a season following the receiver's acquisition from the Minnesota Vikings. Diggs has 365 receptions in five pro seasons, though he made just 63 catches for 1,130 yards and six touchdowns last fall as the Vikings moved to a more run-oriented offense.
A Bills fan saw the All-Pro cornerback's defense of Cooper on Twitter and asked Gilmore's thoughts on impending matchups against Diggs since Buffalo and New England are AFC East rivals who play twice a year.
A Patriots fan jumped in by writing, "That's light work." Gilmore showed his approval of the sentiment by giving that tweet a like.
Stephon Gilmore may be too expensive to keep
Stephon Gilmore's opinion of opposing receivers matters in no small part because the man drafted No. 10 overall in 2012 is coming off being selected the NFL Defensive Player of the Year last season and has been first-team All-Pro the past two years.
Gilmore, 29, came to the New England Patriots before the 2017 season as a free agent, signing a five-year, $65 million contract that Buffalo was unable to match because the deal was front-loaded at a time when the Bills had salary-cap issues.
Gilmore made 53 tackles and a league-leading six interceptions in 2019 but it's uncertain how long the Patriots will be able to keep him because his deal was restructured last year in a way that squeezes their salary cap for a couple of more years even with Tom Brady exiting.
His next extension or new contract could tie up a disproportionate amount of money, similar to the boat the Dallas Cowboys could be in shortly following the Amari Cooper deal negotiated by owner Jerry Jones.