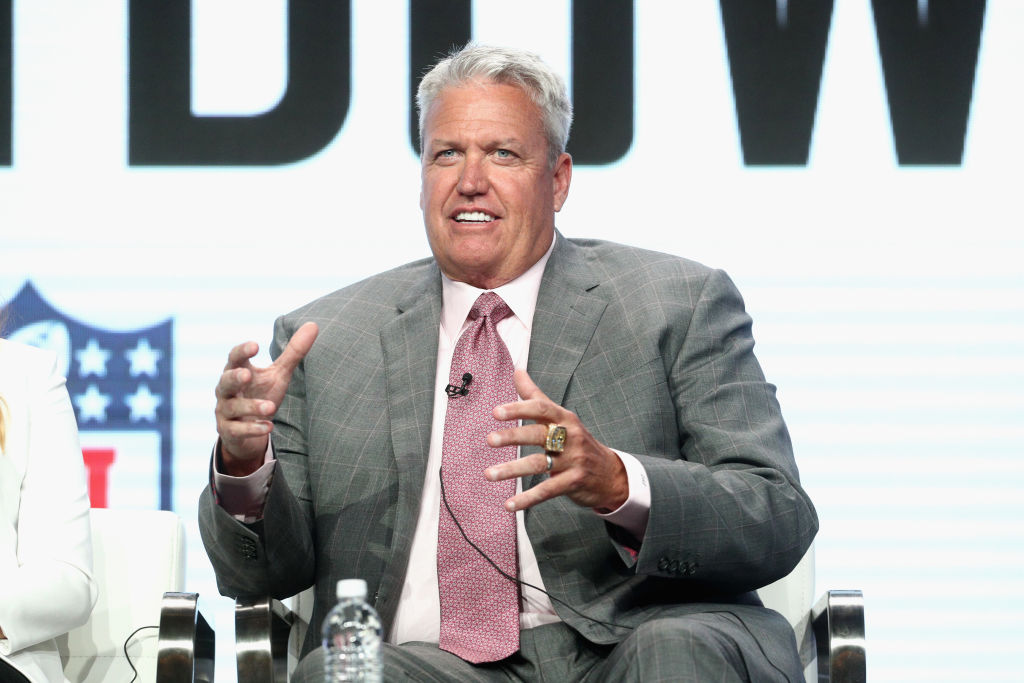 Rex Ryan Proves Once Again He's Nothing But a Distraction
The twice-fired NFL coach ripped into Dallas Cowboys receiver Amari Cooper and then had to issue an apology.
Rex Ryan is showing himself to be as adroit at apologies as he is at coaching. Ryan went off on NFL player Amari Cooper during a segment for ESPN and was forced to walk back his comments … only to see him continue denigrating the Dallas Cowboys wide receiver during the apology.
Rex Ryan calls Amari Cooper a 'turd' on live TV
Appearing on the ESPN show "Get Up!" on Friday morning, twice-fired NFL coach Rex Ryan called Amari Cooper the "biggest disappointment" in the NFL, scoffed at the nine-figure deal the Cowboys gave the receiver to keep him off the free-agent market, and called him a "turd."
 "This is who he is. He doesn't love football, the hell with it. He stops his routes, he does all this. I wouldn't have paid this turd. No way in hell would I have paid this guy. … It's a deep draft at receiver. They made a huge mistake."

Rex Ryan
Cooper came to the Cowboys midway through the 2018 season in a trade with the Oakland Raiders. He made 53 catches and scored six touchdowns in nine games that season for Dallas, then put up 79 receptions for 1,189 yards and eight touchdowns last fall.
The numbers didn't impress Ryan, the former New York Jets and Buffalo Bills head coach whose teams never finished above .500 in the last six of his eight seasons on the sideline. He went on to list other gripes with Cooper's production.
"This is the biggest disappearing act in the National Football League," he said. "He doesn't show up on the road, he doesn't show up against when the competition is good — when he's up against the top corners, that guy disappears."
The apology was only slightly less scathing
ESPN executives realized that Ryan's use of the word "turd" had crossed the line. Ryan went on "SportsCenter" later in the day and started to issue an apology.
"I can't believe I said that, used that word," he said. "Obviously it was a poor choice by me to say what I said about Amari. Anybody who knows me — look, quite honestly, I think the world of every player and have a great deal of respect for every single player in the National Football League, including Amari Cooper."
From there, however, Ryan couldn't resist going back to criticize the five-year pro out of the University of Alabama. He reiterated that he thought the Cowboys overpaid at five years for $100 million and that Cooper disappears on the road and against better cornerbacks.
Ryan also noted that Cooper has won only one playoff game – Ryan's teams won four playoff games in his first two seasons and none in the final six – and then segued into repeating that he was there to apologize.
Fact-checking Rex Ryan's case against Amari Cooper
Rex Ryan isn't the first man to question Amari Cooper's commitment to play a 16-game season. There was criticism before the trade that he had given up on the Raiders but the receiver was credited with playing through injuries in 2019.
There was a disparity on Cooper's home/road splits with 52 catches in 67 targets at home but only 27 receptions in 52 targets on the road. However, his ratios were virtually identical in victories and losses, perhaps suggesting that he wasn't giving up.
Assessing Cooper vs. top cornerbacks is difficult because defensive schemes change from series to series and play to play. According to Pro Football Focus, Dallas played four games against teams in the top quarter of the league in coverage defenses in 2019.
Cooper was blanked on two targets against the New England Patriots but otherwise excelled. He totaled 30 catches on 39 targets for 458 yards and two touchdowns against the Minnesota Vikings, Buffalo Bills, and Green Bay Packers.