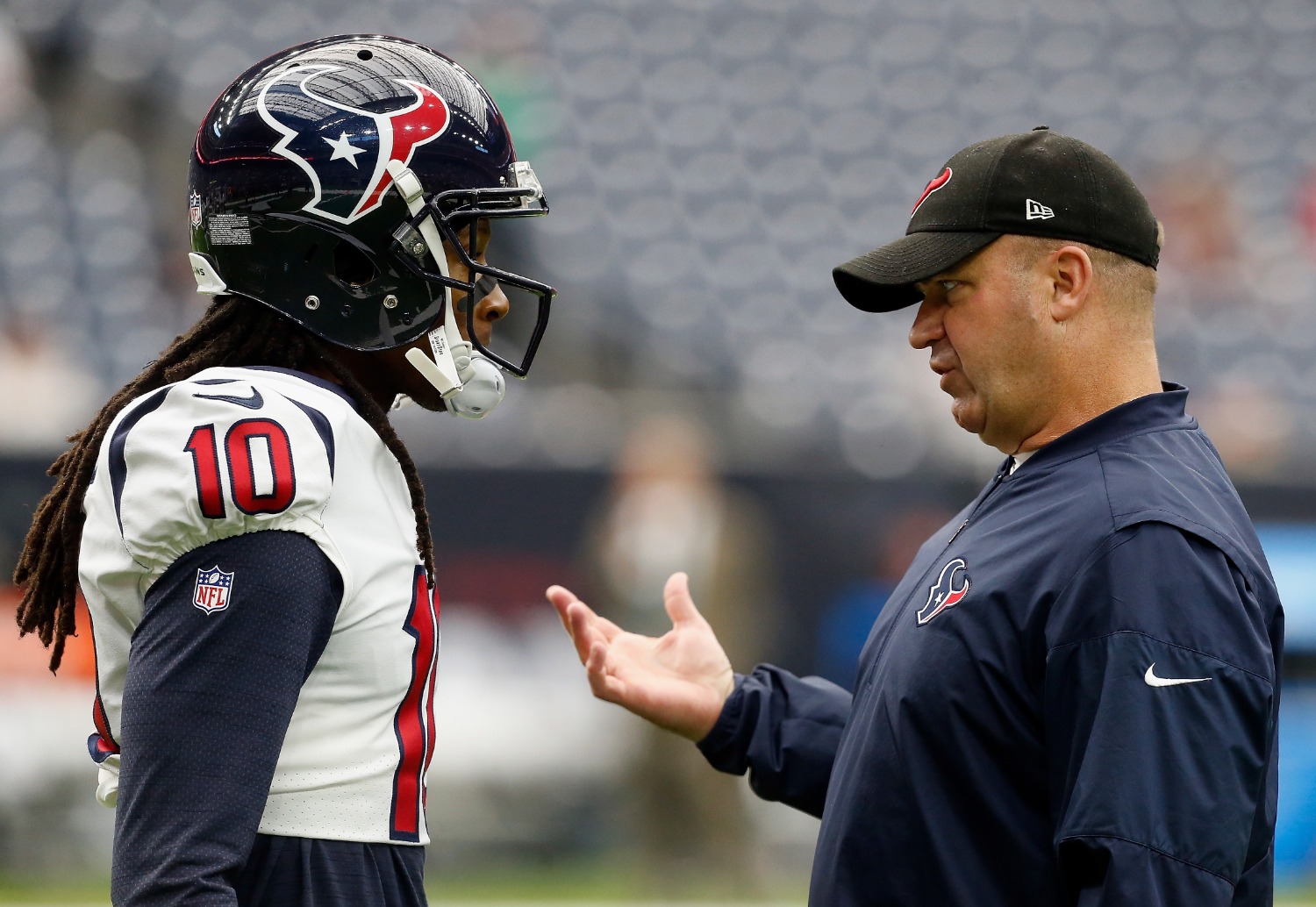 DeAndre Hopkins Just Roasted Bill O'Brien in Clever Patrick Mahomes Tweet
DeAndre Hopkins threw some serious shade at Texans coach Bill O'Brien in a tweet about Patrick Mahomes and his new contract.
Let's just say Bill O'Brien shouldn't expect a Christmas card from DeAndre Hopkins ever again. Clearly, the Arizona Cardinals receiver has not forgotten how things ended both on and off the field. And by praising Patrick Mahomes for his record-setting contract, Hopkins managed to throw some serious shade at his former head coach.
DeAndre Hopkins had an ugly end to his stellar Texans career
When the Texans drafted DeAndre Hopkins 27th overall back in 2013, nobody quite expected him to develop into the NFL's best receiver. While some may view Julio Jones or Michael Thomas as the league's best wideout, Hopkins has a solid claim to that title.
A starter right out of the gate, Hopkins caught 52 passes for 802 yards and two scores as a rookie. Since then, he has posted at least 1,100 receiving yards in five of the last six years. Despite a lack of deep speed or incredible size, the 6-foot-1, 212-pounder has risen up the ranks due in large part to his sticky hands and smooth route-running.
The four-time Pro Bowler enjoyed both personal and team success in his seven-year Texans career. Houston made the playoffs in four of the last five seasons. However, O'Brien's incompetence as a play-caller and game manager resulted in far too many early exits, including a tumultuous meltdown against Patrick Mahomes and the Kansas City Chiefs last year.
Stunningly, Houston's head coach/general manager traded his best receiver to the Cardinals in March. The deal brought back draft picks and highly overpaid and underachieving running back David Johnson. To call the trade a disaster would be an insult to the term. And so, DeAndre Hopkins' otherwise brilliant run in Houston ended in ugly fashion.
Hopkins threw shade at Bill O'Brien while praising Patrick Mahomes
Patrick Mahomes stunned the sports world on Monday by signing a 10-year contract extension worth up to $503 million. He now boasts the largest contract in sports history. And considering he already has an NFL MVP and Super Bowl MVP trophies at home, he certainly deserved a massive payday.
Of course, it didn't take long for NFL players like DeAndre Hopkins to take to Twitter to express their thoughts on Mahomes' record-setting deal. And in doing so, the former Texans wideout managed to throw some serious shade at his ex-head coach. In referencing Mahomes' new deal, Hopkins said, "24 reasons why Mahomes deserves that. 0 Doubts he will win more Super Bowls."
On the surface, the tweet seems innocent. But remember that context matters. Hopkins didn't include "24" and "0" by accident. Rather, he clearly made a subtle reference to last year's Divisional Round matchup between the Texans and Chiefs.
After jumping out to a commanding 24-0 lead, Hopkins watched his team collapse in epic fashion. Patrick Mahomes caught fire in the second quarter, as the Chiefs ripped off 41 unanswered points. Ultimately, Kansas City completed the largest comeback in franchise history by winning 51-31.
By cleverly inserting "24" and "0" into his tweet about Mahomes, Hopkins clearly took a veiled shot at Bill O'Brien. Of course, getting traded in unceremonious fashion this offseason didn't help the situation, either. Now, though, Hopkins has a chance to put the past behind him in Arizona.
The All-Pro wideout can turn the Cardinals into a Super Bowl contender
As much fun as it would be to watch DeAndre Hopkins continue to throw shade at his former head coach, the star wideout needs to focus on his football future. And by joining forces with Kyler Murray and Kliff Kingsbury, he has an opportunity to help turn the Cardinals into Super Bowl contenders.
Looking at their depth chart, the Cardinals boast one of the most exciting groups of skill players across the league. Hopkins and Larry Fitzgerald are two of the best receivers of their generation. Christian Kirk boasts plenty of upside as a slot option. And don't forget about Kenyan Drake, who looked like a completely different player once he escaped from Adam Gase.
It might be a stretch to pencil in Arizona as a legit Super Bowl contender right now. But if he continues to play at an elite level, DeAndre Hopkins can transform the Cardinals' offense into one of the league's most dynamic units. And maybe someday he will get a chance to face Patrick Mahomes in the Super Bowl after all.