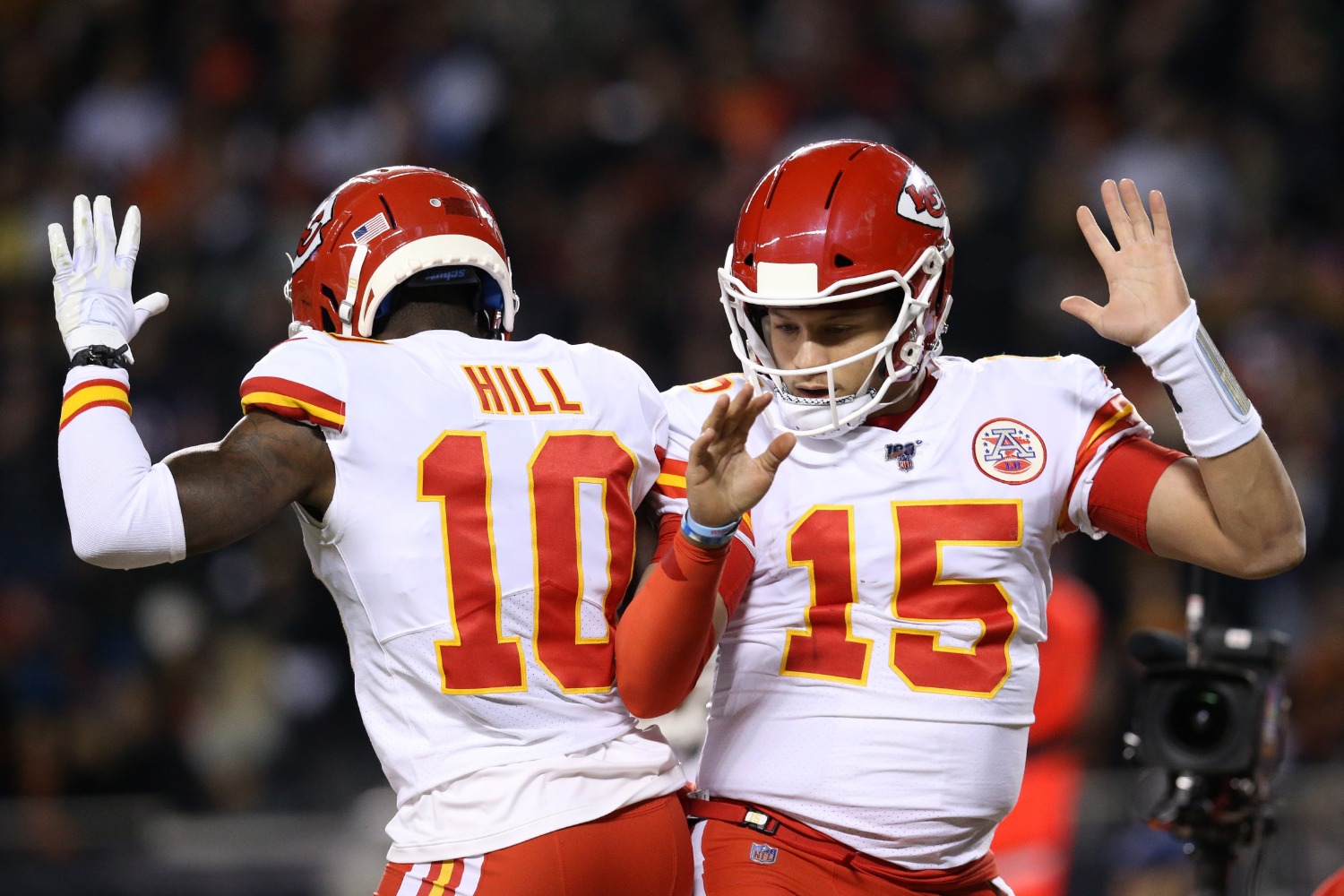 Dez Bryant Declares Stunning Choice For NFL's Best Player After Patrick Mahomes
Former Cowboys WR Dez Bryant stunningly thinks Chiefs WR Tyreek Hill is the best player in the NFL after star teammate Patrick Mahomes.
Dez Bryant knows a thing or two about playing on Sundays. The former Dallas Cowboys receiver dominated the league for a short stretch before injuries sapped him of his effectiveness. Apparently, though, his eyes must not work properly either based on his insane choice for the NFL's best player other than Patrick Mahomes.
Patrick Mahomes has clearly established himself as the NFL's top star
At least Dez Bryant hasn't totally lost his mind in acknowledging that Patrick Mahomes is the league's best player. At this point, nobody can make a reasonable argument otherwise.
Mahomes entered the league following a terrific career at Texas Tech. However, some doubted his ability to make the transition from Kliff Kingsbury's Air Raid offense. After spending a year on the bench behind Alex Smith, the multi-sport star proved his naysayers wrong…quickly.
Nobody could have expected the former baseball star to so easily acclimate himself to the pressure of starting on Sundays. Dazzling fans, coaches, teammates, and even opposing players with his ability to launch passes from odd angles, Mahomes exploded for a league-leading 50 touchdown passes to go along with 5,097 yards.
He took home NFL MVP honors and nearly led the Chiefs to a Super Bowl berth before Tom Brady spoiled Kansas City's title dreams. Mahomes entered the 2019 season with sky-high expectations, and while his regular-season numbers dipped, he certainly made up for that once the playoffs began.
With a deep arsenal of weapons including Tyreek Hill, Travis Kelce, and Sammy Watkins, Patrick Mahomes put up dominant performances against the Houston Texans and Tennessee Titans. In the Super Bowl, he eventually caught fire at the right time and successfully led the Chiefs to their first Super Bowl win since 1969.
Dez Bryant revealed his insane choice for the league's second-best player
In essentially just two years, Mahomes has already surpassed the rest of his peers as the NFL's best player. The Chiefs obviously felt the same way, as they rewarded the face of their franchise with a record-setting contract on Monday.
While Mahomes sits atop his throne, Dez Bryant recently took to Twitter to offer his opinion on who the best player in the NFL is after the Chiefs QB. Stunningly, Bryant chose Tyreek Hill as the best player in the league outside of Mahomes.
As a receiver himself, maybe Bryant couldn't avoid some bias in his decision-making process. Hill certainly has flashed dynamic playmaking ability in his first four NFL seasons. His speed and explosion make him nearly impossible to cover. Yet, Dez Bryant couldn't be more wrong about his selection for the NFL's best player other than Patrick Mahomes.
Tyreek Hill isn't even the best receiver in the NFL
Tyreek Hill absolutely deserves tremendous praise for his ability to score from anywhere on the field. In 59 games (42 starts), the 5-foot-10, 185-pound wideout has racked up 281 catches for 4,115 yards and 32 touchdowns. In addition, he has excelled as a return man, earning first-team All-Pro honors as a special-teamer in his rookie season.
But let's be honest. Tyreek Hill doesn't belong in the conversation of the NFL's best players. Heck, he's not even the second-best receiver in the league. You could make a case that Hill isn't even the second-best player on the Chiefs.
When healthy, Chris Jones and Tyrann Mathieu both possess game-changing ability. Just look at Jones' impact as a pass-rusher in Kansas City's Super Bowl victory. Even Frank Clark impacts the game at a high level and could make a case as the Chiefs' second-best player.
Meanwhile, Bryant's choice for the NFL's best player outside of Mahomes probably doesn't even rank in the top-five players at his position. Michael Thomas, Julio Jones, and DeAndre Hopkins have longer track records of elite production. And with a game on the line, it's difficult to see any NFL coach choosing the diminutive Hill over a big-bodied option like Thomas or Jones.
Dez Bryant may have played the position at a high level, but naming Tyreek Hill as the NFL's second-best player can only be described as insane. Then again, Patrick Mahomes has a special way of making everyone around him look great.