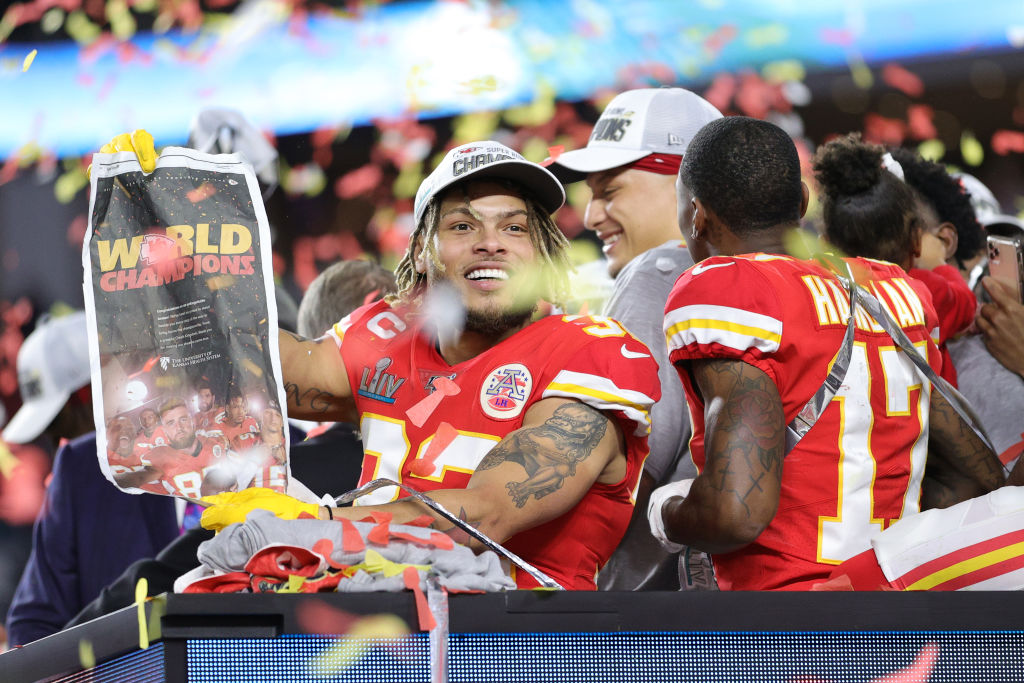 Chiefs' Star Tyrann Mathieu Overcame Addiction to Make More Than $47 Million in the NFL
A drug addiction almost derailed Tyrann Mathieu's life, but he overcame his demons to become a Super Bowl champion and a very rich man.
Tyrann Mathieu is one of the best defensive backs in the NFL today, but he almost never made it to the league in the first place. Mathieu battled drug addiction all throughout college, and it led to some NFL teams deeming him not even draftable. He was labeled a poor teammate and a selfish person, but Mathieu proved every last one of his doubters wrong. He's now a Super Bowl champion and a very rich man.
Tryann Mathieu battled a marijuana addiction at LSU
Mathieu was an All-American at LSU in his sophomore season. The "Honey Badger" was considered the best defensive player in the country and finished the 2011 season as a Heisman finalist. Mathieu was an emerging star who was poised to become a high NFL draft pick, but that all changed in a few short months.
In August of 2012, Mathieu was kicked off the LSU football team for failing multiple drug tests. He underwent counseling and rehab before the 2012 season, but he just couldn't kick his marijuana addiction.
In October of the same year, Mathieu was arrested for misdemeanor marijuana possession. It was a dark day for Mathieu, but it signified a wake-up call for the incredible talent. Going to jail became the turning point in his life.
"Sitting in that jail cell, it clicked," Mathieu told ESPN's Joe Schad in 2013. "Looking at those people, just staring at me. 'You don't belong in here.' They wanted to come through the jail cell and get me. I'm scared now. Because it's reality now. I don't ever want to feel like this again. I'm not going to feel like this again."
Mathieu quit using marijuana and was drafted in 2013
Mathieu was left with few options after getting kicked out of LSU. His drug arrest made his future even murkier, but Mathieu was determined to get his football career back on track.
The time Mathieu spent in jail made him realize what was important in life. He stopped using marijuana and focused all of his energy on the 2013 NFL draft. Mathieu completely kicked his addiction before the draft. He passed the mandatory drug test beforehand, but teams still weren't convinced he was worth the risk.
Bill Polian famously ripped Mathieu prior to the 2013 NFL draft, saying he wouldn't even touch the LSU product if he were a GM. Polian called him irresponsible and selfish during his draft day rant.
Mathieu was originally expected to be a first round pick, but his off-the-field issues caused him to drop to the third. The Arizona Cardinals finally selected Mathieu with the 69th overall pick.
Mathieu turned his addiction into a Super Bowl and $47 million
Not only did Mathieu turn his life around after his arrest in 2012, but he's now thriving as an NFL player. He hasn't touched marijuana since that 2012 incident, and he's built himself into one of the best safeties in the league. He was a key to the Kansas City defense during the team's Super Bowl run last season.
Aside from his success on the football field, Mathieu has also seen great success in his wallet. The current Chief has earned $46.8 million in salary alone through seven seasons in the NFL.
After Mathieu's contract with the Chiefs ends in 2022, he will have earned over $70 million in the league.
Mathieu could've easily chosen a life of drugs after getting kicked out of school, but he turned his life around and now represents one of the greatest success stories in the NFL today.