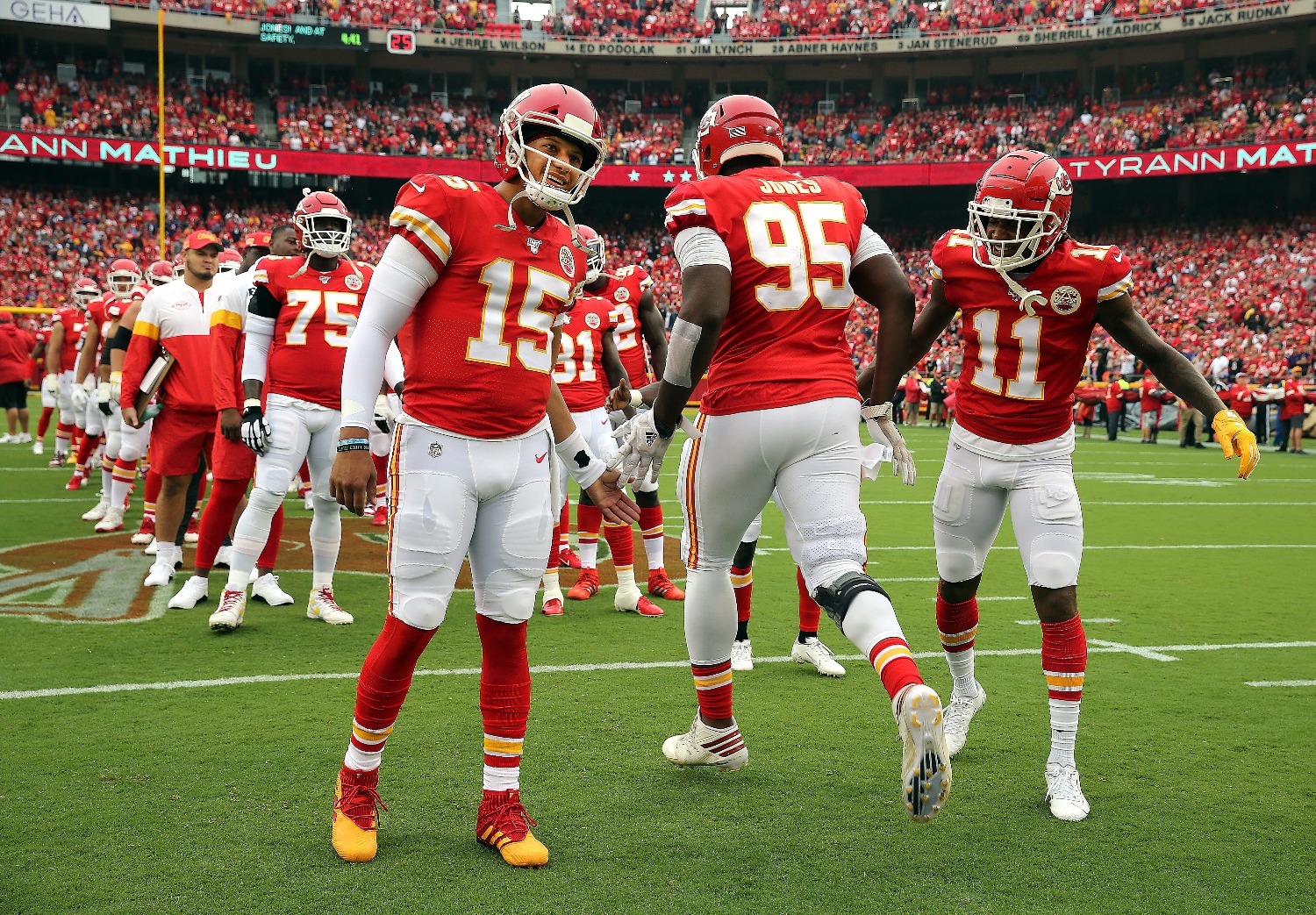 Patrick Mahomes' $503 Million Contract Could Cost Chiefs Their Best Defensive Player
Patrick Mahomes may have just scored a 10-year contract from the Chiefs, but that spells bad news for talented teammate Chris Jones.
Patrick Mahomes will undoubtedly finish his carer with the Kansas City Chiefs. In fact, he should probably get an ownership stake in the team with the way his career has progressed thus far. However, Mahomes' record-setting 10-year deal spells bad news for one of his most talented Chiefs teammates.
Patrick Mahomes scores 10-year contract from Chiefs
All offseason, the talk in Kansas City has centered around Patrick Mahomes and his impending contract extension. The reigning Super Bowl MVP has put together arguably the most impressive two-year stretch of any young quarterback in NFL history. As such, the Chiefs rightfully needed to give their star quarterback a ground-breaking deal to secure his future.
On Monday, Adam Schefter of ESPN broke the news via Twitter that the Chiefs and Mahomes have agreed to a 10-year contract worth up to $503 million. Speculation immediately arose about whether Mahomes' long-term deal has ties to the salary cap. Ultimately, his deal does not contain language that ties his future salaries to a percentage of the salary cap.
No matter if the Chiefs pay $400 million or $600 million, Mahomes deserves every dollar. In just two years as a starter, he has already overtaken the league. When healthy, he boasts a skill set unlike any quarterback who has suited up on Sundays. However, his record-setting contract could cost the Chiefs their most talented defensive player.
Chris Jones has yet to secure his long-term future in Kansas City
Patrick Mahomes undoubtedly ranks as the most important player on the Chiefs. But if you're picking the second-most valuable player on the roster, it might be Chris Jones. The 6-foot-6, 310-pound defensive lineman has developed into one of the best players at his position since Kansas City selected him 37th overall in the 2016 NFL draft.
A ferociously powerful pass-rusher with elite athleticism, Jones earned second-team All-Pro honors in 2018 after racking up 15.5 sacks. Last season, he made his first Pro Bowl after totaling nine sacks in just 12 starts. Clearly deserving of a new deal, the former Mississippi State star has been stuck in limbo due in large part to the COVID-19 pandemic.
In March, the Chiefs placed the franchise tag on their uber-talented defensive tackle. However, Jones has already said that he won't suit up for the Chiefs again without a long-term deal. He has yet to sign his franchise-tag tender that carries a lucrative salary of $16.1 million.
But based on his own accomplishments, Chris Jones certainly has a strong case to earn four or five times that amount on a multi-year deal. But with the Chiefs committing more than $450 million to Patrick Mahomes, that spells bad news for the talented interior lineman.
Can the Chiefs afford to retain Jones in light of Mahomes' massive deal?
While we await the final numbers of Mahomes' contract, it's safe to say that his deal will have a massive effect on Kansas City's salary-cap situation. With that in mind, when it comes to Chris Jones, his teammate's long-term contract could mean the end of his tenure in KC.
According to Spotrac, the Chiefs have about $3.6 million in cap space, and that's before Mahomes signed his new deal. Obviously the 10-year commitment should help spread out what will likely be a ridiculous signing bonus. Still, that leaves precious little room to ink Jones to a multi-year deal of his own.
That could put the Chiefs in a position where they need to shop the Pro Bowl defensive tackle on the trade market. Conceivably, a contending team could send at least a second-round pick (if not more) to Kansas City to acquire Jones. Any team interested in trading for Jones must budget significant salary-cap resources to accommodate a lucrative deal.
For the Chiefs, getting rid of their best defensive player may be a cost of doing business with Patrick Mahomes. Ultimately, though, they can find another Chris Jones someday.