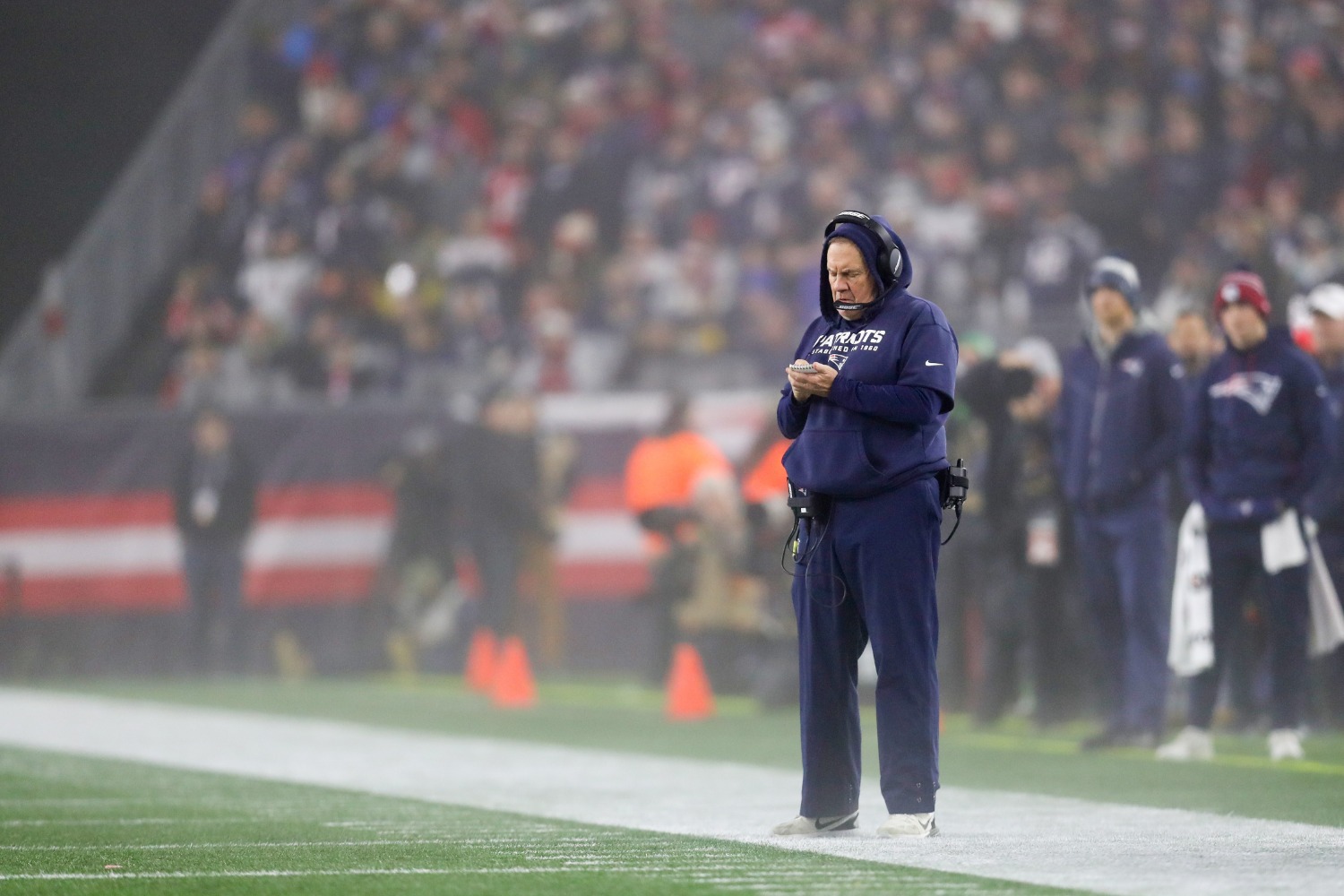 Bill Belichick Just Encountered a Major Crisis He Cannot Fix
Bill Belichick is the best in the business at solving problems, but the Patriots coach won't be able to solve the crisis he just encountered.
Bill Belichick has built a reputation as the NFL's greatest problem solver. The architect of the greatest dynasty in sports has proven time and time again that he can replace high-cost talent with overachieving, intelligent, and cheaper options. But as he tries to lead the New England Patriots to their first Super Bowl without Tom Brady, Belichick just got put in an unfamiliar position thanks to COVID-19.
Bill Belichick has built a reputation as a problem solver
Ever since he infamously resigned from the New York Jets and took his talents back to Foxborough, Bill Belichick has schooled the rest of the NFL on how to manage a roster in the salary-cap era. Throughout the years, he has figured out creative means to maximize every dollar.
Belichick imported several low-cost veterans early in his Patriots tenure to add valuable leadership and experience to a team that no one thought had a shot at winning the AFC East, let alone a Super Bowl. Of course, New England toppled a stacked St. Louis Rams team that featured multiple Hall of Famers.
Since capturing that first Super Bowl championship, Belichick has never gotten comfortable. When it became clear that Brady lacked legitimate receivers, he traded for Randy Moss and Wes Welker. He imported Darrelle Revis when it became clear the secondary needed a No. 1 corner.
When Chandler Jones essentially priced himself out of New England, Belichick traded him to recoup draft capital. And when Jamie Collins started freelancing in order to make big plays in a contract year, the notoriously cold-hearted GM shipped him to Cleveland.
No matter what the situation, it seems like Bill Belichick always has the right move up his sleeve (or whatever's left of it).
Belichick has a COVID-19 crisis on his hands
The NFL's greatest problem solver just encountered a crisis he can't fix. For Bill Belichick, COVID-19 represents a roadblock that not even he can avoid. On Monday, Patriots fans received some sobering news when Karen Guregian of the Boston Herald tweeted that Marcus Cannon opted out of the 2020 NFL season. New England's longtime right tackle underwent treatment for non-Hodgkins lymphoma as a rookie.
Losing a player of Cannon's caliber represents a massive blow to New England's offense. Though most wouldn't put him in the elite category, the 6-foot-6, 335-pounder has essentially been a full-time starter since 2016. The former fifth-round pick earned second-team All-Pro honors that season and has earned three Super Bowl rings.
However, having one player opt-out wouldn't qualify as a crisis. But on Tuesday, the Patriots suffered two more devastating blows with Dont'a Hightower and Brandon Bolden also electing to sit out the season.
Both have been integral members of the latter half of New England's dynasty. Hightower, in particular, will likely earn a spot in the Patriots Hall of Fame one day for his playoff heroics. Bolden has spent nearly all of his NFL career playing for Belichick as a lights-out special-teamer and capable rotational running back.
The Patriots can't replace the leadership and experience they just lost
For Bill Belichick, replacing Cannon will be difficult on its own. New England has an extremely thin tackle depth chart. Isaiah Wynn, the team's top pick in 2018, has failed to stay healthy during the first two years of his career. He should start at left tackle, but who exactly will bookend him on the other side?
Second-year pro Yodny Cajuste missed his entire rookie season while recovering from quad surgery. Even if he has the physical skills to start in 2020, that's asking a lot of a player who didn't play a single snap and will now be tasked with protecting Cam Newton.
Of course, losing Hightower stings the worst. The unquestioned leader of New England's dominant defense appeared to be the only hope at linebacker given the defections of Jamie Collins and Kyle Van Noy. Now, the unit will have to rely on a pair of rookies, third-year pro Ja'Whaun Bentley, and whoever else Belichick can find on the scrap heap.
Ultimately, though, the biggest issue for Belichick is the loss of leadership and championship experience. Cannon, Hightower, and Bolden have combined to play 315 regular-season games in a Patriots uniform. Plus, that trio has played a total of 51 playoff games. It will be impossible for Belichick to find replacements with that type of big-game experience.
From a leadership perspective, Cannon may not say much, but he's easily the most experienced player on an offensive line with some major question marks. Hightower calls the defense and has served as a team captain. Bolden draws rave reviews for his character and ability to mentor younger players on special teams.
Unfortunately for Bill Belichick, the COVID-19 pandemic has seeped its way into the walls of 1 Patriot Place. And this time, the roster crisis that he just encountered can't be solved. Let's see if the Patriots suffer any more critical blows before the 2020 NFL season begins.