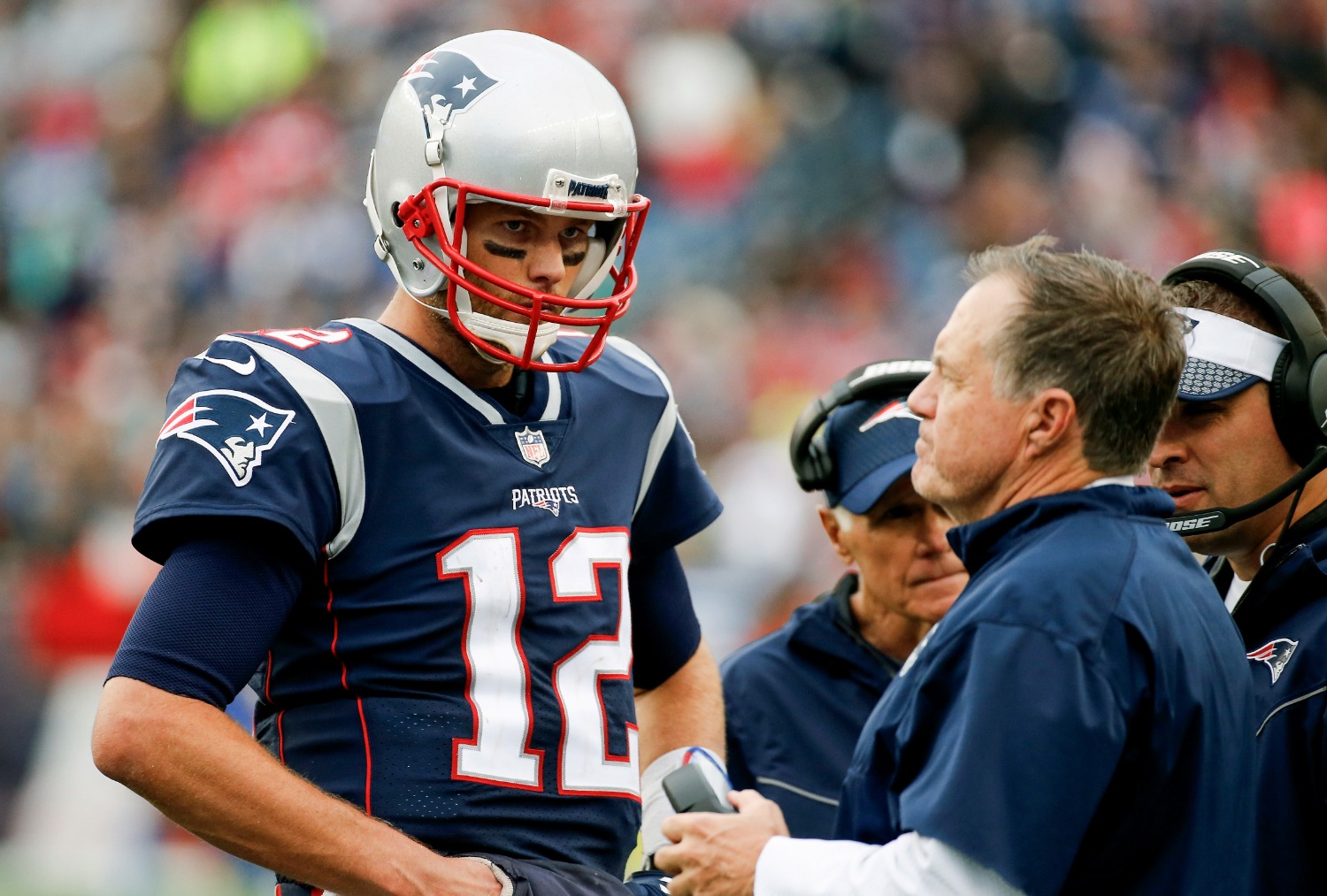 Tom Brady Is Defying Medical Advice to Prove Bill Belichick Wrong
Tom Brady is defying the advice of the NFLPA medical director in his pursuit to prove Bill Belichick wrong for not bringing him back.
Tom Brady doesn't care that he'll be 43 years old this season. The new face of the Tampa Bay Buccaneers looks more determined than ever to prove everyone wrong. And by eschewing the medical advice from the NFLPA's medical director, he's clearly out to prove a point that Bill Belichick made a major mistake by not retaining his services.
Tom Brady and Bill Belichick finally divorced after two dominant decades
For 20 years, Brady and Belichick ruled the NFL. Winning the AFC East became an annual tradition. So did advancing to the AFC Championship. And half the time, the two football icons found themselves playing on Super Bowl Sunday.
As the most successful quarterback-coach combo in NFL history, Brady and Belichick rightfully deserve praise for their individual contributions. However, the debate about which man played a more pivotal role in the Patriots' success still wages on today.
Ultimately, the power struggle between the greatest quarterback of all time and his unwavering boss finally came to an end this offseason. Of course, Brady only left the Patriots after settling for incentivized contracts in the last few years. The three-time NFL MVP never got the long-term deal he coveted to finish his career in New England.
On one hand, letting Brady walk made total sense from Belichick's perspective. The offense had grown stagnant, particularly due to the lack of development from young receivers. With Brady gone, Belichick can see what he has in promising second-year QB Jarrett Stidham. It also saved New England a ton of money on a multi-year commitment to TB12.
However, for the NFL's GOAT, the opportunity to play with a much better supporting cast in the warm weather of Tampa represented a heck of a consolation prize. And based on both his actions and words, Tom Brady isn't letting any professional medical advice stand in his way of proving Bill Belichick wrong.
Brady is defying medical advice by practicing with Buccaneers teammates
Due to the COVID-19 pandemic, the sports world has been turned upside down. The NBA suspended its season. Baseball hasn't even started yet. Leagues have prepared to start up competition without fans in attendance. Social distancing has become the new buzz word utilized by coaches, players, and owners.
With concerns raised about player safety, the NFLPA medical director, Dr. Thom Mayer, advised players that they should not be practicing together in private workouts. He flat-out said that it's in the players' best interest not to participate in any voluntary joint practices before training camp.
Apparently Tom Brady never got that message. The Buccaneers quarterback made a bold post on Instagram on Wednesday of himself drinking from a TB12 water bottle. To add some more sizzle to the story, he included Franklin D. Roosevelt's famous quote, "Only thing we have to fear, is fear itself."
Meanwhile, anyone who follows Brady on social media has witnessed his workouts with teammates like Rob Gronkowski. He's rightfully earned some blowback for essentially thumbing his nose at the NFLPA's medical director. But when you have the chance to prove your old boss wrong, following conventional wisdom isn't an option.
Will a rejuvenated TB12 prove Belichick wrong for letting him walk?
For Tom Brady, getting a fresh start in Tampa means more than swapping jerseys and teammates. It represents a chance to expose Bill Belichick for letting him walk away. In order for Brady to win the war against his former coach, he not only has to play at a high level but he also needs to win a Super Bowl.
Sure, Brady will look like a winner if he rebounds from an uninspiring 2019 campaign. Given the weapons at his disposal, it's difficult to see him failing at putting up big numbers. More importantly, though, he has to turn Tampa into a legit title contender.
Brady's legacy has never been about yards or touchdowns. Instead, his sole focus has always been on winning his next Super Bowl ring. If he can win without Belichick, Tom Brady will have no holes left in his otherwise stellar resume. And by the looks of it, he's willing to take a PR hit and put his health on the line to make ensure a successful 2020 season.