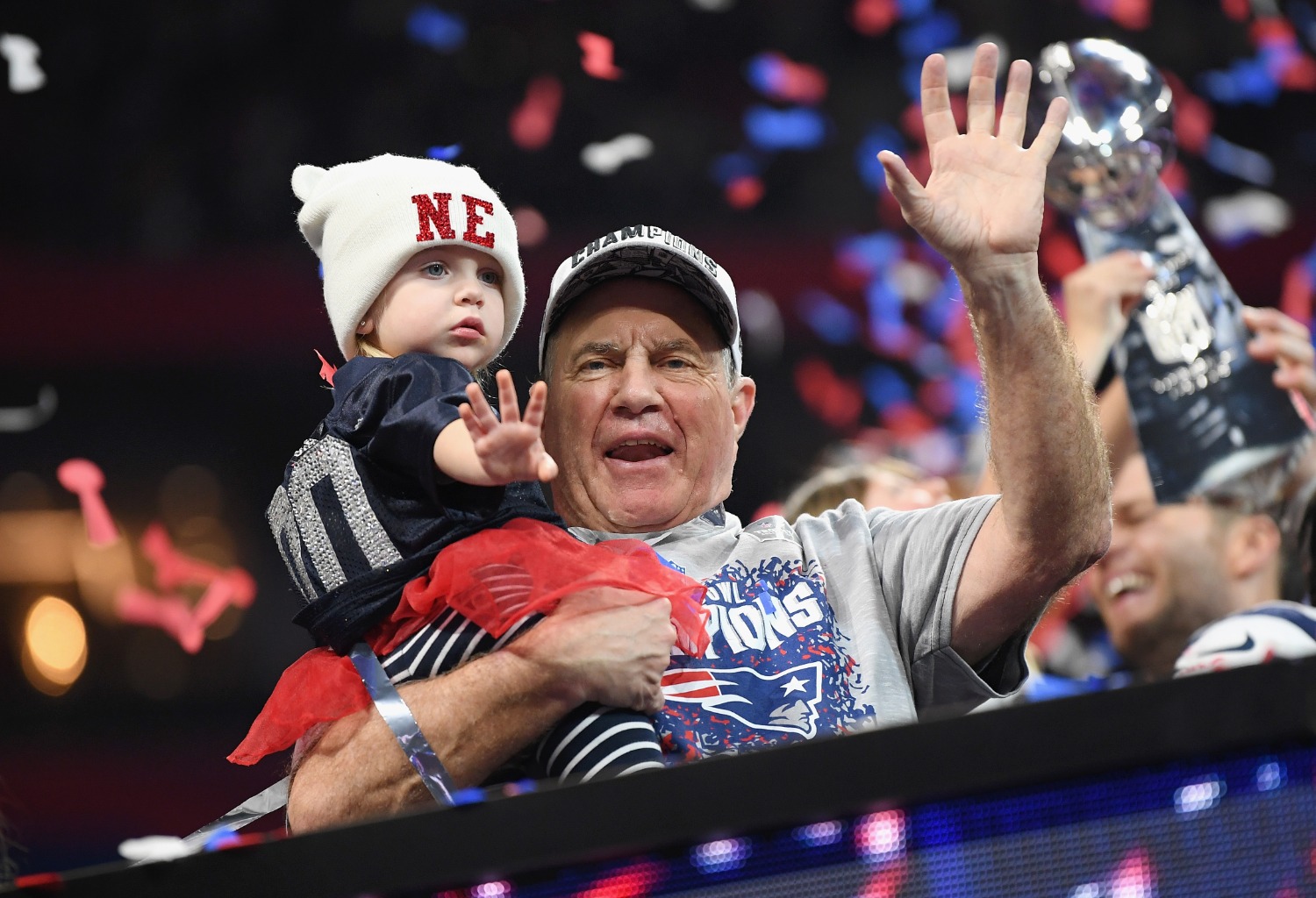 Bill Belichick Just Scored Potential $50 Million Weapon to Extend Patriots Dynasty
Patriots head coach Bill Belichick possesses a $50 million weapon to help extend the dynasty the dynasty he's built over two decades.
Bill Belichick zigs when everyone else zags. For years he exploited the fact that teams didn't target players for his 3-4 defensive scheme and scored talented players at discount prices. Thanks to Belichick's economic brilliance, the New England Patriots became the most successful dynasty in sports despite the existence of the salary cap and free agency.
And now, the greatest coach in NFL history has a potential $50 million weapon that could extend the Patriots' reign in the post-Tom Brady era.
Bill Belichick built a dynasty by making economical decisions
Bill Belichick boasts more knowledge about the game of football than most NFL coaches have forgotten. But beyond his intimate understanding of the fine nuances of the NFL rule book, Belichick has a distinct advantage over the rest of his peers: his economics background.
A graduate of Wesleyan University, the 68-year-old earned his bachelor's degree in economics back in 1975. Having such a thorough understanding of economics has definitely benefited the coach who also grew up learning the game from his famous father.
Since taking over the Patriots two decades ago, Belichick has built a dynasty due in large part to sound financial decisions. Sure, Tom Brady did him a favor by leaving money on the table for years. However, take a look at some of Belichick's biggest personnel decisions and you'll begin to understand why the Patriots have dominated the NFL for 20 years.
Early on, New England constructed its roster around cheap, tough-nosed veterans and young stars on rookie deals like Brady, Richard Seymour, and Matt Light. While Belichick certainly has splurged on a few occasions (Stephon Gilmore, Darrelle Revis, Randy Moss), he often lets star players walk or gets rid of them to preserve long-term financial flexibility.
He traded Chandler Jones and Jamie Collins in their primes instead of handing them lucrative contract extensions. He did the same with Logan Mankins. And of course, he didn't commit multiple years and tens of millions to an aging Brady coming off arguably his worst year as a pro.
New England is in prime position to handle 2021 salary cap reduction
The COVID-19 pandemic has caused the NFL world to turn upside down over the last few months. The 2020 NFL draft got conducted virtually instead of in Las Vegas. Players and coaches missed organized team activities and mini-camps. Baltimore Ravens players had to conduct their legendary conditioning test entirely on their own.
Financially speaking, COVID-19 will also have a dramatic effect on the NFL salary cap. When the NFL and NFLPA agreed to changes to the Collective Bargaining Agreement on Friday, that included a major alteration to the NFL's spending rule.
While the 2020 salary cap will remain at $198 million, the 2021 cap could get reduced to a minimum of $175 million. That number may grow if the NFL surpasses its expected revenue in 2020. However, in all likelihood, it appears as though NFL teams will have far less to spend in 2021 than they originally planned.
For some teams, the 2021 salary cap reduction could kill their Super Bowl chances. But thanks to Bill Belichick's ability to manage his roster, the Patriots will have no trouble navigating the rough financial waters. In fact, the perennially underrated general manager can do his best work by taking advantage of the rest of the league's newfound dilemma.
Belichick can utilize $50 million to extend Patriots dynasty
According to Over the Cap, New England projects to have about $90 million in cap space based on a projected 2021 salary cap of $215 million. That puts them behind only the Indianapolis Colts ($113 million) and Los Angeles Chargers ($96 million).
However, even if the NFL reduces the cap to that $175 million floor, that gives Bill Belichick about $50 million to wheel and deal next offseason. That could spell trouble for anyone who thinks the Patriots' dynasty ended once Brady took his talents to Tampa.
Obviously the quarterback situation will play a significant role in how Belichick uses that $50 million cap space. If Cam Newton shines in 2020, the Patriots could easily afford to sign him to a long-term deal. Belichick could also use the franchise tag to retain his services for another year. He could even tag-and-trade the former No. 1 pick for valuable draft capital.
Another intriguing option includes poaching players that teams will have to cut to get under the cap. The Philadelphia Eagles and New Orleans Saints will be in dire financial straits if the salary cap gets reduced. That could put talented, but expensive players on the chopping block.
Plus, the 2021 free-agent class features a number of intriguing names that could help New England extend its dynasty. Will Dak Prescott hit the open market? Perhaps Belichick will go after a pass-rusher like Yannick Ngakoue or Matt Judon with money to burn.
Ultimately, the Patriots can handle any 2021 salary cap reduction with ease. And that should scare the rest of the NFL. Because if Bill Belichick has $50 million at his disposal, the Patriots can extend their dynasty in any number of ways.