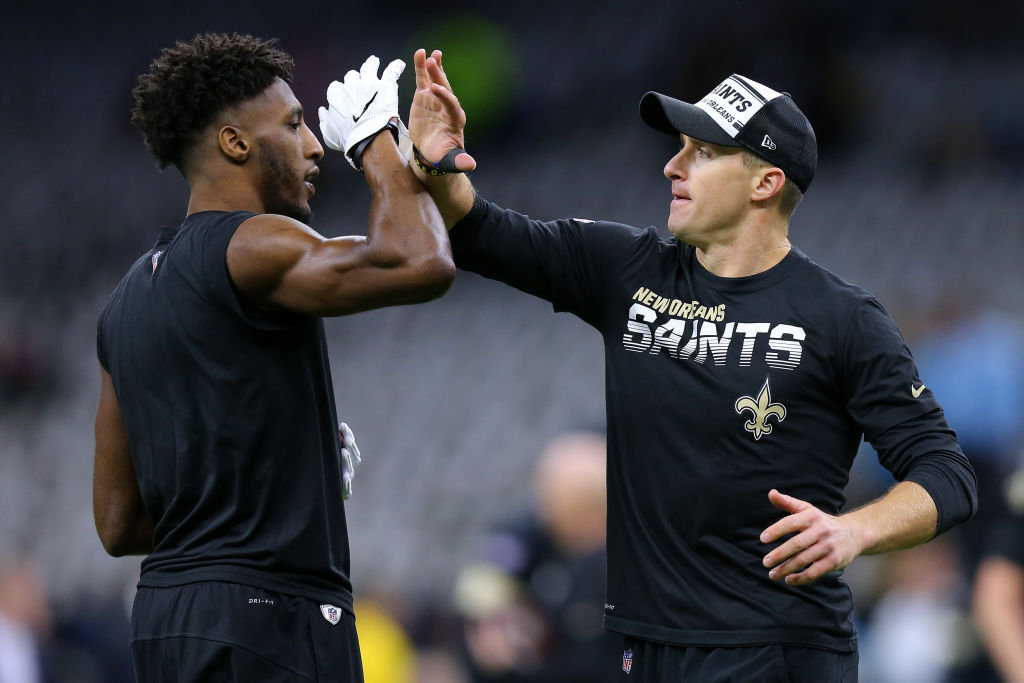 Drew Brees Won His Saints Teammates Back By Scorning Donald Trump
Drew Brees seems to have won back his Saints teammates by scorning Donald Trump after the president questioned the QB's apology.
Drew Brees has had a rough week. First, the New Orleans Saints quarterback drew widespread criticism for his insensitive national anthem comments. Then, he issued two apologies via social media. The second one caught the attention of none other than Donald Trump.
But in standing up for what's right, Brees managed to win back his Saints teammates' respect. So how did he do that? By calling out the president of the United States.
Drew Brees issued two apologies after making insensitive comments
Typically viewed as one of the NFL's good guys, Drew Brees rarely says the wrong thing. However, he lost respect from fans, teammates, and many others for his initial comments about the national anthem. Seeking forgiveness, he posted an apology on Instagram. However, the post included a $33 stock image that only made things worse.
On Friday, Brees posted a second apology on Instagram. This time, he eschewed a written message for a more direct approach via video.
"I know there's not much that I can say that would make things any better right now. But, I just want you to see in my eyes how sorry I am for the comments that I made yesterday. I know that it hurt many people, especially friends, teammates, former teammates, loved ones, people that I care and respect deeply. That was never my intention. I wish I would have laid out what was on my heart in regards to the George Floyd murder, Ahmaud Arbery, the years and years of social injustice, police brutality and the need for so much reform and change in regards to legislation and so many other things to bring equality to our black communities. I am sorry and I will do better and I will be part of the solution and I am your ally."
While his second apology seemed sincere, it drew criticism from Donald Trump, who took to Twitter to voice his opinion.
Brees put Donald Trump in his place
For Drew Brees, winning back the respect and support of his Saints teammates, fans, and others who felt offended represented a major hurdle. Only he probably didn't expect to face an adversary like the U.S. president. Following Brees' video apology, Trump criticized him on Twitter.
"I am a big fan of Drew Brees. I think he's truly one of the greatest quarterbacks, but he should not have taken back his original stance on honoring our magnificent American flag. OLD GLORY is to be revered, cherished, and flown high…"
Starting a battle with the president probably never crossed Brees' mind. Yet, he managed to change the narrative by issuing a lengthy response on Instagram. This time, Brees' words seemed to have hit the mark perfectly.
Through my ongoing conversations with friends, teammates, and leaders in the black community, I realize this is not an issue about the American flag. It has never been. We can no longer use the flag to turn people away or distract them from the real issues that face our black communities.
We did this back in 2017, and regretfully I brought it back with my comments this week. We must stop talking about the flag and shift our attention to the real issues of systemic racial injustice, economic oppression, police brutality, and judicial & prison reform.
We are at a critical juncture in our nation's history! If not now, then when?

We as a white community need to listen and learn from the pain and suffering of our black communities. We must acknowledge the problems, identify the solutions, and then put this into action. The black community cannot do it alone. This will require all of us.
Not only did Brees directly address the president, but he also showed a better understanding of the issues at hand.
Can the Saints move forward and live up to their Super Bowl potential?
It's impossible for Drew Brees to erase his past comments. That's the harsh reality of living in an age of screenshots and social media. However, by scorning Trump, he seems to have won back some of his teammates.
That's a great first step for the Saints QB. After all, winning a Super Bowl seems impossible if this issue continues to be a divisive force. On paper, New Orleans boasts one of the most complete rosters in the NFL. Brees might have one year left in the tank. To achieve their championship dream, the Saints will have to put this behind them and focus on the journey ahead.
Ultimately, Brees still has work to do. But by calling out Donald Trump, he took a step in the right direction. Perhaps this will prove to be a rallying point for a team with legitimate Super Bowl potential.