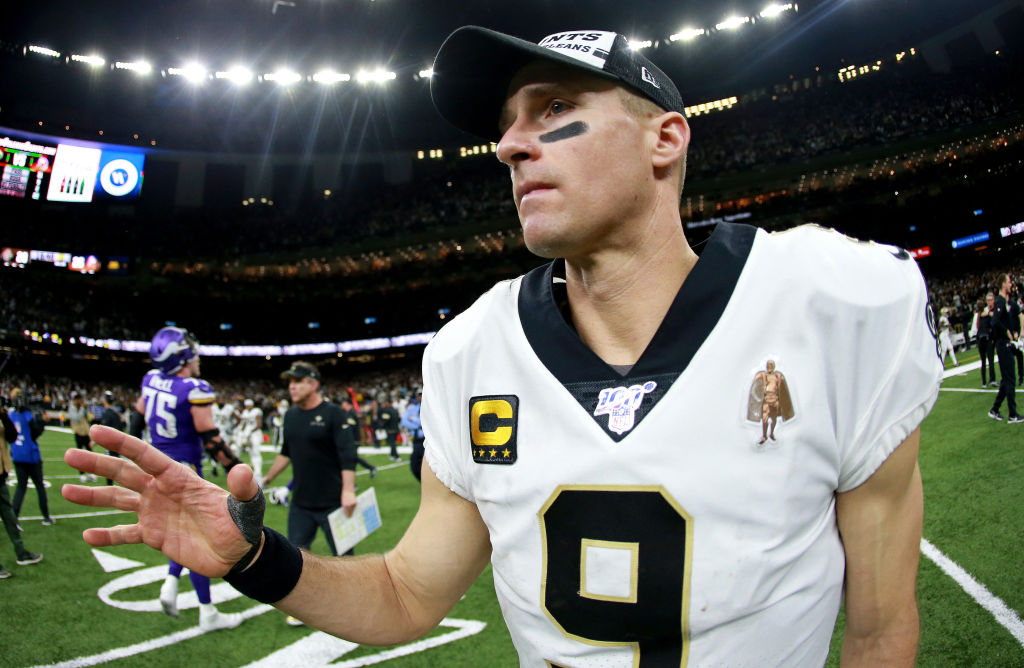 Drew Brees Spent $33 on His Apology but Is It Too Little Too Late?
Drew Brees issued an apology on Instagram after making insensitive comments about the National Anthem using a photo that costs $33.
Drew Brees has been one of the NFL's best role models during his career. But the face of the New Orleans Saints has become a lightning rod for criticism due to his controversial comments about the National Anthem.
Fans, media members, and even teammates have expressed anger and disappointment in Brees. The Saints star did issue an apology via Instagram, but his $33 effort may ultimately prove to be a case of too little, too late.
Drew Brees sparked controversy over his National Anthem comments
On the field, Drew Brees rarely does anything wrong. And for the majority of his career, he's done everything right off of it, too. Yet, the Saints legend drew widespread criticism (to put it lightly) for his comments about players kneeling during the national anthem during a Yahoo Finance interview (H/T Yahoo Sports).
"I will never agree with anybody disrespecting the flag of the United States of America or our country," Brees said. "Let me just tell you what I see or what I feel when the national anthem is played, and when I look at the flag of the United States. I envision my two grandfathers, who fought for this country during World War II, one in the Army and one in the Marine Corp. Both risking their lives to protect our country and to try to make our country and this world a better place."

Immediately, Brees' comments sparked outrage on social media from both friends and foes. His top two receivers, Michael Thomas and Emmanuel Sanders, both expressed their frustration publicly on social media. So did Malcolm Jenkins, who returned to the Saints this offseason after spending the first five years of his career in New Orleans.
Saints QB issued an apology via Instagram with a $33 stock image
With superstars like LeBron James and Richard Sherman publicly blasting Drew Brees for his insensitive comments, the Super Bowl champion took to Instagram to issue an apology and clarify his stance after widely missing the mark.
I stand with the black community in the fight against systemic racial injustice and police brutality and support the creation of real policy change that will make a difference.
I condemn the years of oppression that have taken place throughout our black communities and still exists today.
I acknowledge that we as Americans, including myself, have not done enough to fight for that equality or to truly understand the struggles and plight of the black community.
I recognize that I am part of the solution and can be a leader for the black community in this movement.
I will never know what it's like to be a black man or raise black children in America but I will work every day to put myself in those shoes and fight for what is right.
I have ALWAYS been an ally, never an enemy.
However, while his words may have helped ease some of the tension, it didn't take an expert to realize that the photo he selected came straight out of an iStock gallery.
The image cost just $33, a price that Brees can certainly afford given his massive NFL earnings. Perhaps he even saved a few bucks by paying for the $9.90 one-month subscription. Either way, the photo choice certainly won't engender any sympathy from his critics who think the apology may be a case of too little, too late.
Can Brees win back fans and teammates?
In an age where a screenshot can ruin someone's life, it's difficult to imagine that people will suddenly let Brees' initial comments slide even in the wake of his apology. Even Saints fans may have a tough time putting their full-fledged support behind No. 9 this season.
For Brees, his Instagram post did seem to win back one fan in teammate Demario Davis. The Pro Bowl linebacker went on CNN and praised his quarterback for showing leadership by admitting his wrongdoing.
Ultimately, though, it'll take much more than a $33 Instagram post to make up for the damage that's already been inflicted. Drew Brees may have just one more season left in his NFL career, and it's safe to say that he will be under intense scrutiny moving forward.