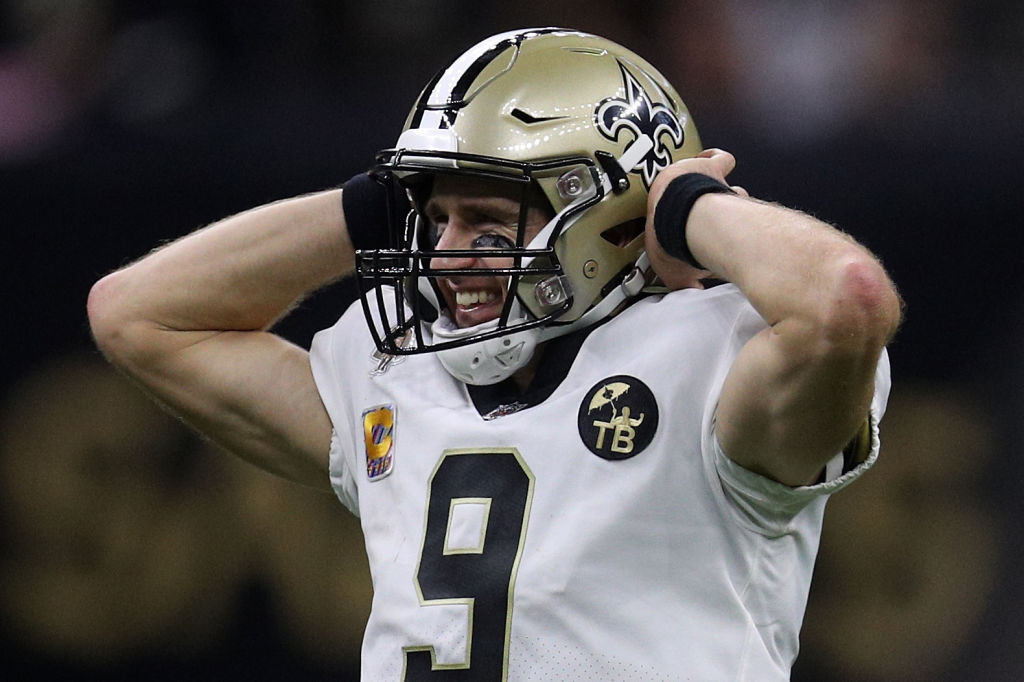 Can Drew Brees and the Saints Recover After Teammates Turn Backs on Their QB?
What is next for the New Orleans Saints after teammates turn their backs on franchise quarterback Drew Brees?
This may go down as the biggest loss for the New Orleans Saints in team history. Teammates, even ones who said they were friends with Drew Brees, have publicly blasted the longtime Saints quarterback after Brees' comments Wednesday about kneeling during the national anthem. The bashing was widespread, aggressive, and got very personal. It's something Brees and the Saints may have difficulty overcoming.
Drew Brees' Hall-of-Fame career
Drew Brees loves playing for the New Orleans Saints. After last season, Brees contemplated retirement and said if he returned for a 20th season it would only be to play for the Saints. The future Hall-of-Famer inked a two-year deal worth $50 million in March.
Brees has spent the last 14 years of his 19-year NFL career in New Orleans and has been one of the league's best. With the Saints, Brees has made the Pro Bowl 12 times and has led the league in passing yardage seven times. He has also been the league leader in touchdown passes in four of those seasons.
Brees has thrown for 547 touchdowns in his career and has amassed 77,416 passing yards. Twice, Brees has been named the AP's Offensive Player of the Year, winning it in  2008 and 2011. In the 2009 season, Brees and the New Orleans Saints defeated the Indianapolis Colts 31-17 in Super Bowl XLIV.

The controversial comment
During an interview with Yahoo! Finance on Wednesday, the subject of kneeling for the national anthem came up. The topic was always a heated one in the NFL after former San Francisco 49ers quarterback Colin Kaepernick began kneeling during the anthem. Kaepernick said he did so to bring awareness to racial injustice. After the recent death of George Floyd, a black man who was handcuffed and had his neck knelt on by Minneapolis police offer Derek Chauvin, the topic of kneeling during the anthem once again.
"I will never agree with anybody disrespecting the flag of the United States of America or our country," Brees said. "Let me just tell you what I see or what I feel when the national anthem is played, and when I look at the flag of the United States. I envision my two grandfathers, who fought for this country during World War II, one in the Army and one in the Marine Corps. Both risking their lives to protect our country and to try to make our country and this world a better place."
Brees' comments didn't sit well with many of his teammates and for many athletes around the country, including LeBron James and Richard Sherman. Many feel Brees is missing the point, reiterating that Kaepernick's kneeling has nothing to do with the anthem. Many voiced their opinions and many of those opinions were harshly directed at Brees.
Can Brees and the Saints recover?
Drew Brees' teammates Michael Thomas, Malcolm Jenkins, and Emmanuel Sanders were among some of Brees' teammates responding harshly to the Saints' quarterback. Jenkins said in a video, "Drew Brees, if you don't understand how hurtful and how insensitive your comments are, you are part of the problem." Thomas, Brees' No. 1 target at wide receiver, tweeted, "He don't know no better" and "We don't care if you don't agree and whoever else how about that."
Emmanuel Sanders simply wrote "smh…ignorant." Running back Alvin Kamara tweeted "oop…" Whether the tweets were long or short, the messages to Brees were loud and clear.
Can the New Orleans Saints recover from this? Racial tension is a very touchy subject and one not to be taken lightly. Friendships and relationships can be torn apart and may have already been in this case. How much weight would a Brees apology hold? A big part of being a quarterback is having trust in those around you. Brees appears to have lost that trust among his teammates.