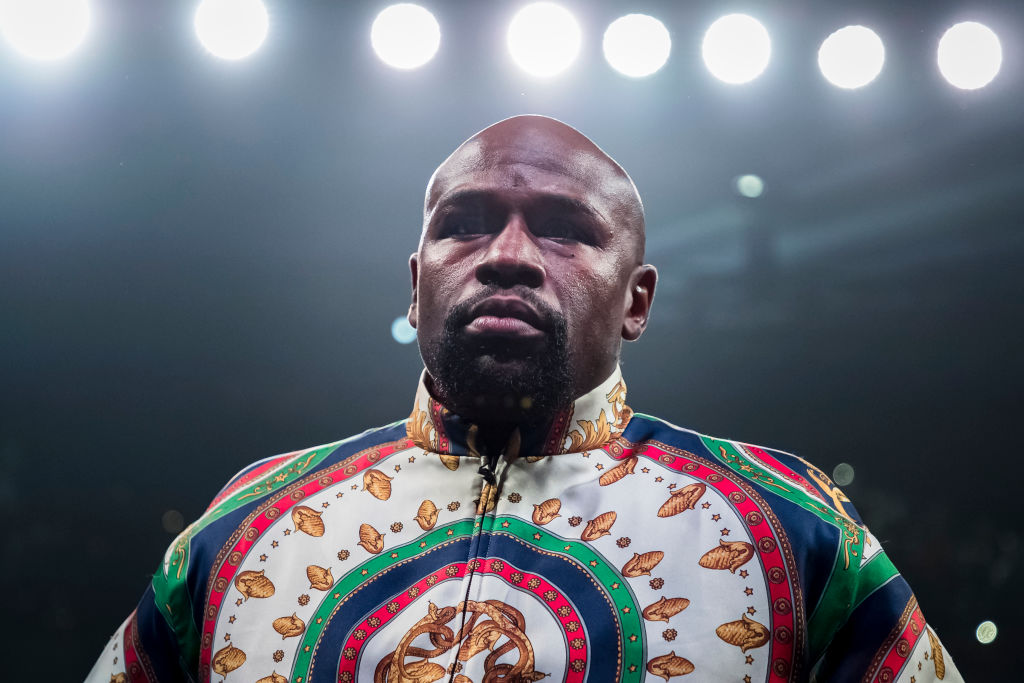 Floyd Mayweather to Pay for Four Funeral Services for George Floyd
Floyd Mayweather Jr. has largely been silent since the death of George Floyd. Until now. The boxer will reportedly be paying for Floyd's multiple funeral services.
As demonstrations grow in cities across the country protesting the death of George Floyd, Floyd's family is preparing for the tough road ahead of laying their brother to rest. Boxing superstar Floyd Mayweather Jr. has been quiet in the last week since the incident happened but has stepped up in a big way and reportedly will be paying for multiple funeral services for Floyd in the coming days ahead.
The tragic death of George Floyd
A week ago in Minneapolis, Minnesota, officers responded to a call of a forgery in progress. When officers arrived, they were told the suspect, George Floyd, appeared to be under the influence. According to police, when officers approached Floyd, he "physically resisted" when asked to step out of the car.
Officers handcuffed Floyd, and video later showed a police offer kneeling on Floyd's neck as he pleaded with the officer to get off because he was struggling to breathe. Multiple officers stood by watching the incident as bystanders urged the one officer to get off of his neck. Floyd died later that night.
The four officers involved in the situation, including the officer kneeling on Floyd's neck, Derek Chauvin, were all fired from the Minneapolis Police Department. Chauvin was arrested and charged with third-degree murder and manslaughter.

Athletes around the sports world react to George Floyd's death
The death of Floyd, an unarmed black man at the hands of police, triggered outrage and protests across the nation. It also generated a wave of responses from many in the sports world, including some of the biggest names. 
Michael Jordan released a statement on Twitter. "I am deeply saddened, truly pained and plain angry. I see and feel everyone's pain, outrage and frustration."
LeBron James offered a poignant response on Instagram showing a side-by-side graphic with the police officer subduing Floyd with his knee in one picture, and Colin Kaepernick kneeling before an NFL contest in the other image. Numerous other athletes invoked Kaepernick's name since his taking a knee before NFL games was specifically to protest police brutality.
UFC light heavyweight champ Jon Jones also expressed his outrage in a thread on Twitter calling for a "nationwide policy change."
"That whole if you can talk you can breathe crap is bullsh-t. What that man went through was worse than drowning. Anyone who has practiced the very basics of jujitsu recognizes a #bloodchoke when they see this. That was as clear as day #murder #torture."
Floyd Mayweather to pay for George Floyd's funerals
Floyd Mayweather didn't offer any of his thoughts on George Floyd's death publicly. Mayweather hadn't spoken about the incident in the week since it happened. On Monday, the legendary boxer let his actions speak for his words when it was reported he would be paying for Floyd's funerals.
Mayweather has been working behind the scenes the last week since he learned he had a direct link with Floyd according to Hollywood Unlocked. Anzel Jennings, who is CEO of Mayweather's music label, grew up with Floyd in Houston. When Mayweather learned of this connection, he had Jennings reach out to Floyd's family. 
Mayweather offered to pay for funeral services in Houston, Minnesota, Charlotte, and a yet unannounced location. According to TMZ, Floyd's family reportedly accepted the offer.
While Floyd Mayweather may be known as brash, regularly bragging about his wealth, and in doing so, often rubbing people the wrong way. This latest gesture shows on the inside he is a man with compassion and cares about the humanity of others and is willing to use his money for good.