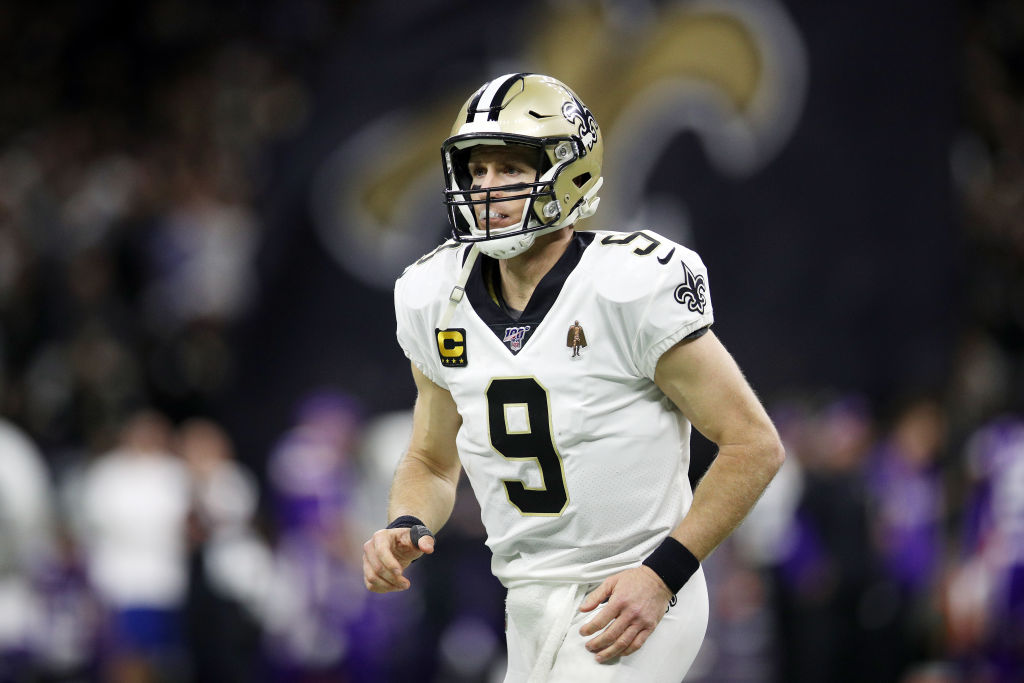 Here's Why Michael Strahan and Drew Brees Are 'Second' to None
There's always talent to be found in the second round of the NFL draft. Michael Strahan, Drew Brees, and Devin Hester rate a special mention.
The extensive scouting and testing performed by modern-day NFL teams practically guarantees that first-round draft picks will go on to successful careers. The next Pro Football Hall of Fame induction ceremony is confirmation of how effective teams are in projecting the cream of the crop: Four of the five modern-era players recently elected were taken in the first round. The fifth, receiver Isaac Bruce, lasted only four picks into the second round.
That second round of the NFL draft is slightly trickier but still a source of numerous talents like Michael Strahan who've found their way to the Hall of Fame. With that in mind, we went searching for the best second-round selections in the history of the NFL draft.
Linebackers are plentiful, but defensive end Michael Strahan is tops
The 1981 NFL draft will go down as one of the greatest ever for defensive players. Seven prospects from that class went on the Hall of Fame careers; six of them were from the defensive side of the ball and three were linebackers, led by first-rounder Lawrence Taylor of the New York Giants.
The second-round players who were enshrined in Canton included linebackers Mike Singletary (Chicago Bears) and Rickey Jackson (New Orleans Saints), worthy successors to previous second-round linebackers like Jack Ham and Jack Lambert, from 1971 and '74, respectively.
All of them are worthy of consideration for the title of best second-round defender ever, but a defensive end from 1993 would go on to rise above all others.
Texas Southern defensive end Michael Strahan was taken 40th overall and spent his entire pro career with the New York Giants. By the time he finished his 15-year pro career, Strahan had rolled up 141.5 sacks, 854 tackles, and 15 fumble recoveries.
Strahan set the NFL record for sacks in a season in 2001. He retired after helping the Giants to a victory over the New England Patriots in the Super Bowl following the 2007 season. He was elected to the Hall of Fame in 2014.
Drew Brees wins a close call over Brett Favre
Just as Michael Strahan was entering the NFL, Roger Craig was saying farewell. The 1993 season ended an 11-year career spent primarily with the San Francisco 49ers.
Craig finished with 8,189 rushing yards at a respectable clip of 4.1 yards a carry. He also made 556 receptions for 4,911 yards as he helped redefine the way running backs were used with seven solid seasons at the start of his career. Had he been able to continue playing at that level, Craig could have been one of the best second-round bargains ever.
But quality offenses in the NFL start with star quarterbacks, and the second round has given us at least two true greats. Brett Favre arrived out of Southern Miss in 1991. Drew Brees came into the league out of Purdue a decade later. Neither stayed long with his original team, but both possess impressive numbers.
Favre finished with 71,838 yards and 508 touchdown passes in 20 seasons. His gambling style also produced 336 interceptions, but Favre was 186-112 as a regular-season starter and won nine of his first 13 playoff starts.
However, the nod has to go to Brees, who looks to have several good seasons left in him even after 19 seasons in the league.
Brees has completed better than two-thirds of his attempts, thrown for 77,416 yards, and put up a ratio of 547 touchdown passes to 237 interceptions. He's led the league in yardage seven times finished with passer ratings over 100 nine times.
Devin Hester put the special in special teams
Whereas settling on Michael Strahan and Drew Brees as the best second-rounders on their respective sides of the ball took some digging, it wasn't all that difficult to find the most worthy special-teams performer.
The Chicago Bears took receiver Devin Hester out of the University of Miami near the back end of the 2006 second round and turned him loose on punt and kickoff returns.
Hester took seven punt returns to the house in his first two seasons and 14 times overall in an 11-year NFL career. He also returned five kickoffs for scores, including four in the magical first two seasons.
Hester would finish with a modest 255 catches for 3,311 yards as a receiver, but his work on special teams set him apart from any returner in the game.
Player statistics are from Pro-Football-Reference.com.