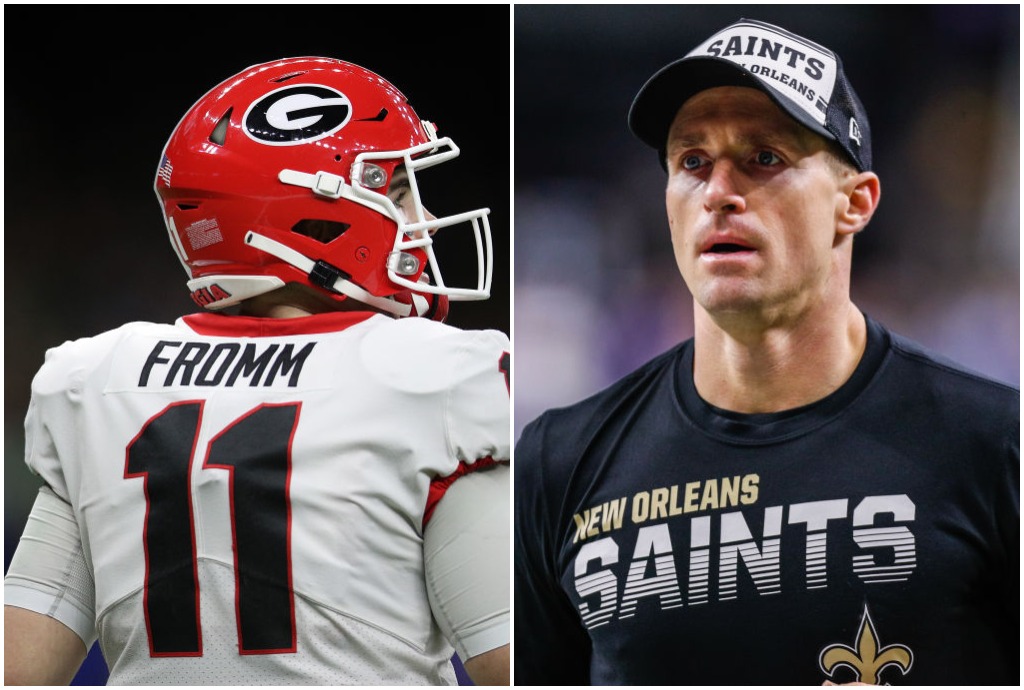 Jake Fromm Has to Pull a Drew Brees After Racist Texts Emerge
Jake Fromm had to issue an apology just as Drew Brees did after racist text messages from the Bills QB emerged online Thursday.
When Jake Fromm entered the 2020 NFL draft, some compared him to Drew Brees. Unfortunately, the Buffalo Bills quarterback has already followed in the Hall of Famer's footsteps for the wrong reasons.
As the New Orleans Saints icon tries to repair his image after making insensitive comments about the national anthem, Fromm had to issue an apology of his own. While Brees may have missed the mark with his comments, Fromm will have to earn forgiveness for racist texts.
Drew Brees apologized after insensitive comments about the national anthem
For most of his Saints career, Drew Brees has lived up to his billing as the face of the franchise. However, the future Hall of Famer has recently become a lightning rod for criticism. He has drawn the ire of teammates, fans, and even athletes from other sports for his insensitive comments on the national anthem (H/T Yahoo Sports).
"I will never agree with anybody disrespecting the flag of the United States of America or our country," Brees said. "Let me just tell you what I see or what I feel when the national anthem is played, and when I look at the flag of the United States. I envision my two grandfathers, who fought for this country during World War II, one in the Army and one in the Marine Corp. Both risking their lives to protect our country and to try to make our country and this world a better place."

Facing widespread backlash, Brees issued an apology via Instagram. However, his post included a $33 iStock image that brought up questions about the sincerity of the post. Still, the 13-time Pro Bowler has been praised by teammate Demario Davis and head coach Sean Payton for owning up to his mistake.
Unfortunately, though, another NFL quarterback had to follow in Drew Brees' footsteps in issuing an apology.
Jake Fromm also issued an apology after racist texts emerged online
On the same day Brees issued his apology, Jake Fromm had to do the same. This time, though, it wasn't for comments made in an interview. And it had nothing to do with the national anthem or protests. Instead, the Bills QB had to own up for racist texts from March 2019 that found their way on Twitter.
According to the screenshots posted online, while discussing guns, Fromm wrote, "Just make them very expensive so only elite white people can get them haha."
Once the conversation went viral, Fromm responded with an apology posted on Twitter.
"I am extremely sorry that I chose to use the words 'elite white people' in a text message conversation. Although I never meant to imply that I am an 'elite white person,' as stated later in the conversation, there's no excuse for that word choice and sentiment. While it was poor, my heart is not. Now, more than ever, is the time for support and togetherness and I stand against racism 100%. I promise to commit myself to being a part of the solution in this country. I addressed my teammates and coaches in a team meeting today and I hope they see this incident is not representative of the person I am. Again, I'm truly sorry for my words and actions and humbly ask for forgiveness."
Will Fromm follow in Brees' footsteps on the field?
For both Drew Brees and Jake Fromm, the repercussions of their actions may have dramatic effects on their respective careers. But as Brees enters what many expect to be his final NFL season, Fromm will have to kickstart his career under massive scrutiny.
Ironically, the former University of Georgia star garnered comparisons to none other than Brees during the pre-draft process. Expected to be a Day 2 selection, Fromm slid all the way to the fifth round of the 2020 NFL draft. He'll compete to earn the backup role behind third-year starter Josh Allen.
From a playing perspective, it's easy to see why Fromm earned those lofty comparisons to the Saints star. He displayed great accuracy playing in the SEC. He also drew rave reviews for his leadership and football IQ. However, with his racist texts emerging, who knows if Jake Fromm already blew his opportunity to follow in Brees' footsteps on the field.
For now, he and Drew Brees share a commonality that neither would likely wish for. We'll have to wait and see if the Bills keep the rookie QB on the roster or if they cut ties entirely.