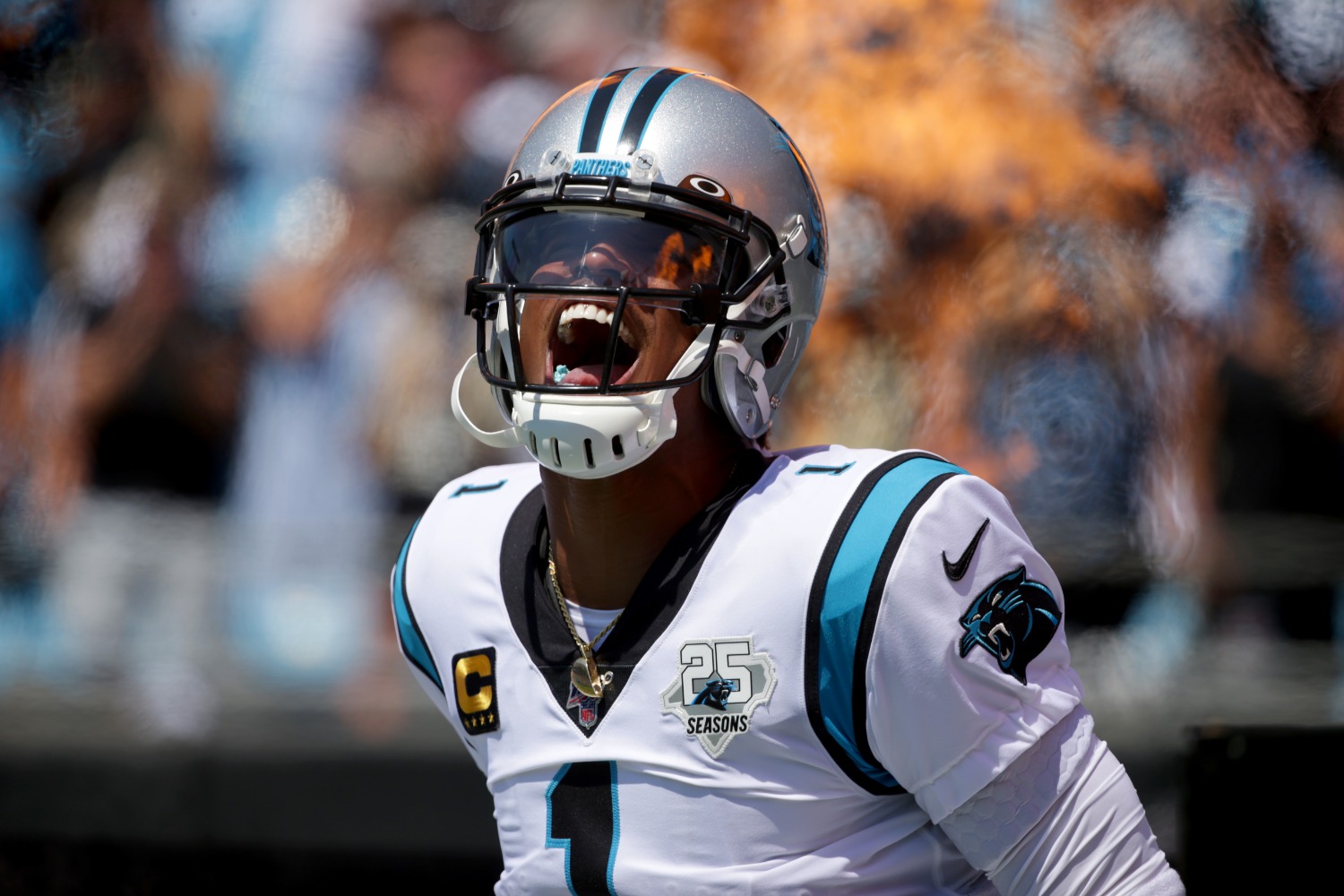 Cam Newton Just Delivered a Message Bill Belichick Would Love
Cam Newton just delivered a message that Bill Belichick would love. Can he revive his NFL career with the New England Patriots?
Cam Newton comes with a reputation as a bit of a talker. Dating back to his days at Auburn, the longtime Carolina Panthers star has never been shy about sharing his opinion. In fact, some might even label him a bit of a diva. But as he turns the page to a new chapter of his NFL career with the New England Patriots, Newton just delivered a message Bill Belichick would love.
Cam Newton will try to resurrect his career under Bill Belichick
A true once-in-a-lifetime physical talent, Cam Newton looked like a star early on in his Panthers career. His rare combination of size, speed, and arm strength put him on a path to superstardom almost immediately. Newton took home NFL MVP honors in 2015 while leading Carolina to its first Super Bowl appearance in more than a decade.
Yet, injuries derailed the former Heisman Trophy winner's career. In particular, his throwing shoulder proved problematic. As a result, Newton underwent two surgeries. Plus, his final year in Carolina got wiped out by a Lisfranc injury.
He waited for months for a sniff from an NFL team. Despite his tantalizing physical skills, teams obviously had concerns about his health. Ultimately, Bill Belichick plucked Newton off the market on a laughably cheap deal.
Considering Tom Brady still counts $13.5 million against the Patriots' salary cap, stealing Newton for $550,000 guaranteed represented the biggest bargain of Belichick's career. Of course, the former MVP garnered such little interest and had to settle for a stunningly cheap deal because of his major durability issues.
By landing with the Patriots, the 6-foot-5, 245-pounder now has the chance to resurrect his career playing for the best coach in NFL history.
Newton delivers a message his new head coach would love
As soon as Cam Newton signed with New England, some pointed to the possible ill fit between the outspoken quarterback and the notoriously strict head coach. After all, any player who has spent time with the Patriots would acknowledge that Bill Belichick runs an extremely tight ship. That often means players must toe the line when it comes to handling the media.
For Belichick, the "Patriot Way" often means checking your ego at the door. As a result, Patriots players often emulate their head coach during interviews with signature phrases like "do your job" and "whatever is best for the football team." Some might say it takes away the fun. But when you win six Super Bowl titles, it seems like a worthy sacrifice.
So when Cam Newton landed at Boston Logan International Airport Wednesday night, he immediately faced questions from a 7NEWS reporter. The normally candid quarterback delivered a message Bill Belichick would love when asked if he had anything to say to Patriots fans.
"No disrespect to nobody, but I'm extremely ecstatic. But I'm not talking," Newton said.
When the reporter asked when fans could expect more words from him, Newton simply said, "Who knows?"
His message may have been simple and downright terse, but Bill Belichick should love how his new QB handled his first encounter with the media.
Can Belichick turn the former NFL MVP into his greatest reclamation project?
Though Cam Newton has been active on social media with training videos with N'Keal Harry and other Patriots receivers, his stern message to reporters should be a good sign that he has already bought into one of Bill Belichick's biggest principles: Don't put the team before yourself.
A player with his star power can quickly become a distraction. Belichick has dealt with his fair share of those in the form of Aaron Hernandez, Antonio Brown, and Randy Moss. Not every case turned out poorly, but in the end, Belichick will never allow a player to compromise the chemistry within the locker room or on the field.
Newton presents an intriguing challenge for Belichick. On one hand, he has never employed a quarterback with his skill set before. Stylistically, Tom Brady and Newton are polar opposites. That could lead to some unorthodox offensive looks from the Patriots—a team known for adjusting their game plan on a weekly basis.
New England actually has a solid infrastructure in place to support Newton's skill set. When healthy, the Patriots boast a top-five offensive line anchored by Joe Thuney. A healthy David Andrews at center will shore up some of the running-game issues that plagued the team last year.
Belichick also drafted two tight ends in the third round. Newton leaned on Greg Olsen heavily during his time in Carolina, so look for Devin Asiasi and Dalton Keene to get plenty of looks despite their rookie status.
And if Harry, Mohamed Sanu, and Julian Edelman stay healthy and continue to build chemistry with Cam Newton, the former No. 1 overall pick stands a good chance of becoming Bill Belichick's greatest reclamation project.