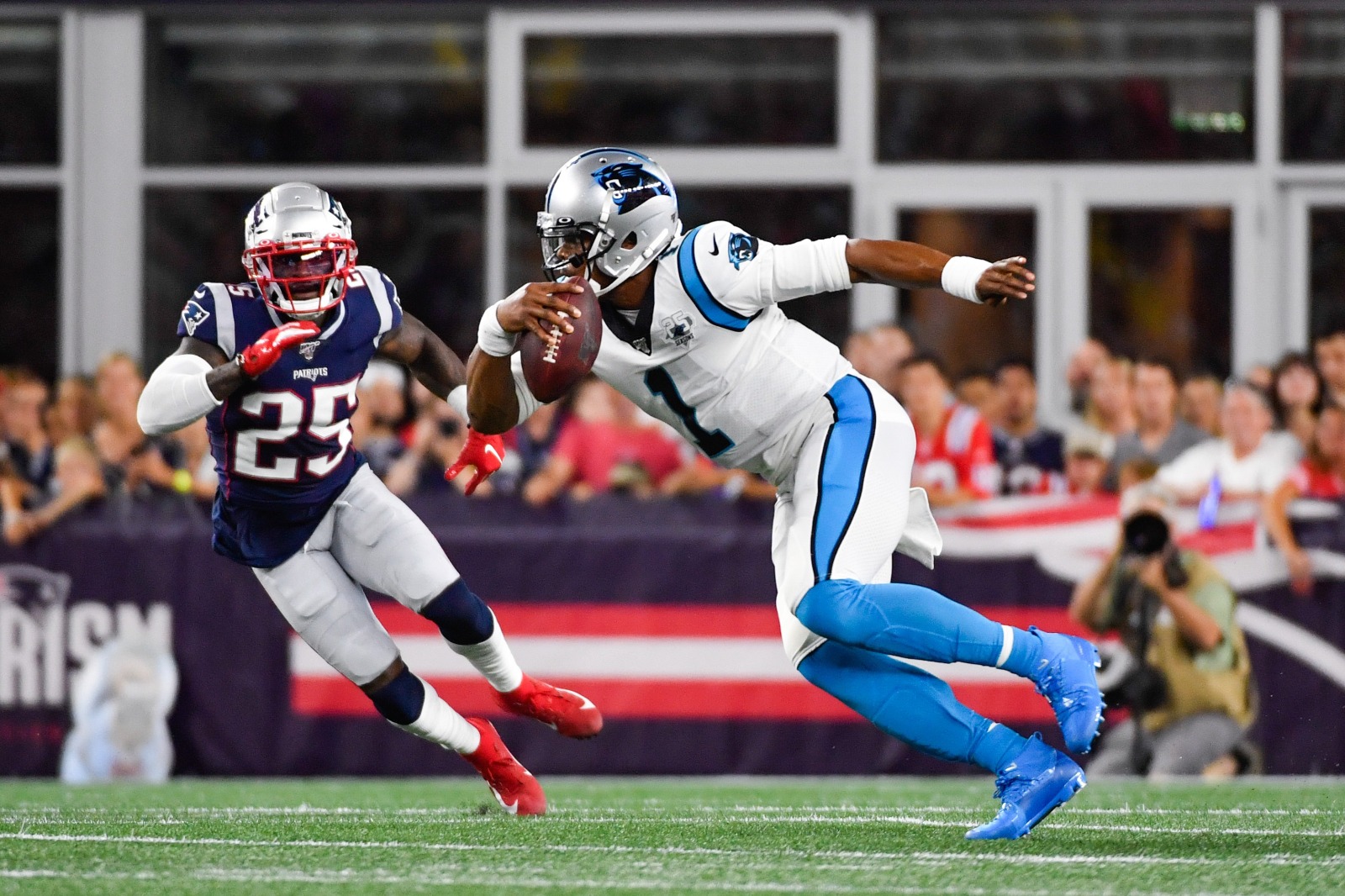 Cam Newton's Contract Looks Silly Compared to the Fines the Patriots Must Pay
The New England Patriots will pay $1.1 million in fines for Spygate 2.0, but they will pay Cam Newton even less than that in 2020.
Leave it up to the NFL to announce its punishment for the New England Patriots on the same day Bill Belichick signed Cam Newton. In doing so, Roger Goodell handed down stunningly harsh penalties, including a massive fine. Ironically, though, the Patriots will pay more in fines for their videotaping scandal than they will for their new quarterback.
However, the Patriots could use the punishment as fuel for another Super Bowl run. At least, if history repeats itself.
Cam Newton signed a cheap contract to join forces with Bill Belichick
All offseason, rumors swirled about a possible union between Cam Newton and Bill Belichick. After all, who better to resurrect the former No. 1 overall pick's career than the greatest head coach not named Don Shula? Plus, with Tom Brady taking his talents to Tampa, the Patriots certainly needed another option at quarterback besides second-year pro Jarrett Stidham.
After months of speculation, the marriage finally commenced. On Sunday night, ESPN's Adam Schefter reported that Newton will sign a one-year, league-minimum deal. While the former Carolina Panthers star has the opportunity to make up to $7.5 million through incentives, his base salary as a nine-year NFL veteran will be just $1.05 million.
A $1 million price tag for a former league MVP sure sounds like a Belichick bargain-basement special. Of course, if Newton lives up to expectations, Robert Kraft will have to open up his checkbook to cover those incentives. But the powerful NFL owner will also have to cut a hefty check for an entirely different purpose.
New England must pay a $1.1 million fine for videotaping incident
The Patriots finally got word of their punishment for filming the field and sideline during a Dec. 8 game between the Cincinnati Bengals and Cleveland Browns. And let's just say that Roger Goodell didn't hold back in making Bill Belichick's team pay dearly for yet another videotaping scandal.
Just after the Cam Newton signing went public, ESPN reported that the NFL fined the Patriots $1.1 million for the incident. In addition, the team will lose its 2021 third-round pick. The league also banned David Mondillo, the Kraft Sports Productions videographer who recorded the footage.
In addition, the Patriots' television production crews will not be allowed to shoot any games during the 2020 season, and senior club officials will undergo required training on league operation and game policies.

Ironically, the Patriots will actually pay more in fines than they will for Newton's base salary. And while the punishment seems heavy-handed, it could be the fuel Belichick needs to motivate his team for another Super Bowl run.
The Patriots have a history of turning scandals into Super Bowl runs
Patriot Nation needs no reminder of the team's history of breaking NFL rules. After all, New England's six Super Bowl titles also came with plenty of scandals. But once again, the Patriots could utilize Goodell's harsh punishment as fuel in their pursuit of a seventh Lombardi Trophy.
More than a decade ago, Belichick and the Patriots found themselves in hot water for Spygate. Ironically, the incident centered around illegally videotaping opponents—essentially the same violation they got punished for on Sunday.
Still, the Spygate scandal did nothing to slow down Belichick's team. Rather, with Randy Moss and Wes Welker in the fold, the Patriots shattered the NFL scoring record en route to an undefeated regular season. They came stunningly close to going 19-0 before Eli Manning and David Tyree stole away the victory.
Years later, Deflategate resulted in another harsh punishment, including Tom Brady getting suspended for four games. But once he returned to the lineup, he performed at an MVP level and led New England to another Super Bowl berth. And despite falling behind 28-3 to the Atlanta Falcons, Brady staged a furious comeback to capture his fifth ring.
Will the 2020 Patriots follow suit? The addition of Cam Newton certainly makes New England a Super Bowl favorite. Now, we'll just have to wait and see if Belichick makes Goodell look foolish for giving him more fuel to add to his competitive fire.