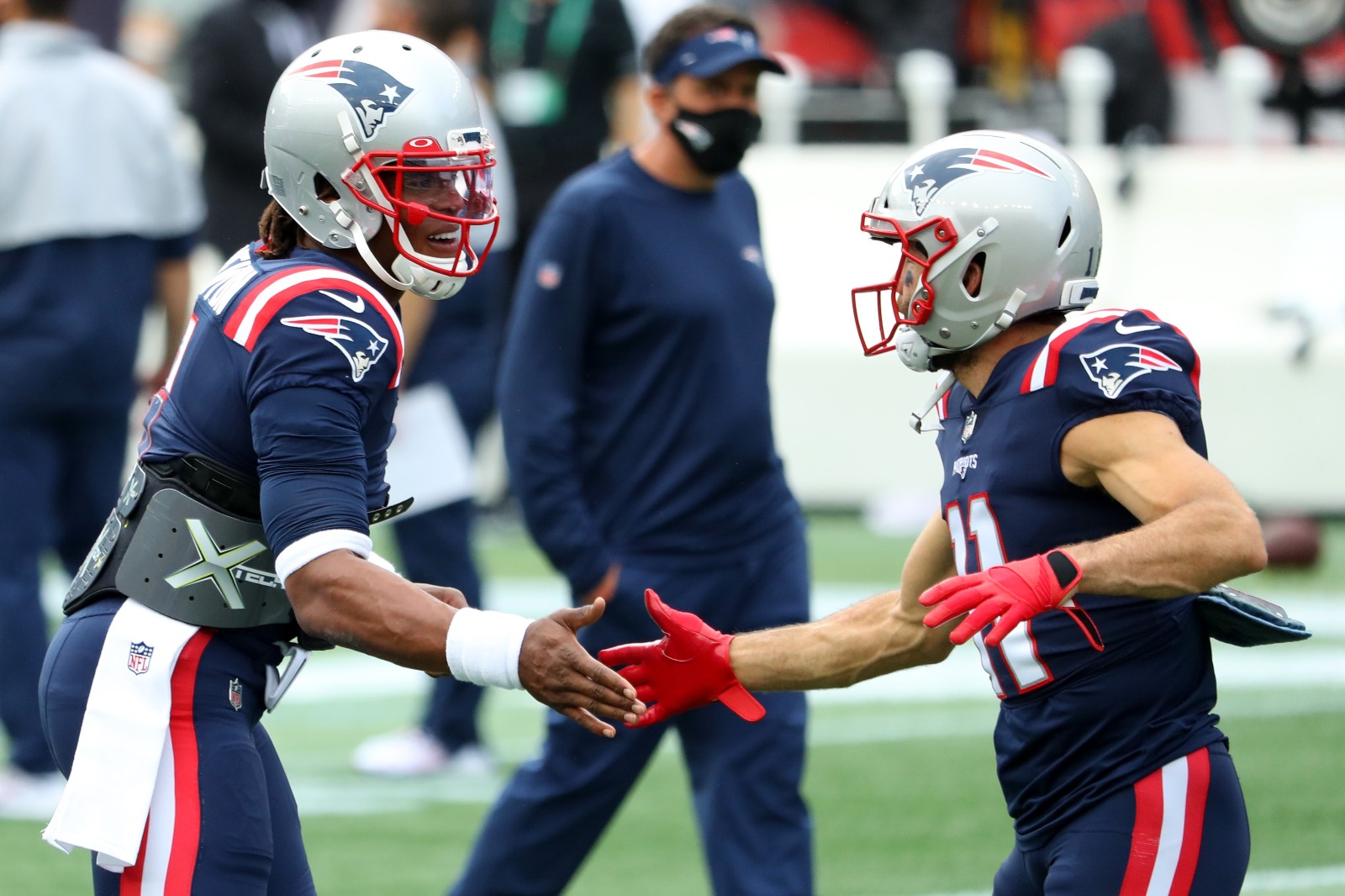 Cam Newton Just Received an 'Impressive' Review From Bill Belichick
Cam Newton just received an impressive review from Bill Belichick. But can the Patriots QB lead his team to a victory against the Chiefs?
It has not taken long for Cam Newton to remind everyone why he was once viewed as one of the NFL's best quarterbacks. Through three games with the New England Patriots, the former league MVP has showcased the dual-threat skill set that can give defenses nightmares. Of course, that success depends on learning a new system and acclimating to new teammates and coaches. And on Friday, Bill Belichick revealed how impressive Newton has been in that regard in such a short time with the team.
But can the Patriots and their new quarterback continue their strong start against Patrick Mahomes and the Kansas City Chiefs on Sunday?
Cam Newton is off to a strong start in New England
When Cam Newton signed with the Patriots this summer, it represented a fresh start for both parties. For Newton, joining forces with Bill Belichick gave him a chance to not only play for a winning organization but also prove his health issues are behind him. For the Patriots, Newton's unique skillset gave Josh McDaniels a chance to take the offense in a new direction.
So far, the marriage has worked out well.
In his Patriots debut, Newton turned in a vintage performance. Though he threw for just 155 yards, he completed 79% of his passes and did not turn the ball over. More importantly, he racked up 75 yards and two touchdowns on the ground in New England's 21-11 victory against Miami.
In Week 2, Newton surprised many with a highly impressive outing against the Seattle Seahawks. Facing a fast, physical defense, he threw for nearly 400 yards and completed 68% of his 44 attempts. The former No. 1 pick showcased solid chemistry with his collection of receivers while also adding another two touchdowns and 47 yards as a runner.
Newton got New England back on track last Sunday in a 36-20 win against the Las Vegas Raiders. Though he did not play a major role in the victory, Newton's first three games as a Patriot should give Bill Belichick and his staff plenty of optimism about the season.
Newton receives 'impressive' review from Bill Belichick
Cam Newton has drawn plenty of public praise from his new head coach over the last few months. After all, his infectious energy has provided a breath of fresh air for a team that featured an unhappy Tom Brady in 2019. Ultimately, Newton's ability to connect with his teammates has not been lost on Bill Belichick.
In speaking with the media on Friday, the six-time Super Bowl champion revealed a few ways Newton has been impressive in reviewing the quarterback's acclimation process and work ethic. And let's just say Newton's attitude and dedication to his craft have caught Belichick's attention.
"Cam does a great job of connecting with everybody," Belichick explained. "Again, I think the captain voting — not that that's the ultimate final determination of leadership — but I think the fact that he's been here a pretty short amount of time and earned that type of respect and support from his teammates is pretty impressive."
Of course, Newton shouldn't have trouble connecting with his new teammates and coaches considering how much time he spends at the Patriots' facility.
"He's in the building more than any player on the team," Belichick said. "He spends a lot of time talking and connecting and building relationships with those people. He has tremendous leadership, so it's very impressive."
The Patriots and their new QB face a huge challenge against the Chiefs
With Cam Newton fully on board, the Patriots have avoided any major drop-off without TB12 under center. However, after beating the Dolphins and Raiders, Bill Belichick's team faces a major challenge this week in the form of the Chiefs.
Kansas City has picked up right where it left off after winning its first Super Bowl title in 50 years. Patrick Mahomes has thrown nine touchdowns for the undefeated Chiefs, who just defeated the Baltimore Ravens in convincing fashion on Monday Night Football.
It will be interesting to see how the Patriots attack the league's sixth-ranked scoring defense. Will McDaniels lean on the running game for the second straight week? Or will he put the ball in Newton's hands as he did against Seattle?
Meanwhile, Belichick's defense needs to rediscover its 2019 form in order to slow down a Chiefs offense loaded with playmakers. New England's star-studded secondary cannot afford to make any mistakes against a group of skill players that can make even the most prepared defenses look overmatched.
Ultimately, the Chiefs game will be a huge chance for Bill Belichick to learn exactly where his team stands. And most importantly, he will find out if Cam Newton has what it takes to beat the reigning Super Bowl champions.
All statistics courtesy of Pro Football Reference.