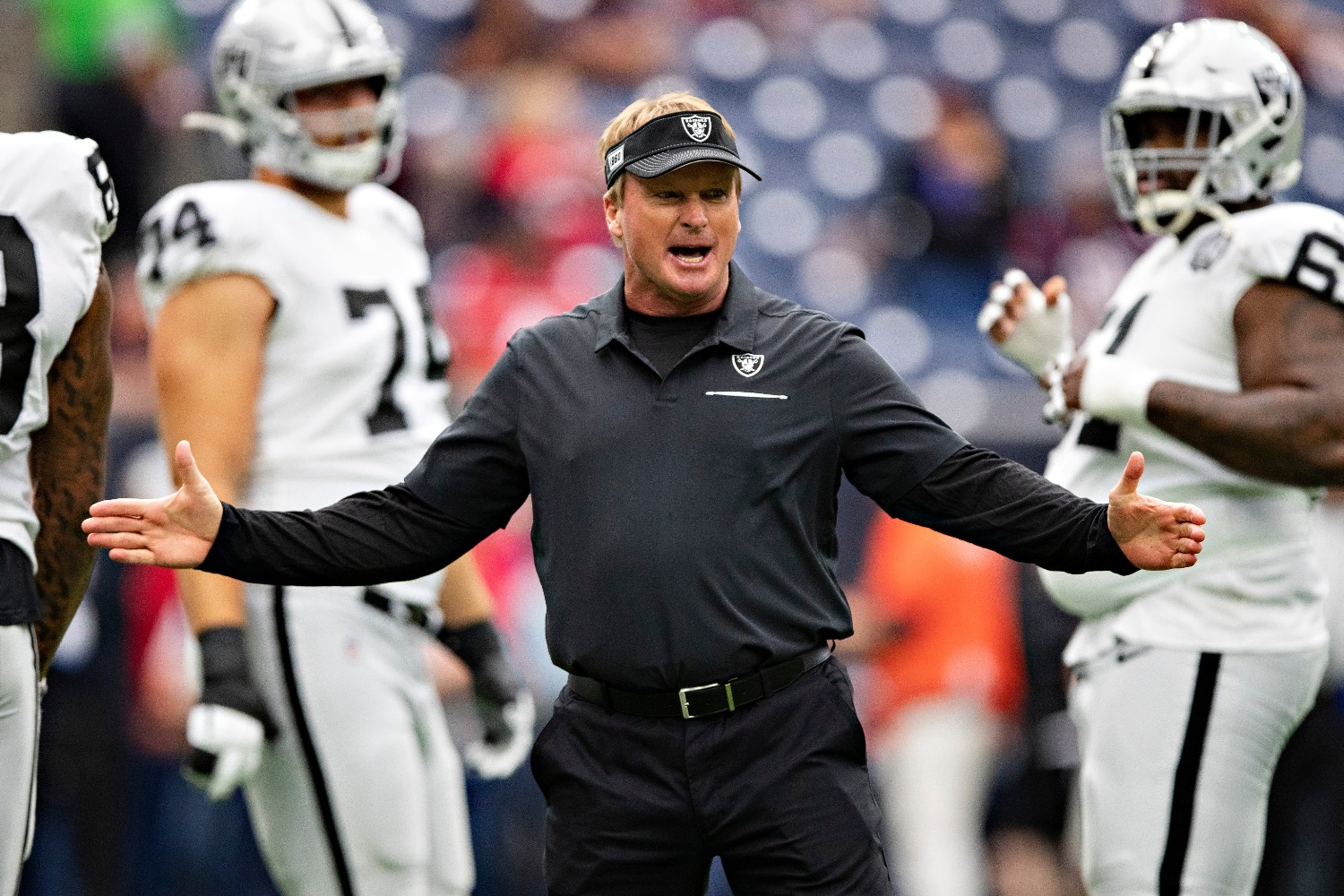 Jon Gruden Just Played a Sick COVID-19 Prank on His Own Players
Jon Gruden has never been shy about doing things his way, but the Raiders coach pulled a sick COVID-19 joke on his own players recently.
Unorthodox doesn't even begin to describe Jon Gruden. Though he has the same job title as 31 other NFL coaches, he certainly has his own way of doing things. So it should come as no surprise that with COVID-19 changing the entire landscape of sports, Gruden decided to play a prank on his own Las Vegas Raiders team.
While the prank may have come from the right place, the 56-year-old head coach needs to start delivering results on the field if he wants to live up to his $100 million contract, regardless of COVID-19.
Jon Gruden's return to the Raiders
Jon Gruden looked like a future star after becoming the youngest head coach in NFL history to win a Super Bowl. Of course, he captured the Lombardi Trophy with the Tampa Bay Buccaneers after spending his first four seasons with the then-Oakland Raiders.
Gruden's stardom faded over time. After winning a championship in his first year in Tampa, the Buccaneers posted just three winning seasons over the next six years. Jay Gruden's older brother got fired after the 2009 season and embarked on a career in broadcasting as a color analyst on Monday Night Football.
Despite signing a lucrative contract extension with ESPN in 2014, the former NFL head coach couldn't stay away from the game for much longer. Nine years after he coached his last NFL game, Gruden inked a 10-year, $100 million deal to become the head coach of the Raiders once again.
In his first year back on the sidelines, Gruden failed to live up to the hype. He shipped Khalil Mack to Chicago and the team went 4-12. Last season, the Raiders improved to 7-9 despite dealing with significant injury issues.
Gruden plays a sick COVID-19 prank on his own team
As Jon Gruden enters the third year of his $100 million deal, he already has to deal with a potential roadblock in the form of COVID-19. While other coaches obviously must deal with the pandemic, the charismatic 56-year-old decided to play a prank on his own team to expose a potential scenario players may have to deal with.
NFL Network's Mike Garafolo reported that Raiders players logged on to a Zoom call last week and surprisingly got greeted not by Gruden but rather assistant head coach/special teams coordinator Rich Bisaccia.
Bisaccia explained that Gruden contracted COVID-19 and had to be hospitalized for treatment. Raiders players expressed shock over the news. However, they quickly realized that their head coach had played a prank on them. In fact, Gruden devised the prank as a way to teach his team the importance of readiness.
According to Garafolo, the veteran head coach wanted to emphasize how COVID-19 could alter the Raiders' plans without a moment's notice. Backups could get pressed into starting duties if a top-tier player contracts the coronavirus.
The prank doesn't seem so mean-spirited once you look at it from that perspective. But whatever method Jon Gruden wants to employ to teach his team about readiness, he better be ready for an uphill battle for a playoff spot.
Raiders face an uphill battle to compete in the AFC West
Looking at the rest of the AFC West, the Raiders fall short in some key areas. The quarterback spot obviously remains a cause for concern. Derek Carr may have three Pro Bowls on his resume, but he has never made the leap from starter to star.
In fact, the Raiders signed Marcus Mariota this offseason as a high-upside backup for the 29-year-old quarterback. Ultimately, neither option looks overly enticing, especially when you look at the other quarterbacks in the division.
Patrick Mahomes obviously is in a class of his own. However, both the LA Chargers and Denver Broncos appear to have a clear-cut plan at the most important position in football. LA drafted Justin Herbert sixth overall. Even if he doesn't play right away, he will get a chance to work with a great set of weapons once he does get on the field.
In Denver, John Elway has loaded up at receiver and tight end to give Drew Lock every chance to succeed. The Broncos boast a devastating arsenal of skill players, including Courtland Sutton, Jerry Jeudy, Noah Fant, and KJ Hamler.
As for the Raiders? They do bring back Josh Jacobs and Darren Waller—both of whom played at an All-Pro level in 2019. However, first-round pick Henry Ruggs seems like an odd fit considering Carr's penchant for throwing check-downs and short passes.
For Jon Gruden, his biggest problem lies on the other side of the ball. The Raiders ranked 24th in points allowed in 2019. Las Vegas does not feature a dominant front seven, and the secondary still has much to prove. Ultimately, it looks like Gruden's team will be watching the playoffs from home unless a dramatic turnaround occurs.