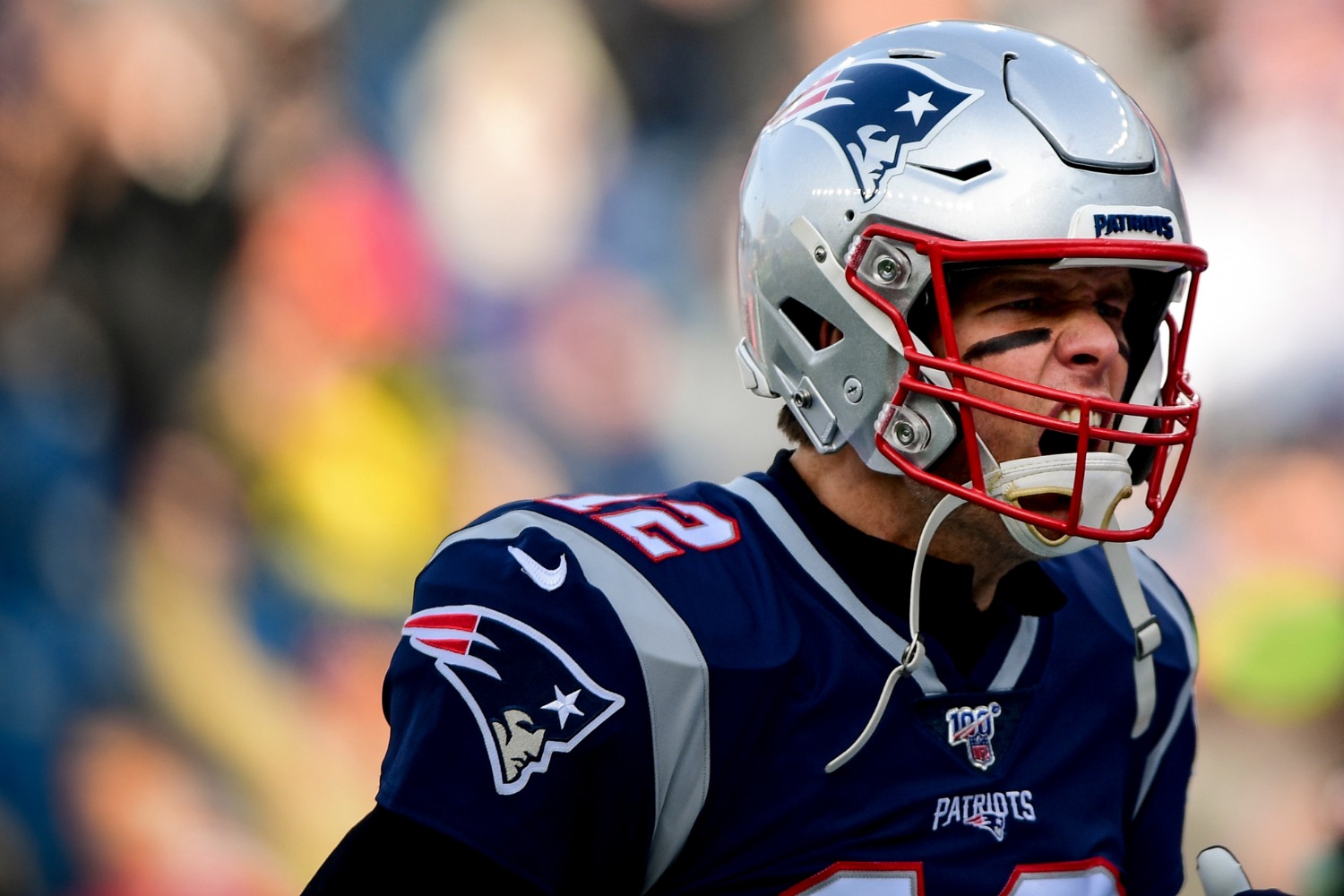 Tom Brady Just Scored a $1 Million Boost to His Super Bowl Chances
Tom Brady just scored another weapon that boosts his chances of winning a Super Bowl with the Buccaneers signing RB LeSean McCoy.
Tom Brady didn't have a great cast of weapons in his final season with the New England Patriots. But by taking his talents to Tampa, the legendary quarterback scored a massive upgrade in skill-position talent. On Friday, the Tampa Bay Buccaneers made a savvy $1 million signing that significantly boosts Brady's chances of winning a seventh Super Bowl ring.
Tom Brady has much better weapons in Tampa than he did in New England
Tom Brady achieved unprecedented success in two decades working with Bill Belichick. The six-time Super Bowl champion consistently put the Patriots in position to compete for the Lombardi Trophy despite Belichick's refusal to spend premium draft picks on weapons.
Still, that didn't stop Brady from becoming the greatest quarterback of all time. However, his final few years in New England exposed a roster thin on skill-position talent. In 2019, Brady struggled mightily due in large part to a depleted receiving corps and a tight end group that no longer featured Rob Gronkowski.
Ultimately, Brady took advantage of his first real foray into free agency and signed a two-year deal with the Buccaneers. Swapping his Patriots colors for Buccaneers' black and red also put Brady in a much better position to succeed given Tampa's deep arsenal of playmakers.
The Bucs boast arguably the league's top receiver duo in Mike Evans and Chris Godwin. Brady also coaxed Gronk out of retirement. And on Thursday, the 42-year-old got a huge boost to his chances of winning another Super Bowl for a ridiculously cheap price.
Tampa adds another playmaker in LeSean McCoy
On paper, the Buccaneers have one of the best offenses in the league. However, while Brady had a terrific stable of running backs to work with in New England, Tampa's backfield depth chart has more questions than answers. Ronald Jones has failed to live up to his second-round pedigree.
Tampa did draft Ke'Shawn Vaughn in the third round in April. However, the former Vanderbilt star recently got placed on the reserve/COVID-19 list.
With a shaky RB depth chart, the Buccaneers made a savvy signing on Thursday by inking LeSean McCoy to a one-year deal. Ian Rapoport tweeted that McCoy signed for the league minimum, which puts his 2020 salary at just over $1 million.
Though he just turned 32, McCoy brings a wealth of experience and has carved out a resume that could put him in consideration for a spot in the Pro Football Hall of Fame someday. In his prime, the shifty running back dominated as a three-down playmaker capable of scoring from anywhere on the field.
However, the six-time Pro Bowler has watched his stardom fade in recent years. McCoy hasn't rushed for 1,000 yards since 2017—his penultimate season in Buffalo. He spent the 2019 season with the Kansas City Chiefs and finished the year with just 646 total yards from scrimmage. Still, for just over $1 million, LeSean McCoy adds a serious boost to Tom Brady's Super Bowl chances.
Will Brady and the Buccaneers live up to their Super Bowl potential?
Adding a player with McCoy's skill set and experience gives TB12 yet another weapon at his disposal. In all likelihood, McCoy won't play every down. But his ability as a pass-catcher should make him a valuable part of Bruce Arians' offense.
Fantasy football owners and Buccaneers fans should salivate over the idea of a motivated Brady working with Evans, Godwin, Gronkowski, and McCoy. Former first-round pick O.J. Howard may finally live up to his draft pedigree working with a quarterback known for targeting tight ends.
The Buccaneers absolutely boast the offensive talent to make a Super Bowl run. It will be difficult for defenses to contend with such a deep, versatile array of weapons. Plus, Brady has plenty of motivation to prove Bill Belichick wrong for letting him walk.
Of course, things could go sour. The NFL's GOAT turns 43 in August. Gronkowski spent a year away from football and didn't exactly look like himself in his final year in New England. McCoy's best years are clearly behind him. And the offensive line has a lot to prove after surrendering 47 sacks last season.
At the end of the day, though, the Buccaneers will go as far as Tom Brady leads them. By signing LeSean McCoy for just over $1 million, the Bucs just gave their new face of the franchise a big boost to his Super Bowl chances. Now we'll have to see whether Tampa's offense plays as well as it looks on paper.