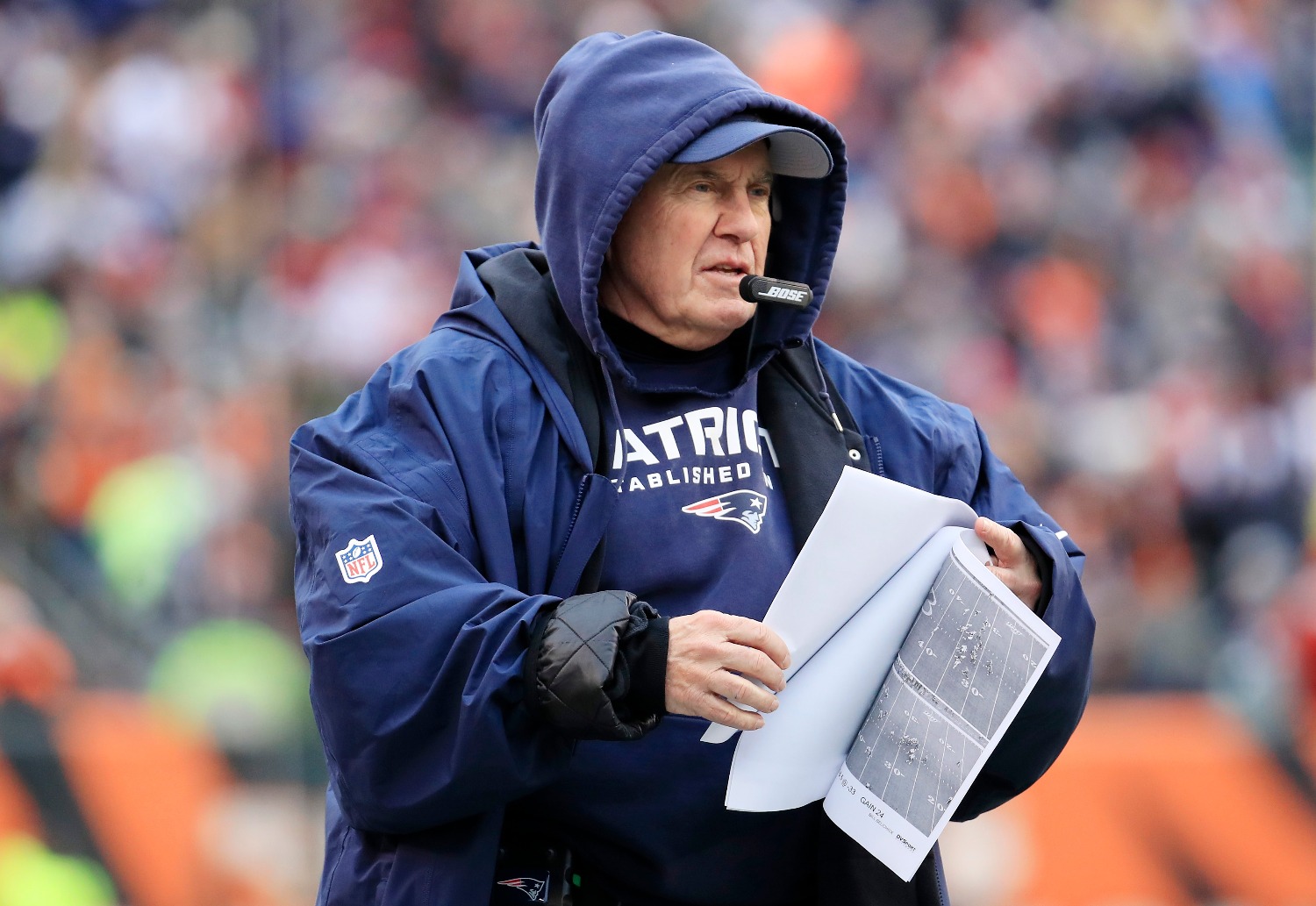 Bill Belichick Has a $35 Million Weapon to Help Cam Newton Thrive
The New England Patriots have $35 million in cap space after player opt-outs, which gives Bill Belichick the ammo to help Cam Newton thrive.
No NFL general manager has dominated during the salary-cap era like Bill Belichick. Over the years, he's turned late-round picks and undrafted free agents into Super Bowl champions. So it certainly didn't shock anyone that the man in charge of the New England Patriots scored a huge bargain by signing Cam Newton to a laughably cheap one-year deal.
Strangely, thanks to players opting-out of the 2020 NFL season, Belichick now has a $35 million weapon to help Cam Newton thrive. And if he plays his cards right, he can help his new quarterback resurrect his career while putting the Patriots on a path back to the Super Bowl.
Cam Newton has a lot to prove in New England
Talk about a humbling experience. After serving as the face of the franchise for nearly a decade, Cam Newton found himself without an NFL home after the Carolina Panthers released him in March. While underwhelming quarterbacks like Andy Dalton and Mike Glennon signed contracts with new teams, Newton spent months on the market.
But with Tom Brady gone and Jarrett Stidham unproven, Bill Belichick pounced on the former Panther…at the right price. By signing a league minimum deal with a maximum value of just $7.5 million, Newton clearly has his sights set on more than just money. After all, he has yet to win a Super Bowl, or even make a second trip back to the big game since Carolina lost in 2015.
For Newton, the chance to resurrect his career working with Belichick and Josh McDaniels simply made too much sense. However, he joins an offense that finished seventh in points scored. That represented the worst finish since 2008 when Matt Cassel managed to lead the NFL's No. 8 scoring offense.
Still, the Patriots look like they could use at least another weapon or two. And strangely, thanks to COVID-19 opt-outs, New England has the ability to add more than that.
Bill Belichick has a $35 million weapon to help Newton thrive
No team has been hit harder by COVID-19 opt-outs than the Patriots. Dont'a Hightower, Pat Chung, and Marcus Cannon all elected to sit out the 2020 season. For Bill Belichick, losing three foundational pieces with championship experience has to hurt. Along with Devin McCourty, that trio has stuck around in Foxborough for almost a decade.
However, the Patriots will benefit in one major way from so many players opting out. With eight players sitting out the 2021 season so far, New England watched its cap space rise significantly. According to Over the Cap, Belichick has about $35 million to work with this season. That means the Patriots rank third in available cap space just weeks after they ranked dead-last.
While Belichick rarely spends big money on free agents, he could change his mind now that he has a $35 million weapon to help Cam Newton. But will he sign a receiver or tight end to give his quarterback a boost? Or will the defensive genius look to land a game-changer on that side of the ball?
Will the Patriots use their new cap space to add reinforcements?
Because the NFL allows teams to roll over unused cap space into the following year, Bill Belichick could choose to stand pat. Yet, with a number of quality players still on the market, it makes sense for the Patriots to explore their options.
If you want to find a classic Belichick fit, look no further than Delanie Walker. The veteran tight end has played at a high level throughout his career. However, he has never won a Super Bowl ring. The three-time Pro Bowler turns 36 in August and missed most of the last two seasons with injuries.
Projected starter Matt LaCosse opted-out of the season, leaving the Patriots thin at the tight end spot. Devin Asiasi and Dalton Keene possess a ton of upside, but it seems unlikely that either rookie will prove ready for a starting role. Walker could mentor the rookie duo and serve as another weapon for Newton on what should be a league-minimum deal.
On the other side of the ball, Jadeveon Clowney remains unsigned. Though he plays a different position than Hightower, the former No. 1 pick possesses elite physical tools that could make him a star in Belichick's defense. Clowney entered free agency seeking a massive deal, so he would have to lower his price significantly in order to become a Patriot.
Whatever route Belichick chooses, he has plenty of financial freedom to improve his team. And whether he uses just a fraction of New England's $35 million cap space or he spends wildly to import top-end talent, Bill Belichick has the ability to put Cam Newton on a path to success and position the Patriots for another Super Bowl run.