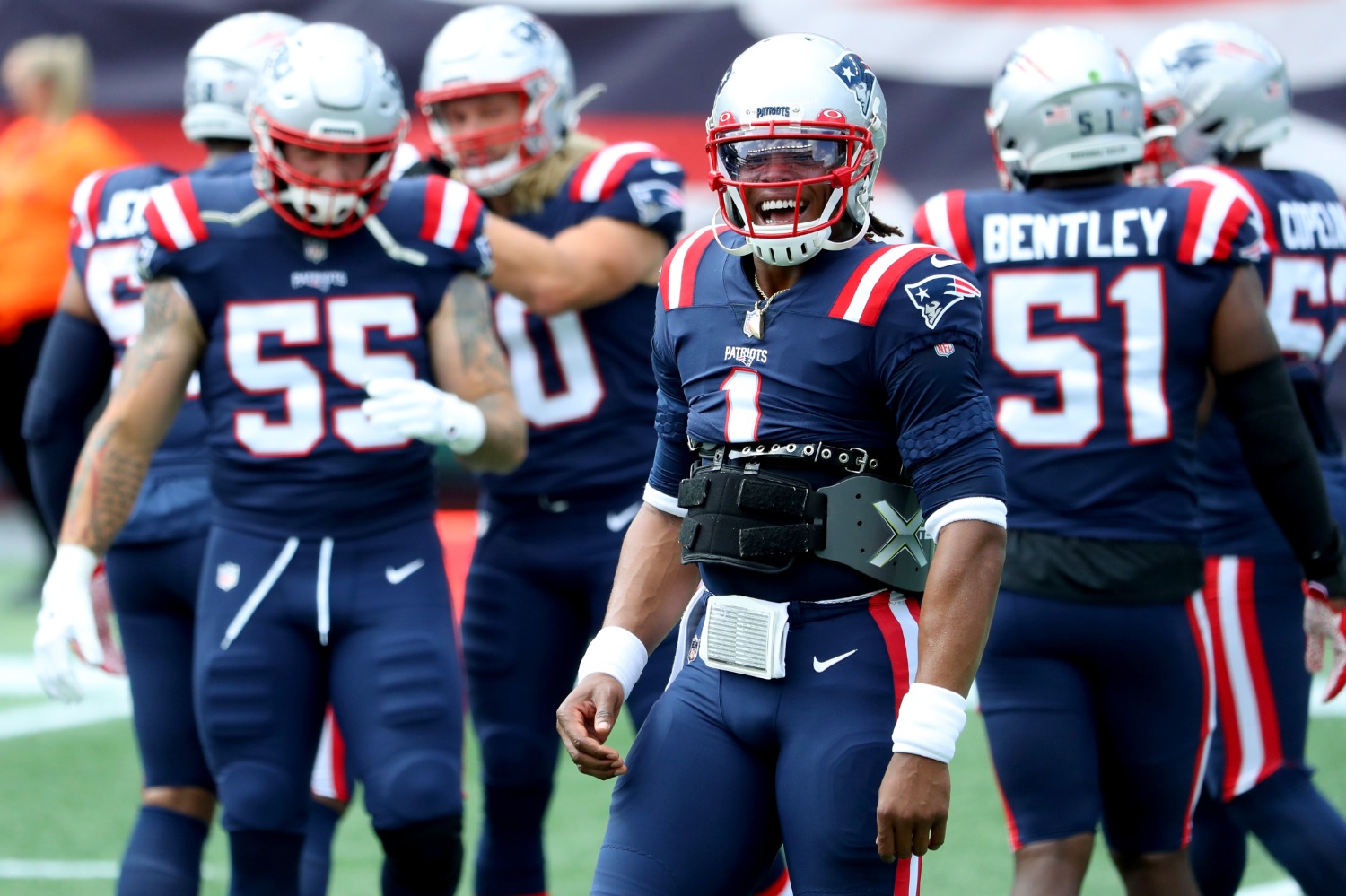 Bill Belichick Just Delivered a Powerful Statement About Cam Newton's Historic Patriots Debut
Bill Belichick delivered a powerful statement about Cam Newton's historic Patriots debut that ended in a 21-11 victory over the Dolphins.
If Sunday's performance is any indication of what's to come, the rest of the NFL should be terrified of Cam Newton. After spending months on the free-agent market, he joined forces with Bill Belichick on a cheap one-year deal. And in his first game as the starting quarterback for the New England Patriots, the former NFL MVP proved he has plenty left in the tank. In fact, Newton's historic debut inspired a powerful statement from his new head coach.
But let's not pretend that the Patriots have all the answers on offense. As good as Newton looked, New England has plenty of work to do on that side of the ball heading into a difficult Week 2 matchup against the Seattle Seahawks.
Cam Newton shined in his Patriots debut
Heading into Sunday's matchup against the Miami Dolphins, nobody knew what to expect from Cam Newton. After all, the former league MVP missed essentially the entire 2019 season due to a foot injury. Plus, his history of shoulder issues caused doubts about his ability to recapture his prime form.
It did not take long for Newton to silence his doubters. On New England's second possession, he led the team on an 80-yard drive that culminated in a 4-yard touchdown run by the 31-year-old quarterback. Newton later added another rushing touchdown and finished the day with 75 rushing yards.
While the Patriots elected to go with a ground-based attack, they still showed signs of promise in the passing game. Newton connected on 15-of-19 attempts for 155 yards. He found Julian Edelman five times for 57 yards and even showed flashes of chemistry with N'Keal Harry.
Overall, Newton's debut could not have gone much better. The Patriots won by a final score of 21-11 thanks in large part to Bill Belichick's new dual-threat QB.
Bill Belichick delivers a powerful statement about Newton's historic performance
In Cam Newton's first game with the Patriots, he showcased good command of the offense, did not turn the ball over, and provided the team with a unique element never seen in the Tom Brady era.
In fact, his historic debut, which included the most rushing yards in a single game by a Patriots quarterback since 1977, inspired a powerful statement from Bill Belichick. In his post-game press conference, he delivered some strong praise for his new quarterback.
"He's a very, very unselfish player. He's a great teammate. He's earned everybody's respect," Belichick said. "He just continues to do everything that he can to help our team, and that's really all you can ask from anyone. And he continually does that—puts himself last and puts the team first."
Beyond his contributions as a thrower and as a runner, Belichick also gave a nod to Newton's leadership and ability to make adjustments as strong points from his Patriots debut.
However, Cam Newton and Bill Belichick face a much tougher test than the Dolphins in their second game together. Even after a strong start, Newton and the offense have plenty of work to do as the Patriots head west to take on the Seahawks.
New England still has work to do on offense
Though the Patriots emerged victorious on Sunday, the offense still has plenty of questions to answer. Sure, the running game produced 217 yards. And the offensive line looked much better than it did a year ago.
However, the passing game is far from a finished product. Harry averaged just 7.8 yards per catch before fumbling a potential touchdown. As he did as a rookie, he still struggled to gain consistent separation. Moving forward, Bill Belichick needs Harry to step up as a more consistent receiving option.
Elsewhere, the Patriots still got little production out of the tight end position. Ryan Izzo actually had the longest reception of any player on Sunday, but he got targeted just twice overall. Rookie Devin Asiasi did not draw a target in his NFL debut.
Overall, the passing game remains a work in progress. Without an established veteran receiver outside of Edelman, Newton will have to elevate unproven wideouts like Harry, Jakobi Meyers, and Damiere Byrd. Plus, he still has to master the nuances of checking out of plays and changing pass-protection calls.
This week, the Patriots will take on a Seahawks team that thoroughly dominated the Falcons in Week 1. Seattle held Atlanta to just 72 rushing yards in a 38-25 victory. Can Newton and New England's running backs find success against a defense that has undergone quite a transition this offseason?
We'll find out on Sunday. But for now, Patriots fans should feel optimistic about the 2020 season after Cam Newton's historic debut.
Like Sportscasting on Facebook. Follow us on Twitter @sportscasting19.