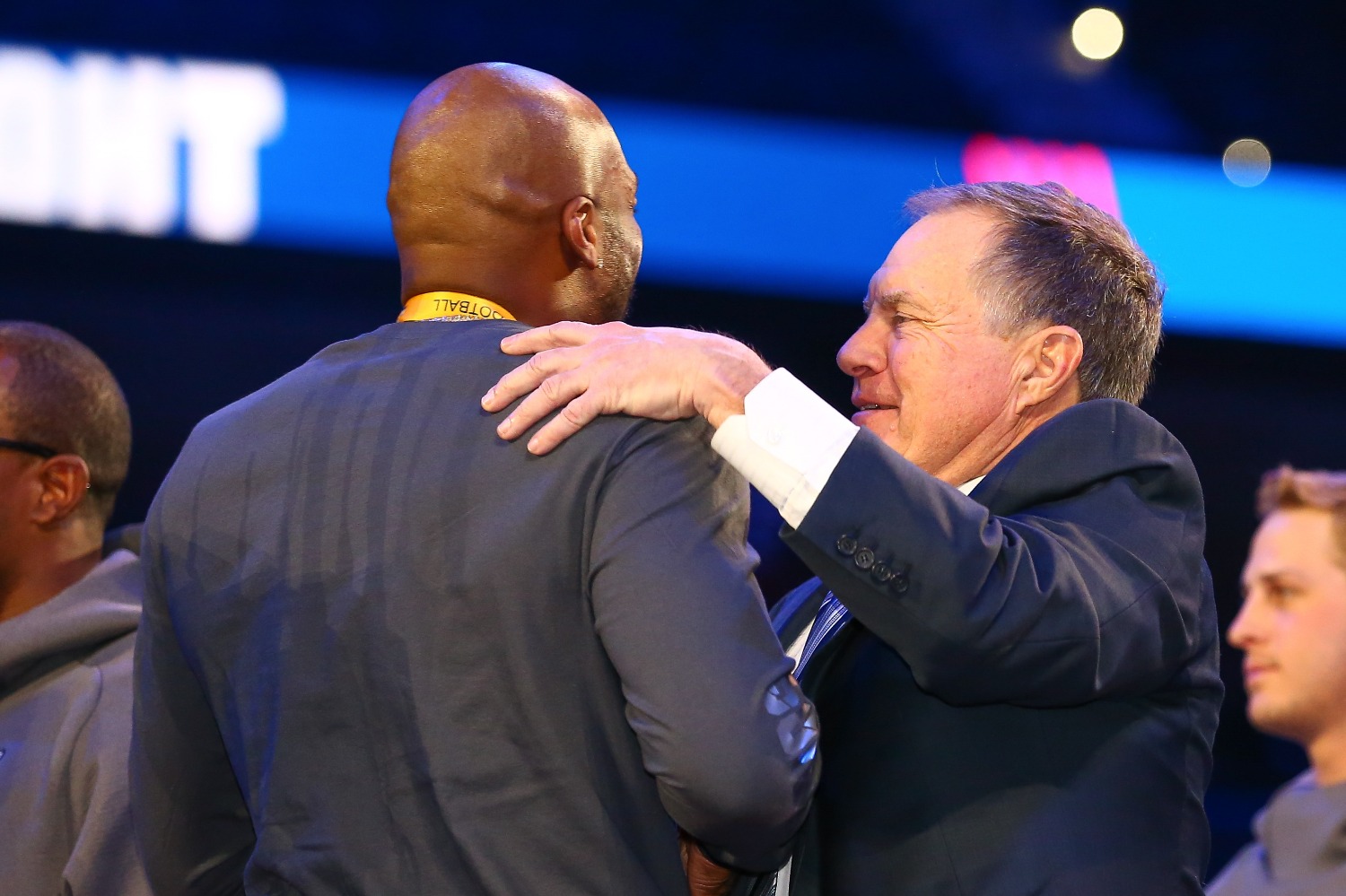 Aqib Talib Just Exposed Bill Belichick's Failed $6 Million Plan
Aqib Talib just exposed Bill Belichick's failed $6 million plan to lure him back to the Patriots for a specific and valuable role.
Though his New England Patriots tenure lasted less than two seasons, Aqib Talib ranked as one of the top cornerbacks to ever play for Bill Belichick. After leaving New England, he maintained his dominant play and won a Super Bowl title with the Denver Broncos.
On Wednesday, the 34-year-old announced his retirement. However, Talib also exposed Belichick's failed $6 million plan that would have given a huge boost to a Patriots defense decimated by offseason departures.
Aqib Talib locked down receivers for over a decade
Aqib Talib entered the NFL as the 20th overall pick in the 2008 NFL draft. Originally selected by the Tampa Bay Buccaneers, the 6-foot-1, 209-pounder showcased elite coverage skills. However, attitude issues resulted in the Buccaneers moving on from the talented corner.
In November 2012, Bill Belichick traded a fourth-round pick for Talib. The move turned out to be a terrific one for both parties. Talib immediately became New England's top corner and signed a one-year extension during the 2013 offseason.
He rewarded Belichick with his first Pro Bowl campaign. Talib racked up four interceptions and 14 passes defended for a 12-4 Patriots squad. However, in New England's playoff matchup against Denver, former Patriots wide receiver Wes Welker took Talib out of the game after delivering a vicious hit.
Ironically, Talib cashed in on his Pro Bowl campaign by signing a six-year, $57 million contract with none other than the Broncos. He earned Pro Bowl honors in each of his four seasons in Denver before getting traded to the LA Rams. Though he played well, Talib had trouble staying healthy, got traded to Miami, and entered this offseason as a free agent.
Talib exposes Bill Belichick's failed $6 million plan
Even at 34 years old, Aqib Talib could still contribute to an NFL team. At least, that's what his former boss thinks. In his new podcast, the recently-retired corner exposed Bill Belichick's failed $6 million plan to bring him back to New England. (H/T USA Today)
"My guy, my big homie Bill Belichick called my phone and told me he had the role of a lifetime for me," Talib said. "He really wanted me to strap right ends. I was out the door. I got flights. I started searching for apartments … I could've gotten up to $5-6 million – a nice vet contract. I could make $6 million and guard tight ends all day."
However, after glancing at the onslaught of tight ends the Patriots will face this season, the five-time Pro Bowler passed on the opportunity to reunite with Belichick. New England must try and slow down an elite crop of tight ends this season, including George Kittle, Travis Kelce, and Darren Waller.
If Talib is telling the truth, clearly Belichick knows he has a tough task ahead in stopping some of the NFL's elite pass-catchers. And with Pat Chung opting-out of the season, that leaves New England without a clear-cut option to take on that role. Despite failing to convince Talib to come back to New England, Belichick may find the tight end stopper he seeks if two of his recent draft picks step up.
Belichick still has two intriguing options to cover tight ends
Patriots fans have seen many second-round defensive backs fail to live up to expectations. From Darius Butler to Ras-I Dowling to Cyrus Jones, Bill Belichick has missed badly on the second day of the NFL draft.
However, two of his recent second-round picks could play the role Belichick reportedly wanted Talib to fulfill. Joejuan Williams arrived as the 45th overall pick in 2019. A cornerback by trade, he played sparingly as a rookie due to New England's abundance of riches at the position.
Tipping the scales at 6-foot-4, 211 pounds, Williams started seeing more snaps at safety in training camp. Given his size, strength, and aggressive playing style, he could be the ideal weapon to guard tight ends. Williams' length can also help make up for a lack of elite speed.
Belichick could also throw rookie Kyle Dugger into the fire. The team's top draft pick checks in at 6-foot-2, 220 pounds with 4.49 speed. The former Division II star needs to contribute in year one given Chung's absence. Dugger could replace the three-time Super Bowl champion as the team's starting strong safety moving forward.
Ultimately, the role of tight end stopper could get split between Williams and Dugger. Bill Belichick may have failed to lure Aqib Talib with a reported $6 million offer, but he can still achieve his goal of shutting down tight ends by relying on two much younger, cheaper options.